1:10am July 11th Matt and ragan in the dark have nots room. Ragan complains about the house being so crazy and tense he wants it to end tomorrow Matt shrugs it off says all this drama makes for good TV. Matt says tomorrow is easy anyway just vote the way the house is voting and its all good. Ragan says the big brother game really messes with you and one point the producers say "here you want food.. no you get to eat shit" Ragan has been doing a lot of complaining and doesn't slow down. He talks about the being on slop, the stress of the house, brings up the cold room he's force to sleep in that "Gives me lymph nodes the size of titties"…. Some where in the conversation Ragan complains about having to get up and use the washroom "Sometimes I really wish I had a Colostomy Bag"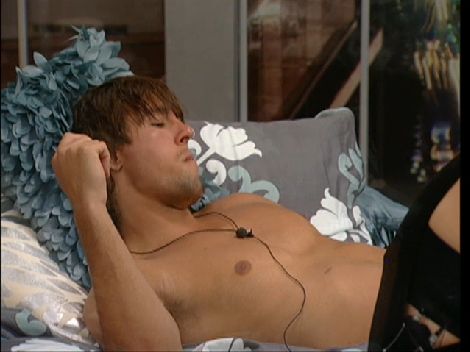 1:15am Backyard Kathy and Ezno. Both are wondering who Hayden is going to put up. Enzo telsl her he doesn't know for sure but he thinks its Annie. Kathy thinks it's going to be her. Enzo tells her she's being ridiculous theres nothing for Kathy to worry about. Kathy says she is worried that people think that her and Brit are the saboteurs because their not. She says her daughter is around the same age Brit and they kind of look alike but they never knew each other before the show. Enzo tells her not to worry everyone knows BB wouldn't do that it's too obvious.



1:30am Bathroom Monet and Annie whispering. Annie is doing most of the talking Monet listens but adds very little. Annie tells her the experience in the house has been so overwhelming she hopes she can keep it together. Annie brings up her breakdown and apologizes for it all… Monet washes her face.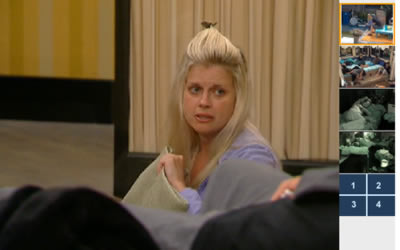 1:40am Cabana Room Enzo, Hayden, Kathy, Kristen.
Enzo Asks her "What can you do on the show to get you kick off the force".. Kathy: "As long as i don't do anything stupid that disgraces the force"
Enzo: "Like What"
Kathy: "Like sleep with your ass"
Enzo: "what do you mean sleep with your ass.. sleep with your ass out?"
Everyne is laughing at enzo she explains SLEEP WITH YOU SLEEP WITH YOUR UGLY ASS
Enzo laughs "ohoh i'm a married man"
good grief it's getting late.
2:00am Cabana Room Kristen and Hayden. Hayden tell Kristen about the event earlier where brit wanted to start a fight with Annie to prove she was loyal to Hayden. Kristen tells him there is now way either of them can trust Brit. Hayden completely agrees and brings up that rachel is just as bad. He says that Brit is not very smart and is physically weak so not much of a threat. Kristen says "Yup she actually has no redeeming qualities" Hayden says the only reason she'll be kept is because she's so weak. Hayden "I don't even think shes a nice person" Hayden: "Tomorrow Brandon is going to try and make an alliance with me and i'm going to tell him the only way for rachel to stay is Annie to leave. Hayden adds " I want to be safe next week but i don't want an alliance". They begin to discus a deal to be made with Brendon so that Hayden doesn't agree to an allianc ebut is safe for at least on week. Hayden "I can also throw somehting in like when i'm HOH next time i won't put you up…" Kristen says to add that he won't put brendon or rachel up. Hayden thinks is a good idea… They start talking about Enzo they decide that Enzo is a risky person to have around Hayden "He'll have the entire house wrapped around his finger"
Hayden is positive that ragan doesn't like him… Talk moves to the saboteur, There is alot of talk about it being Kathy and Brit because they are both from the same state (Arkansas) Kristen doesn't think they look alike and Hayden agrees.

Share it YO!!
Tweet