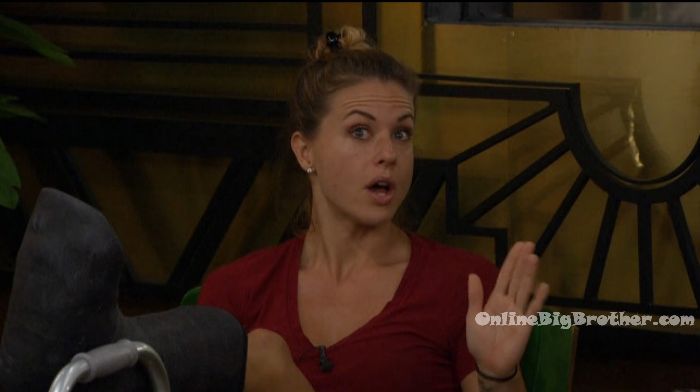 Check out our BB19 Ranking Grid. . rank your houseguests here
9pm Josh and Christmas in the HOH room.
They're talking about the fight yesterday. Christmas – Mark said f**king nothing. Paul .. unloaded on him. Unloaded on him. Josh – I can't f**king stand Mark. He's a f**King douchebag, burley, d**khead, f**king contradicting f**k. And he's putting up that front like he's not f**king with that sh*t but he is only doing it for his game because if he really had the choice he would protect Cody and be on Cody's side. But for his game he knows that's not smart. F**K You! Josh – its going to feel so good to see her walk tomorrow. In my DR I said you played yourself. I wasn't really gunning for you. You put yourself on the block. They personally attacked me but now I'm going to show them..



Josh – top four… me, you, Paula and Kevin. Me and Paul are going to turn it the f**K up on Mark. When the shift in power happens they'e going to need to run. Christmas you better Josh – and when these three pull in off. When this sh*t happens.. Christmas – Josh – when this stuff happens they're going to have to run because sh*t is going to go hay wire. Christmas – you've seen how I preform. I'm a stone cold b***h. Like you don't bug me. I don't get bothered. I got tons of smiles for your. I've got a ton of crazy Christmas that I haven't unloaded yet. When the house flips because it will in the next two weeks… because I have a ton of Crazy Christmas to unload. Josh – I love our six. Matt and Raven didn't talk to me until day 35. Christmas – we were down in the APSR (Austin Powers S*x room) and Paul was saying that one of the four of us need to get it. Paul said if it comes down to me, him, Jason or Alex .. Then they should throw it to me or Jason. As much as I want Jason to find out about his thing I'm not going to have that many more opportunities for HOH and I won't get to play that many more. Josh – yeah you should get it because then it allows for Paul to compete in the temptation, Jason to compete in the temptation, Me, Kevin. So that you have strong competitors against Cody. It is is the elimination you have to beat. Christmas – we need someone to throw it, so that Cody can't throw it. Josh – I'll f**king throw it. Christmas – no, because you are on target for so many people. It needs to be a neutral person. Josh – I get so excited when we talk because you seriously calm me down. Christmas – you can't take it personally. Christmas – she (Jess) wants to play the constant victim. Josh – oh her victim thing is done, DONE! Christmas – I broke my f**king foot, do you see me f**king complain!?

See what they can't show you on TV Try the live feeds for FREE!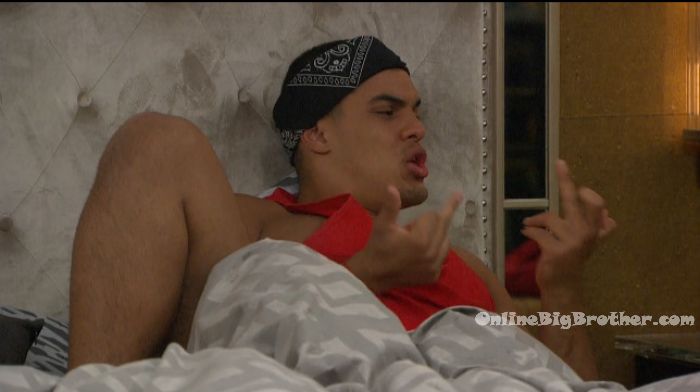 9:35pm HOH room. Paul, Josh and Christmas.
Paul – I think they next ones out are Cody, Elena, Matt because that stacks it so if those three are in jury and then we send Mark after that .. then they all have to fight each other to come back into this house.

10pm HOH room. Matt, Jason, Alex, Christmas.
Matt the most dangerous people in the game and the people that need to go are those that are more likely to win HOH. For me you can take very thing else out of it.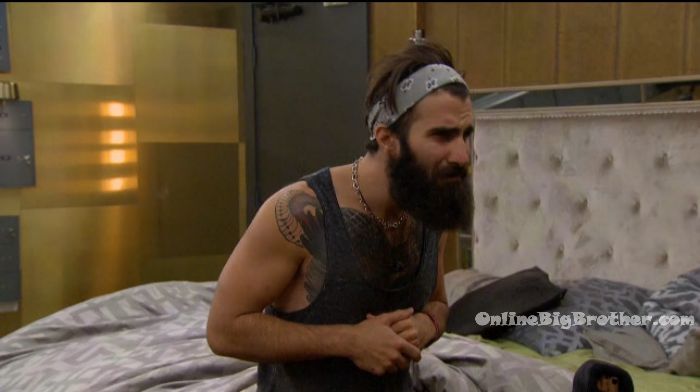 10:10pm Kevin and Paul.
Kevin – is everything good? Paul – yeah. There is something up with Matt. I don't trust him. Kevin – you don't trust Cody's word? He doesn't know . Paul – you need to be careful man. Kevin – since the fight I haven't spoken with him. Kevin – if we can get Cody, Matt and Mark.. the others will be easy.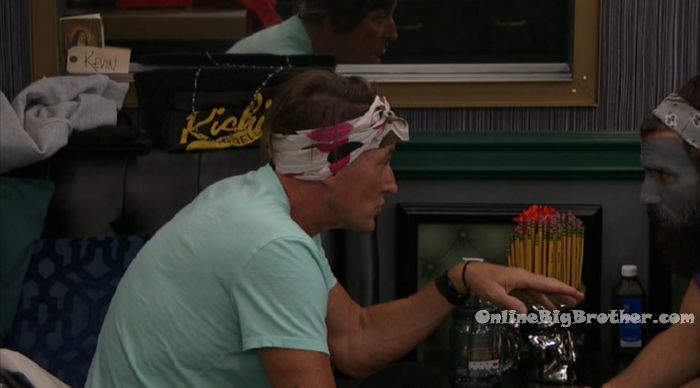 10:50pm Josh and Jason.
Josh – we need Matt and Raven right now for the numbers. If we turn on Matt and Raven and Mark and Elena .. then guess what they go with Cody and than's 5. Raven and Matt make me want to f**king run out of this house.
11:25pm Paul and Alex in the HOH room.
Paul – the reason why I don't want to win this week is to play in the double eviction HOH. Then we could send Matt and Raven out after. They're getting annoyed with Christmas, and Christmas already f**King hates them…. so for some reason if things go wrong, you and I are out of the loop. In a perfect world we could send Cody and Mark out back to back. If not Matt is a f**king weird motherf**ker. When we use him as a pawn, that is what we backdoor him. If you and I want to make it to the very end … we need to keep.. Alex – Christmas, Josh, Kevin.. Paul – then we can steamroll .. Josh can't win anything, Kevin says that he can something but.. Paul – I think we need to put Kevin in check and put him up as a pawn.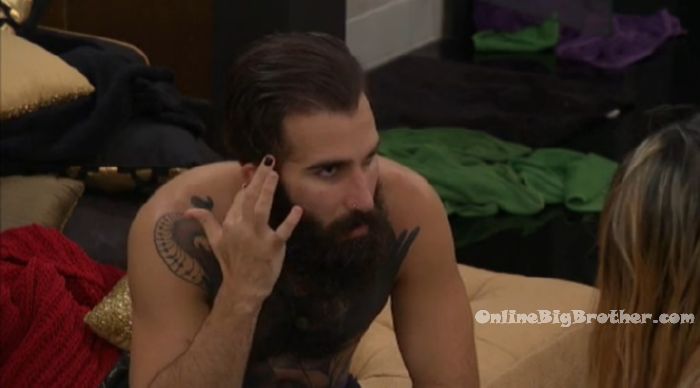 12am – 1:30am Bedroom. The house guests are hanging out chatting about random things.
1:24am HOH room – Paul's friendship chat with the cameras..
Paul – I am going to try and make it the other half without being put on the block. Josh joins him. Josh – I want to slap the sh*t out of Jason until my hand hurts. Paul – the fool is a f**king cowboy, he can't do anything. Josh – that kid can't do sh*t. Paul – he's punched and been punched more times combined than you have. Josh – I want to punch him one time for good. I really think that he thinks I'm a bull. Paul – I really bet he could kick anyone's a$$ in this house. Josh – oh 100%! He could f**k up Cody and Mark at the same time. Paul – yeah he can. Josh – he could legit f**k up both of them. Josh – I like our group.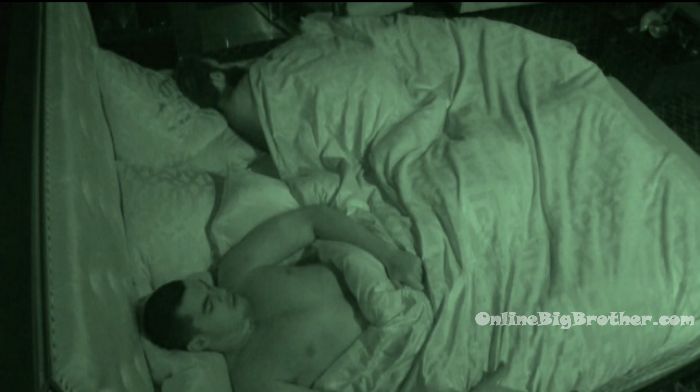 Alex scares Mark @bigbspoilers #BB19 pic.twitter.com/VVU77UP3B2

— Dawg (@DawgsBigBrother) August 10, 2017
1:30am – 2am Alex hides in the garbage can in the storage room. Elena goes and asks Mark for help in the storage room. He heads in and Alex scares him. Mark says he was getting relaxed for bed and now they got him worked up. Mark and Elena head back to the havenot room. Mark tells her that earlier he tired to give her a hug and kiss in the bathroom and she blew him off. She kisses him and asks if he's all better now. Mark plays a little grab a$$ as they make out. Elena – thank you for sleeping in here with me this week. Mark – did you enjoy the company? Elena – yeah. Mark – good, I didn't want you to have to sleep alone. Elena – you're too nice to me. Mark – you deserve it. Elena – no I don't. Elena lies with Mark and they make out in bed.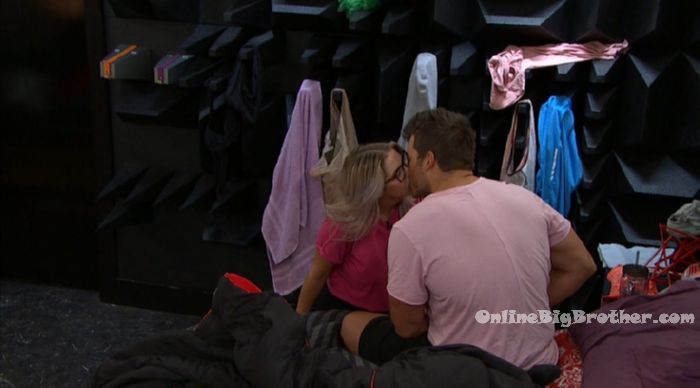 Mark and Elena @bigbspoilers #bb19 pic.twitter.com/2bbZORa0l2

— Dawg (@DawgsBigBrother) August 10, 2017
1:55am Havenot room. Elena grinds on top of Mark and then gets off to go back to her bed. Elena tells Mark he can j@ck off if he wants. Mark – I kind of have to, is that weird? Elena – no. If you c*m, I'll catch it in my mouth. Mark – what? Elena – I'm kind of not kidding. Mark – f**k. Elena – hows it going? Mark – really good. Elena – but you're silent. Mark – I'm just thinking about you and me in here with no cameras and no mics. if you let me know you can do it
Elena "If you c**, I'll catch it in my mouth."
Mark "what?"
Elena "I'm kind of not kidding"#BB19 @bigbspoilers pic.twitter.com/niblizbzCA

— Dawg (@DawgsBigBrother) August 10, 2017

2:30am Mark heads to the washroom, then stretches out his calfs, farts and then washes his hands.
If you plan on buying anything from Amazon. Use this link Amazon home
Doesn't cost you anything and we get a small cut.
Links to the ranking system
Rank your house guests here
For those of you that like Statistics here are some expanded reports.
Next and Previous posts
Shortcut to Comments
Share it YO!
Tweet