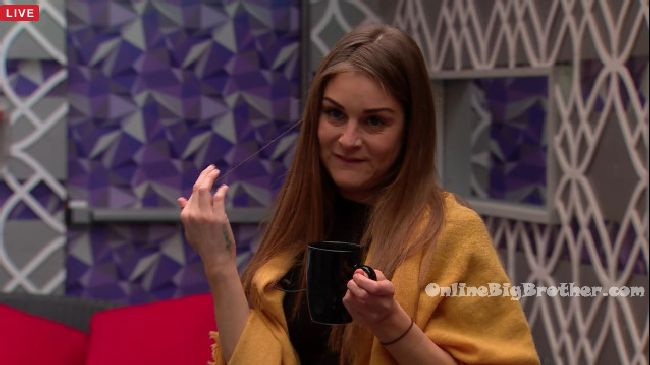 3:10pm – 3:30pm
Tim explains his double or nothing plan to Joel, Jared, Mitch and Phil. Tim says for it to happen Nikki needs to agree to it. Nikki says that she will think about it. Tim says we're still leaving it up to fate. I just think we're being boring for Canada just doing nothing. We have the power of big brother, that's all I care about. I want to kill big brother so that I become big brother. Tim says that both Loveita and Sharry need to be on board with it. Nikki says I like them both equally. So we decide? Tim says no, we don't decide. We leave it up to fate. Nikki says okay I'll do it. Nikki leaves. Tim says its evil. I just thought about it and its evil, I don't like it. We're playing god. Tim goes to talk to Nikki by the pool. Tim asks Nikki if she likes to gamble? Nikki says yes. Tim says the best part of it is that all the others can't make any plan. We're stuffing up their game. Will it make them come after us? Nikki says it will make them talk about us. Tim asks if he and her should go into the diary room to explain it to big brother. Nikki says she doesn't think Loveita will want to do it. They agree to ask Loveita how she feels about it. Nikki says we have to play the game but can't we be a power couple? Tim says yes. Tim suggests he and Nikki plan a pretend fight to keep it a secret they're working together.
4pm Bedroom – Raul asks Loveita if I give you my vote what will happen? Loveita says that she wants him to vote for what is best for his game. Raul says its not that I don't like you. If I keep you in the house I want to make sure you won't come for me, Kelsey or Jared. Loveita says no, we're even.
Tim losing, finding and feeding his pet spider.

4:50pm The house has quieted down. Their eating, giving massages and meditating.

Want to watch the Big Brother Canada 4 live feeds but live outside of Canada?
Bypass the geoblocking with HideMyAss VPN and be Canadian Anywhere: VPN Help Guide
If you're using an Adblocker, you're making a kitten cry! PLEASE consider disabling it for www.onlinebigbrother.com by adding us to your whitelist.
This is very easy to do: simply load www.onlinebigbrother.com in your browser, left click the adblocker and click "disable for this site"
If don't want to but want to stop the kittens from crying, please consider making a donation.
Share it YO!!
Tweet