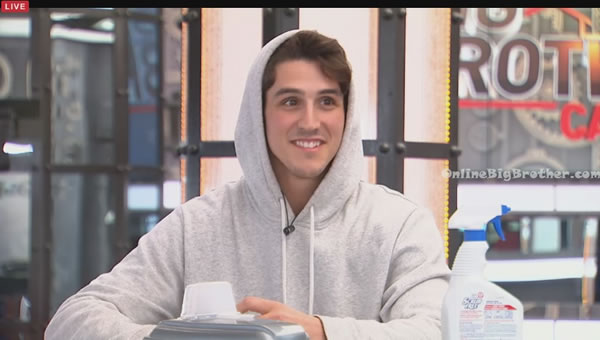 12:44am Zach and Jordan
Zach – this season is better than any other season.. the way things are lined up the people we have .
Zach – the way we're set up in the game it's beautiful
Jordan – it's money
Zach – I'm pretty sure we're the only people going to the DR together
Jordan – I think so
Zach asks him if he ever thought he would be brainwashing people
jordan – F*** no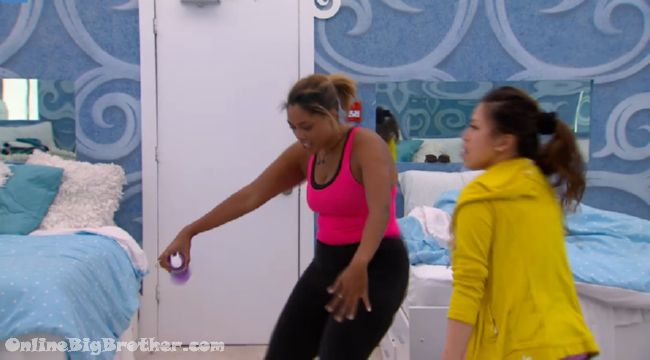 12:52am Sindy and Brittnee
Celebrating that Bruno and Bobby are on board.
Brittnee – He's going to be so shocked.
Sindy – the look on their faces..
They both wanted to work with Jordan but he's just too close to Zach.
Brittnee – he's playing his game for Zach right now.
12:57am Bruno and Sarah
Sarah tells him Sindy and brittnee are pumped to take Jordan out "he's a big player"
Sarah is glad Godfrey is staying
They agree Godfrey got a sh1ty end of the deal. Sarah – Everyone acts like he has no chance at all and I f*** hate that
Bruno – you notice how Cocky JP was all week.. he's talking about next week next week.. Buddy next week you'll be sitting at home buddy.. I love it Sarah..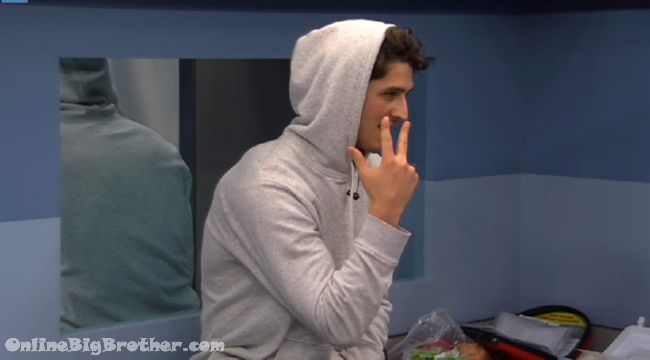 1:08am Zach and Jordan
Zach – This game is crazy.. There's going to be some big moves to come
Jordan – Ya Big Moves
Zach – Jaw droppers.. Whats next
Jrodan – I still want to stick with the plan.. if I was HOH this week I would take the shot if I win that is what i will do
Jordan – the Diaper alliance that is the key
Zach – If I get power in a week or two.. I don't know who I will knock off.
Jordan – To be honest I was pretty upset this week you didn't make the move.. but I understand the move and I know now you don't want to do it so I'll do it or Kev
Jordan – It makes sense for your game.. I totally get it.. 100%
Zach – 12 people keeping the risk low now.. I'm happy where we're at now
Jordan says emotionally he wants to win the HOH but rationally he's not going to, "Sindy's gotta go". (LOL she got you first)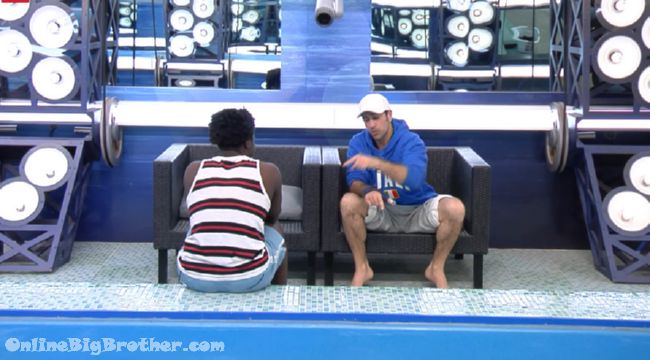 1:24am Godfrey and Bruno
Bruno says once Zach is gone if Kevin doesn't sign up with them then he's gone.. All they have left is Pilar and Ashleigh. They feel confident those girls will not pose a threat in the competitions.
Godfrey – if he's not with us he's against us
Bruno says that Sindy wants to work with him but he's not in an alliance with her.
bruno says Asheligh is "Weak as Sh1t" in competitions
Godfrey – She might as well sit out the competitions to"
God – they are going to be shocked tomorrow

Bru – All week she's been walking around like a f***g princess.. Zach's been walking around all tough.. JP is all confident.
God points out they think they are untouchable
bruno says they should have taken JP off and put Bobby or him up. That is what he thought was going to happen.
Bruno – I hope theres no twist
Godfrey – I owe you guys BIG time even after all that shit they told you guys you're still with me
Godfrey says he's got a wicked speech planned for tomorrow, "i'm going to say if I stay here I'm going after that guy"
Bruno – "Black and Bru baby"
They agree Zach made a very dumb move putting Jordan up. Bruno says he was thinking about putting Zach and AShleigh up last week but it was too early. If he had that power this week he would have done it. \
Bruno points out that Sarah and Johnny were after him last week.
God – we see how Zach operates.. he put his number 1 up \
they agree the only reason they would put each other up is if they wanted each other gone.. Never as a pawn.
Godfrey – they got too cocky..
God just wanted them to tell him straight up he was going home, "Next HOH they're done"
They agree if they stuck with Zach's plan they would have been picked off one by one.
Bruno about Jordan – He's super smart
Godfrey – Clearly not that smart he volunteered to be a pawn
Bruno – he thought he was making a big move
Bruno says JP and Zach hadn't talked to him in over a week he knew something was up.
They point out how Zach, Willow, Ashleigh and Jordan are always together.
God – They're not talking about Podcasts yo
Bruno – they were really sloppy this week
Bruno recommends if they win HOH be nice to everybody talk to them all because you never know what will happen.
Bruno thinks Kevin and Pilar will go after Sarah
Godfrey says Ashleigh thinks she's the queen like she's safe for the entire season
Bruno – We have to have to have to win HOH tomorrow..
Godfrey – I've been second in all the HOH
Bruno – He took his own guy out man.. there's gotta be a twist coming I hope it's not tomorrow.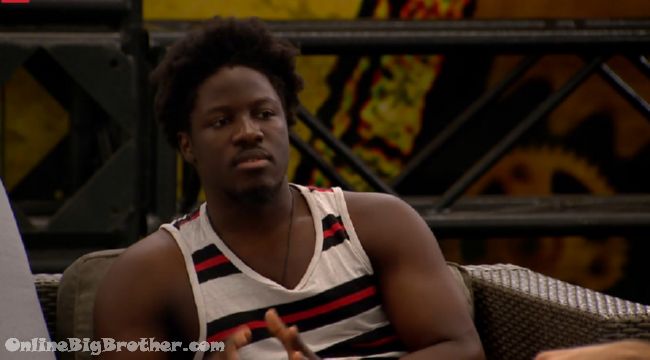 2:12am outside Bruno and Godfrey
Godfrey starts telling Bruno how Jordan was interrogating him this week. Explains all the sh1t Zach and Jordan were feeding him all week. How Jordan was always moving the target off Kevin and suggesting Bobby and Bruno. God brings up Jordan was saying Bruno was a dad and he should go home before jury. Jordan told God that bruno has in tight with Bobby and he also tried to make a final 2 with Jordan. They told Godfrey if they used the POV on him and Bruno went home Godfrey would have to put up Bobby if he won HOH.
Godfrey explains how he had to play along with them.
God – There was a lot of shenanigans bro, yo
They agree if they win HOH Ashleigh and Zach are going up Willow will be the replacement nomination.
Bru – Ever since he got cocky I hate that.. Dude you're on the block don't get cocky, everyone is watching
Godfrey wants bruno to make sure the girls are still down with keeping him. Godfrey is going to act sad.
Bruno – Jp is the brain and Zach is the brawn
God – They're going to pay trying to get me out this early.. I'm going to put this guy up just to see the look on his face.
Bruno – I'm telling you bud you never have to worry about me we're going to the end yo
God was never worried about Bru and Bobby
Bru likes Brittnee and Sindy he's never talked game once with Sarah .
Godfrey warns that Sarah is a liar
They laugh not knowing who to look at when the vote goes down. Godfrey hopes they all sit on one side. Bruno wants to make sure he's sitting across from them.
For 10th time bruno tells him he will never put Godfrey up and anyone he says he's going to is a liar.
God mentions how Cocky Willow was getting telling JP he was going to feast tomorrow night once he's not a Have not.
Bruno – he(Jordan) was talking about next week with me.
Explains he was talking about bruno and jordan being a have not next week.
Godfrey – I was there bro I was playing tic tac toe
Bru says it's JP, Zach, AShleigh, Kevin and Pilar
Godfrey calls them "Jackly" (Jp , Ashleigh and Zach)
They agree Jordan cannot keep up with all his stories.
Godfrey goes on to tell a story about Cats and Rats in Zimbabwe. (It's in the video) Godfrey also tells him he made up the Injured Raccoon society (IRS) when he entered the house
God brings up Graig coming up to him after the first couple hours talking about alliance.
God – This (Graig) guy was literally telling me.. bro we gotta get rid of Bobby.. he's fricken strong he's got 2% body fat
They share their first two votes and they both voted for "Pils and Bobby"
Jordan joins them says "The obituary of Godfrey Mangwiza"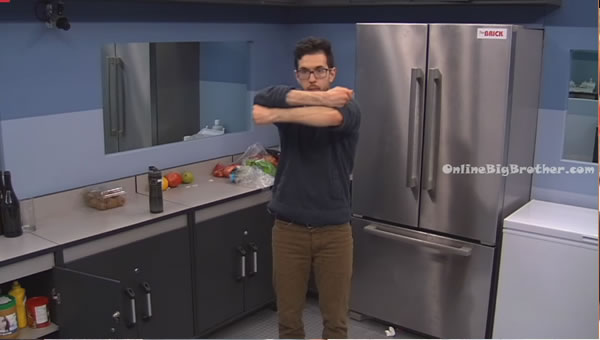 3:01am Kevin in the storage room (There's no veto that I know of. maybe a veto ticket)
Saying that Bobby has a secret Veto that lasts for three week. Says Bobby told Zach, AShleigh, and sindy "It's such a unfair advantage"
Jordan – Zach should have taken a shot at Bobby this week or Bruno
Jordan says he treated kevin like Sh1t the first half of the game.
Jordan – I'm in with Zach 100% and in with Kevin 100% ..
Jordan – Canada if you win HOH please put Bobby on the block.. it'll be good TV .. If you want good TV get rid of the Chop Chop
Jordan for some reason is telling us that the chop shop is controlling everything, running the game.
Jordan – Hows is that fair he has a veto
Jordan – Mom dad I love you so much don't worry about me I'm going to be fine.. these next couple weeks are goign to be insane.. with bobby winning the veto it's very bad for my game.
ALLIANCES IN THE HOUSE
There are always a lot of Alliance but we've tried to make sense of it all.. Read our alliance help guide
[polldaddy poll=8810064]
Share it YO!
Tweet