2:45am – 3:05am HOH room –
Austin, Liz, Vanessa and Steve are talking. Vanessa says I have a really cool idea. We get the whole house thinking that the target is .. whoever it is.. they could think its Steve, they could think its whoever it is. And the plan is to backdoor this real target. Then get Johnny Mac to throw it. If one of them wins HOH or none of them win HOH. We get them to think that Johnny Mac's job is to throw the BOB. We get Johnny Mac to go up there with the assumption the plan is to backdoor you. When in reality we tell Johnny Mac you're going to tell them you're throwing the come but you're never throwing the comp. Then someone like Austin is on the other side and he is actually going to throw the comp. So it will look like the wrong side retained power. Steve asks why would we do this? Only if one of us and one of them are HOH. Vanessa says no even if they're both HOHs. Steve asks why? Vanessa says to throw off who is actually working together. Steve says don't they already know?! Vanessa says they have no idea you're working with us. Everyone is courting you. Austin says people will never suspect you and I working together because we've always had our little thing. Steve tells Austin keep doing that by the way, you haven't don it in a while. Austin says he was in a bad spot this week but will ramp it up next week. Austin suggest if we can keep getting HOH the next 3 weeks we could keep making those 3 (James, Meg, Jackie) havenots .. by week 3 Meg would be dead. We wouldn't even have to evict her. Steve says that's dirty! They tell Steve again he needs to win this HOH. Austin and Liz leave.
Try the Live Feeds FREE for 7 DAYS! Click here for your: FREE Trial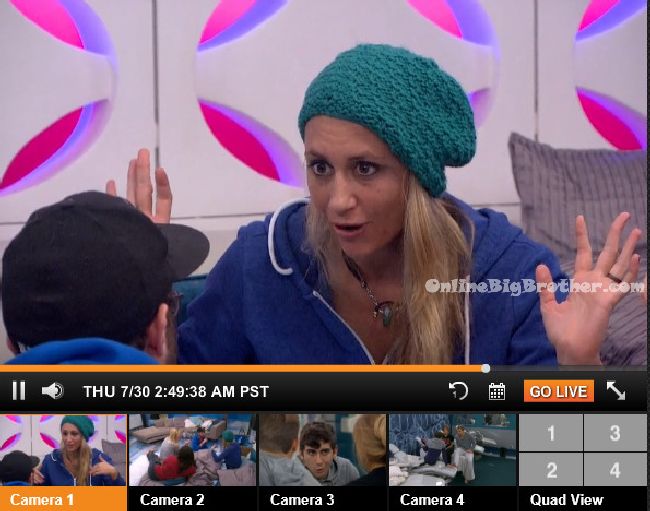 Subtle hints @bigbspoilers #bb17 pic.twitter.com/CUcLtn8js7

— Dawg (@DawgsBigBrother) July 30, 2015
3:05am – 4:10am Vanessa tells Steve. Steve says I have targets. I have ammunition against Meg. Jackie wanted me out this week and James put me up. Vanessa tells Steve that she heard he has a final 2 deal with someone. I know because that person said it in front of a group of people. I am just telling you because that person must not be loyal to you. Steve says I am being completely honest when I say I have not shaken anyone's hand and said final 2. Vanessa says I doubt they're lying. Steve says I haven't made any final 2 deals. Vanessa says its obvious that its Clay and Shelli that told me this and the person that said this is someone (Johnny Mac) that you're close with and they're even closer with. Be careful what you say because this person tells them everything! Steve asks who? Vanessa tells Steve he cannot tell anyone that she told him. During the whole Audrey thing, Johnny Mac came clean to Clelli about all of his deals. He really wants to work with them super tight. If you think you can trust him, you can't. Steve says Johnny Mac and I have a deal to look out for each other but no final 2 deal. Vanessa says that Clelli are worried long term .. if you're close to me and Johnny Mac. Vanessa says I would never utter a word of our deal to anyone! Vanessa tells Steve she thinks he has a great shot at getting to the end. Vanessa tells Steve that she would never ever put him up. Vanessa advises Steve to watch Clay as a role model for a good social game. Vanessa says that people have said to me "Shelli is running the house and people are letting her". Steve says Shelli and Clay will not be in the final 2. Steve heads down stairs to shower / go to bed.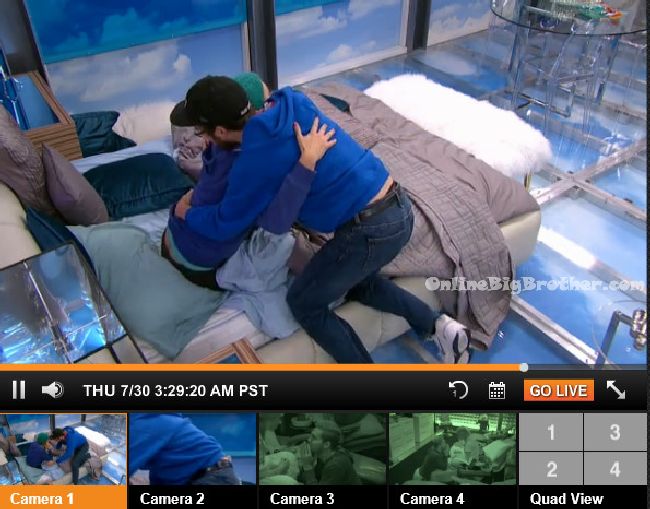 4:30am All the house guests are sleeping..
[polldaddy poll=8994045]
Share it YO!
Tweet