Want to watch the Big Brother Canada 7 live feeds but live outside of Canada?
Bypass the geoblocking with HideMyAss VPN and be Canadian Anywhere: VPN Help Guide
9:50pm HOH room. Chelsea, Sam and Kyra.
Chelsea – she was sitting here telling me I should put Dane up. She said she caught Dane in two lies today. Its like this desperate plea to try and get close anyway she can. She said I will forgive him but I will remember. She said I log everything in this game. And I was like so what about you throwing my name under the bus? Kyra – if you're logging, do you think that we're not logging as well? Sam – she came and sat next to me and said I want you to help keep this house together. She said there is no reason why we should go separate. Chelsea – I think that she is a good person in real life but that power and the ability to manipulate people is dangerous. Sam – its really dangerous.. like I can't do that, you (Kyra) can't do that, you (Chelsea) can't do that. Chelsea – in real life she is someone I would like get along with but in this game I am looking at the people with the power of persuasion.. and I've got to get her out. I've got to. That's what we have to do in this game, get strong players out. Sam – Dane is dangerous. Dane is a liar. Dane can't be trusted. Kyra – but if Dane thinks that I trust him and that we're loyal to him, then he won't go after us. Chelsea – we have to see how this week goes but if I get the opportunity to backdoor her I think taking out a strong player like that would be a strong game move. If we see how this week plays out and we see someone else get on the radar and maybe that's someone better to backdoor then we'll entertain it. Because right now she is working with us. She has no reason not to. Kyra – she is working with you, she's not working with me. If I win next week I am getting Kailyn out. Chelsea – she doesn't have anyone right now so lets just be conscious of that. I don't think she wouldn't tell me something and immediately stab me in the back. Kyra – she's done it to all of us. Chelsea – right now if it stays the same and one of them goes home .. that doesn't rock the boat but is kind of a pu$$y HOH but it gets floaters out. Kyra – but also if you Kailyn out of the house its not going to rustle feathers also. Chelsea – I have to think about the fallout from Anthony and Dane. Kyra – Dane knows that Kailyn threw his name under the bus. Chelsea – Anthony though. Sam – are you on board with getting Anthony on board with back dooring Kailyn? Kyra – yes. Sam – that's why earlier I asked her .. I wasn't asking for names. I said to her .. she was talking about floaters and I was like are one of those people someone I would not expect? And she said yes. Chelsea – she will throw anyone under the bus. Sam – so she meant Anthony. Chelsea – that's enough, its a done deal. That's my target. Anthony joins them.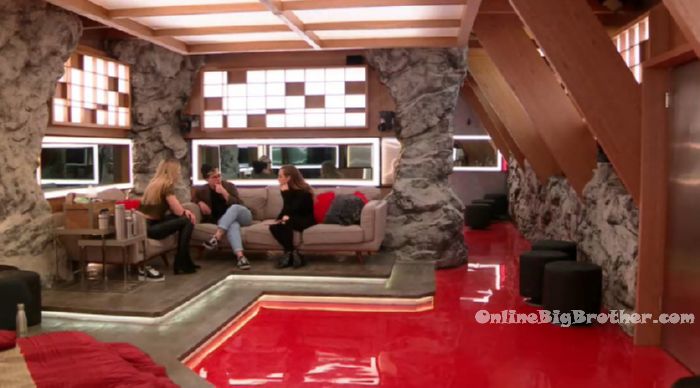 10:20pm Havenot room. Damien, Mark and Anthony.
Damien – I don't know all I really need is a vote but I want to pull myself off. At lease I get a veto this week. Mark – here is the thing she (Chelsea) publicly stated that you're a pawn. Anthony that makes a huge difference. Now the whole house knows it. You wouldn't self destruct your own game. Damien – I am not going to ask for your guys vote right now because its too early and I know how that sh*t works. Mark – lets just talk after the POV.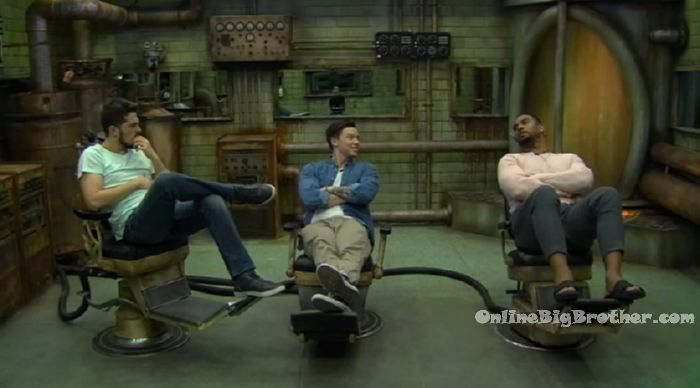 10:40pm Cory and Kailyn.
Kailyn – the weirdest fricken thing.. yesterday after everything I am standingin the pantry and he comes is and just stood beside me and aksed is everything okay? I said yeah, always. Then he gave me a big hug and kiss on my cheek. And he walked away. The camera was right there and I said yes.. And Judas kissed Jesus as well. It just came out. Cory – so perfect!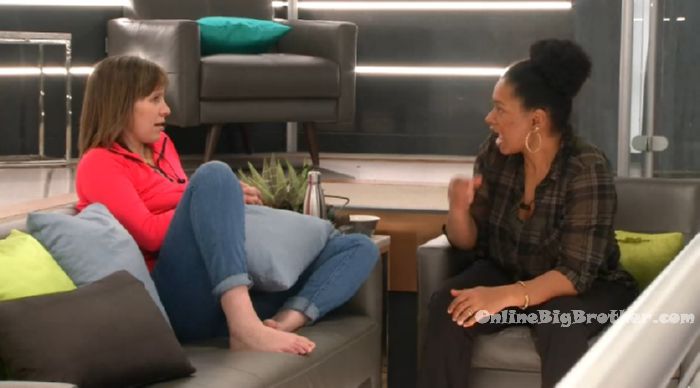 Support the site and purchasae your Amazon goods through our link below. It doesn't cost you anything and we get a percentage of what you buy.
Amazon Canada
Amazon USA