Get the BB13 live feeds on your Android and iOS devices. Sign-up for the 3 Day Free Trial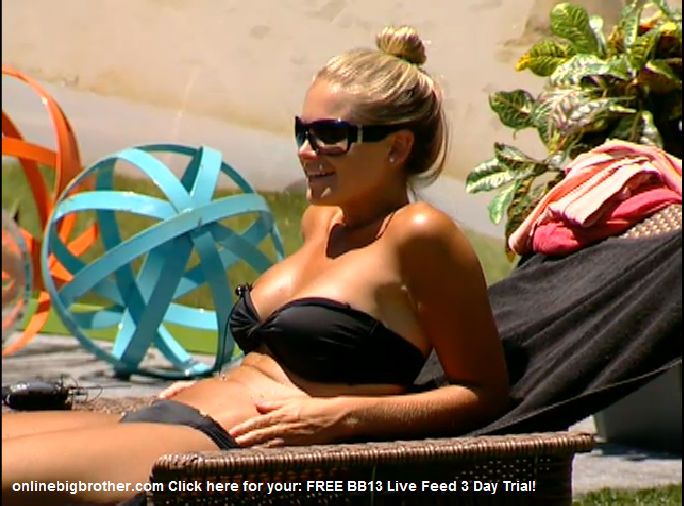 1:30pm Shelly and Jordan are suntanning. Porsche is icing Adams cake and tells Kalia that the party for Adam is between 4 and 5pm today. Adam has a shower and then shows Kalia his new face. She is shocked and tells him it looks good, that he looks totally different. Adam says that he doesn't even recognize himself. Jeff is trimming his hair in the bathroom. Rachel finishes up working out and then takes a shower. Dani comes out and says that she is going to dye her hair. Dani then heads up to the HOH bathroom to dye her hair.
Click here for your: Live Feed 3 DAY Trial!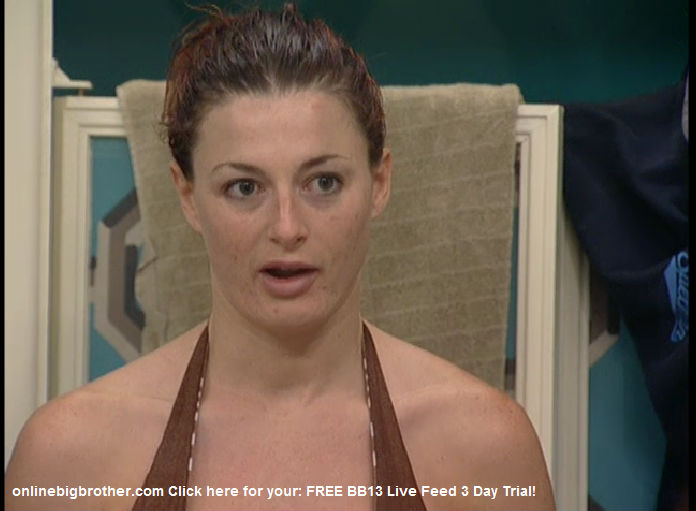 1:50pm Rachel goes up to talk to Dani and says that she is sorry that she took Dominic away from her but that she took her fiancé away and that really hurts! Rachel says that she sincerely apologizes. Dani says that she appreciates the fact that she is apologizing but that they turned their back on her and that she just couldnt trust them anymore. Rachel and Dani hash out their differences and why they acted the way they did. Rachel apologizes again for how she acted immature and says that she is a strong person but when it comes to Brendon she doesn't know how to act… and think. Rachel says it sucks because she was fighing to keep him there and that she was ighting for him to be there. Rachel says that it physically hurts. Rachel tells Dani that she never apologized toher. Dani says that she never told her that she was a bad person. Rachel says she doesn't want to argue with her. Rachel says that she is sorry. Rachel says that they never didn't want to not work with her and that her doing what she did is why they felt betrayed. Dani says that she doesn't walk around the house feeling uncomfortable but that she cannot pretend to be okay with everyone. Rachel says that we can continue how we been doing and battle it out and end up in jury…or we can swallow our pride and realize that taking each other out is only getting everyone else further.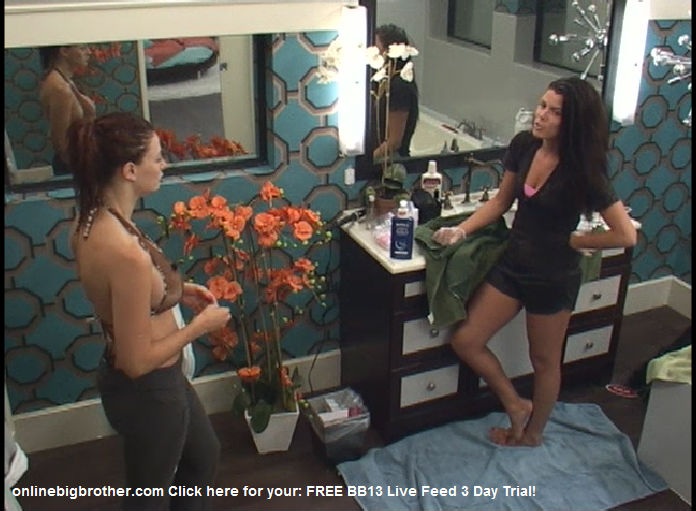 Dani says that it's just really, really hard to trust you in this game. Dani is saying to be honest with your actions from last week to this week …everyone is so uncomfortable around you. Dani says that she doesn't think it matters who Kalia puts up next to you that they will not be going home. Rachel saying I have two votes for sure. Rachel says that Kalia won't know you voted for me. Dani says yeah but Kalia is still the tie breaker. Rachel says I bet I can get another vote. Rachel says that keeping me here will benefit you. Dani says no, it benefits you Rachel Rachel says that she will always be a target and if they take Jeff out, you're the next big target. Dani says you're saying I can't win without you. Rachel says no, if you want to play the game and it not be personal… and that me being in the game is beneficial to me because I will always be target number one. Rachel says that its just something to think about. Dani says that she can't make any promises but she'll think about it. Dani- I do forgive you, I really really do, but I don't know. Rach says that she is frustrated with the fact that other people are not doing anything in the house.
TRY the Live Feeds for FREE!
Click here for your: SUPERPASS – 3 DAY Trial!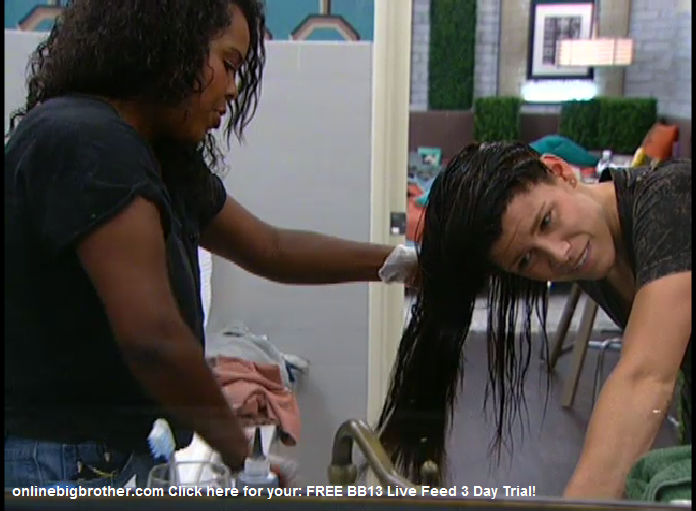 2:25pm – 2:45pm Kalia is up in the HOH now talking to Dani about what Rachel was telling her. Dani tells Kalia everything. They then start talking about what this week's HOH competition will be like. Dani says that Rachel thinks she has some power. Dani says that Rachel said that people are friends with you and then when you're not in power they're not. Dani says that obviously she was talking about Porsche… but look how Rachel treated her. Kalia asks who Dani thinks she should put up on the block. Dani says I don't even care. Kalia says that she is not putting up Porsche and that she thinks Adam is the best option. They then talk about how they will put up Adam and they talk about how they will tell him first. Kalia then starts helping Dani with her hair. Dani says that she likes how Porsche came out of her shell and the she likes her more now. Dani says that if they make the top five …we are good! Kalia tells Dani that she thinks there are more people in the house that respect her (Dani's) game than she thinks. Kalia and Dani talk about whether or not Jeff will put up her. Kalia says that Jeff told her that he will make her dance around like she made him. Dani says that she doesn't think Jeff will put up Kalia. Kalia says what if they put up Lawon and Porsche.. we would need to campaign to keep her …and Lawon would be mad. Kalia says that if Lawon goes into the jury …she thinks he will still vote for her and Dani. Kalia says that she thinks they are in a really good spot. Porsche comes up to hang out.
Sign-up for your: Live Feed 3 DAY Trial!
If you like this site and want to help us keep it running please consider donating, Your donations go directly to paying the server and bandwidth fees. Donate Link
Big Brother 13 Spoilers POLL CAST your VOTE!

Big Brother 13 Live Feed Image Gallery
Follow: @BigBspoilers and @Dawgsbigbrother on Twitter for recent crazed out spoilers. Theres also our Facebook page.
This is not the official CBS Poll, go to this link https://www.cbs.com/shows/big_brother/americas_vote to vote for a evicted houseguest to have a chance at coming back into the house


Share it YO!!
Tweet