POV Holder:
Zach
Next POV
April 24
POV Used
No
POV Ceremony
April 26
HOH Winner
Zach
Next HOH
April 22nd
Nominations:
Godfrey and Jordan
Have Nots
Godfrey, Sarah, Jordan, Bruno
POV Players
Zach, Jordan, Godfrey, Sarah, Ashleigh, Pilar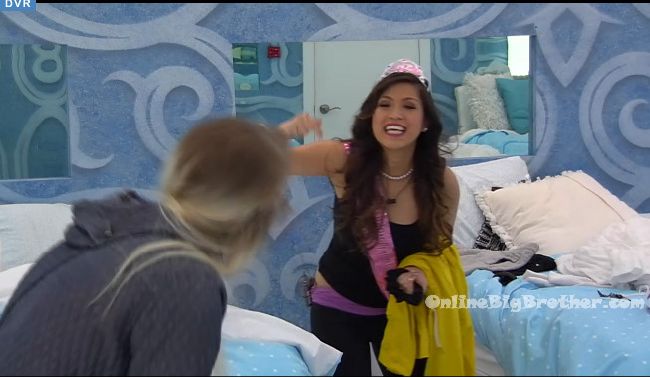 5:20pm Up in the HOH room – Sarah talks to Brittnee. She tells her that she talked to Bobby and said that I needed to talk to you. Brittnee says he should talk to me. Sarah says No one is 100% committing. He said that he would tell me right before the vote. Sarah says people don't think we're close. Brittnee says that's good. Sarah says it's going to kill me but.. Sarah leaves..
Sarah heads to the bedroom and talks to Sindy. Sarah tells Sindy "The tentative plan is to vote JP out and if you can't vote then the plan is off." Sindy says good. Sarah says what is sketchy is he won't confirm until right before the votes. Sindy that's fine we'll all do it right before. Sindy says this is going to be the first time the votes go against the HOH. Sarah says I'm so happy you're here!
5:30pm Big Brother puts the house guests on a backyard lock down. Bruno, Brittnee and Bobby head out to the hot tub. Willow and Zach are tossing the football in the backyard and the rest of the house guests are sitting on the backyard couches. Big Brother ends the lockdown and Zach Jordan and Sindy head inside. Sindy gets Jordan to rub A535 on her back. Before starting he reads the instructions "to make sure it doesn't hurt me" Sindy rolls her eyes when he's taking too long to start. Sindy says JP you spoil me. Jordan says well you're a princess and hence you need to be spoiled like one. The make out on the couch. Jordan then carries Sindy to the bedroom and gets her under the covers. She tells him stop someone is going to come in.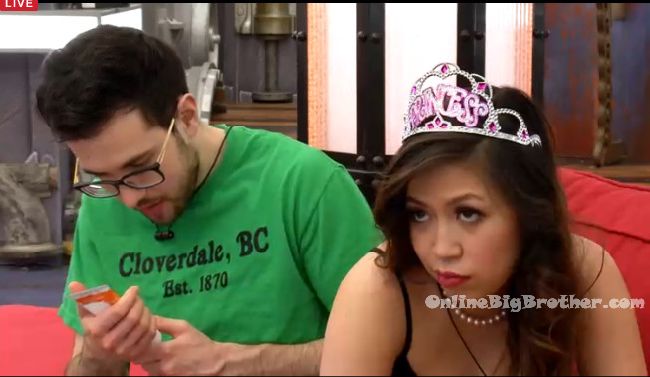 6pm Out in the hot tub – Godfrey tells Brittnee that Sarah and Sindy are going to vote for me to stay. Sindy is going to vote out JP she is just sticking close to him to keep him comfortable. Godfrey says I am coming after Zach. He put me on the block. He knows it, I know it. Brittnee tells Godfrey to get Bruno and Bobby to come talk to me and tell me they're voting to keep you.
Backyard – Bobby, Willow, Zach and Ashleigh on the backyard couches. Bruno says she's safe (Sindy) this week. Zach comments that she (Sindy) could have just robbed 10K and left now. But she wants to fight?! Bruno says yeah she's a fighter. Next week we'll just put her up and send her out if she doesn't win the veto. Bruno says if she's in the veto .. she's a f**king beast!!

6:15pm – 6:30pm Willow says it was literally like we just told Godfrey that Santa isn't real. The feeds switch to Godfrey campaigning to Kevin in the HOH room. Godfrey tells Kevin about how Kevin was the b@ckdoor plan. Kevin says oh wow, that's the first I've heard of this. If he told you that I was throwing you under the bus… I never was. That was his plan you know. JP and Zach are like this and with Ashleigh that makes 3. Ashleigh is so far up Zach's a$$ she can't see sh*t! When you vote .. you vote what you think is going to take you farther. I made it clear I am going after him (Zach)! He knows it and I know it! I think they will go after Bobby or Bruno first but then they will go after you. We have a chance to flip this! I know you're a gamer. I am telling you right now I have 5 votes. Kevin asks who? Godfrey says he doesn't want to throw anyone under the bus .. but Sindy.. she's here to play. I've got Sarah, Britt, Bobby and Bruno. Kevin says that's 5. Godfrey says Bobby and Bruno know Zach is coming after him. If any of these dumba$$ girls make it to the end and you're sitting in jury ..you'll be kicking yourself. Godfrey says that Ashleigh is laying up here in bed with him (Zach) .. she should be embarrassed with herself. Go talk to Bruno, Bobby, Brittnee, Sindy and Sarah, I am going for the one person that can actually beat us in this game. You might think you're part of the clique but when your time comes they will kick you out. You're not at the top with them. I don't even care about winning! My number 1 goal is breaking up that showmance. Godfrey says looks how he treats his number 1 ally. Kevin says you really laied it all out there.
After Godfrey leaves .. Kevin laugh and says that was the worst speech of all time. This is the first time you've talked to me in 33 days and you want me to vote for you?!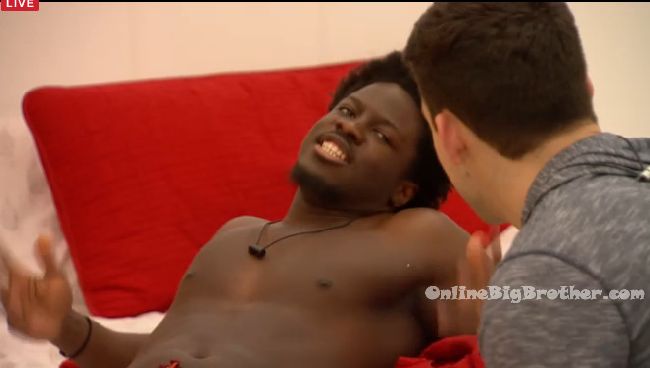 Kevin then tells Pilar and Ashleigh about Godfrey's pitch. "I don't even want to win any more I just want to get rid of Zashleigh." Ashleigh asks he actually said that?! I can't wait for Zach to hear that. Kevin says this is the first time he's talked to me in 33 days and he expects we have some kind of social trust?

6:35pm Godfrey fills Bruno in on his conversations.

6:50pm – 7:05pm Brittnee and Bruno are laying out on the backyard couch. Sarah, Sindy and Jordan are on the inside couches talking about random things and the others are having an ab workout class. Brittnee is talking about Bobby to Bruno. She says she likes him but doesn't know him that well. She thinks he looks like Emmett but that's not why I like him. I'm not that vein.

7:15pm Zach and Kevin help Pilar show off her cheer leading skills. Kevin and Zach then toss Pilar high up in the air and then catch her. Godfrey says he doesn't want to be a part of it because he doesn't want to be an accessory..
ALLIANCES IN THE HOUSE
There are always a lot of Alliance but we've tried to make sense of it all.. Read our alliance help guide
[polldaddy poll=8810064]