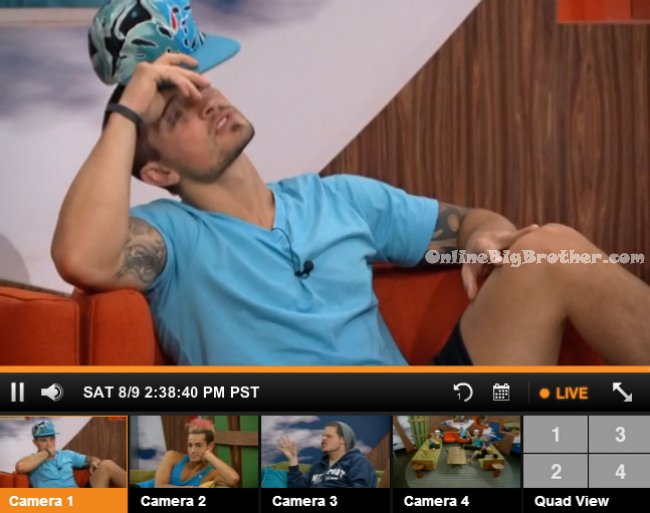 2:15pm – 2:40pm In the living room – Derrick says that Zach has to get his head out his a$$. He's acting like a 3 year old. Its a game not real life. Frankie, Cody, Caleb, Derrick and Victoria are sitting on the living room couch. The conversation turns to talking about what they think the NFL trip outside the house will be like and who they'll see. Cody asks Frankie where is sister lives. Frankie says right around the corner. I am hoping my mom throws an after party so we can all go. Cody asks does your mom live with your sister? Frankie nods yes. They talk about doing their thing here after the finale then go to Rachel's and then to Frankie's sisters house. Derrick asks Frankie why don't you do dancing for your sister? Frankie says I didn't want to piggyback after her. I am her brother and wanted to keep it like that we did work together for a bit but it didn't feel correct. They start asking Frankie how much he makes from his youtube videos. Frankie says I get from between $300 to $1200 a month from people clicking the google ads in my youtube videos.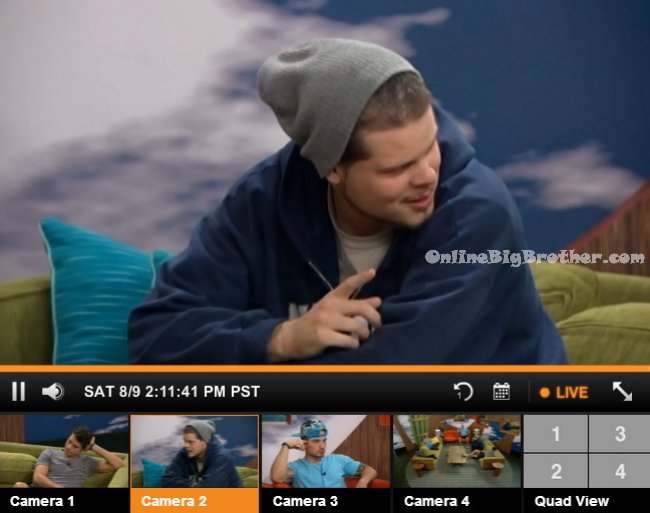 2:45pm – 3pm Derrick shows Caleb, Frankie and Cody the bug bite on his leg. Cody asks what the f**k is that! Is that herpes???! Caleb says its probably a spider bite. Derrick says yeah I just got my foot out of your a$$! Frankie says I have cream.. yeah I have herpes cream. Just kidding. Frankie talks about how he wanted to come to LA to get into acting and couldn't break into it even with all the contacts I have. And then the youtube thing fell into my lap. Derrick asks why? Frankie says because I am seen as being just in theatre. Frankie talks about how he has a youtube agent. I got the agent before I got the youtube channel with my hook up. Usually its the other way around. They approached me and asked me to do it because of my personality. Derrick asks do they help you get subscribers or anything. Frankie says no, nothing!
Alliances 
"The HITMEN" – Cody & Derrick
Team America = Donny, Derrick, Frankie
More polls here https://www.onlinebigbrother.com/big-brother-compendium/big-brother-16-polls/
[polldaddy poll=8233586]
Share it YO!!
Tweet