POV Holder:
TOM
Next POV
March 9th
POV Used
YES
POV Ceremony
March 11th
HOH Winner:
TOM
Next HOH:
March 14th
Original Nominations:
Gary & Suzette
Current Nominations:
Suzette & Aj
Last Evicted Houseguest
Danielle
Have Nots
Alec, Topaz, Aneal, Jillian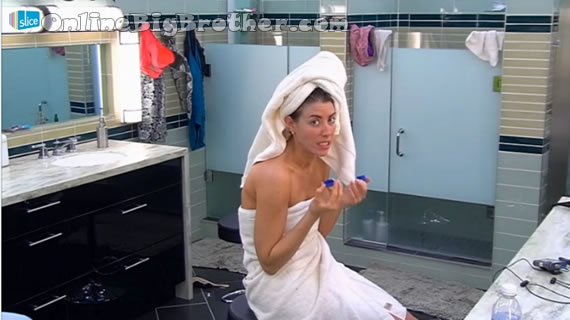 12:06PM Andrew and Liza bathroom Andrew tells Liza that he's going to make a big move and put Emmett and Tom up
Andrew: "Tom keeps sayign Big Players make Big moves.. I'm a big player and i'll make a big move.. "
Liza: "Umm OK than" Liza looks at the camera and curses. (ugh Andrew.. what are you doing Liza has been trying to get your a$$ nominated next week)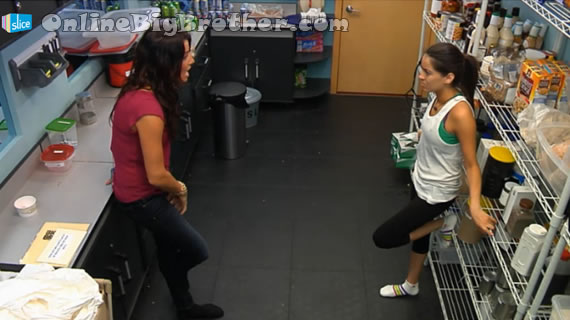 12:10AM Jillian and Talla
Talking about Topaz getting mad at Talla for talking about the "Girls Alliance" too much. Talla doesn't want Topaz to tell her how to run her game. Jillian warns her to keep her cool because if she blows up on Topaz everyone will suspect that something is up.
12:15pm Bedroom Andrew and GAry Andrew has been going around the house rallying the troops against Tom. Gary tells him to start playing it cool because Gary doesn't want to see andrew sent home. Andrew doesn't care "If I go home this week ill leave with a smile on my face" (Andrew has had it with Tom)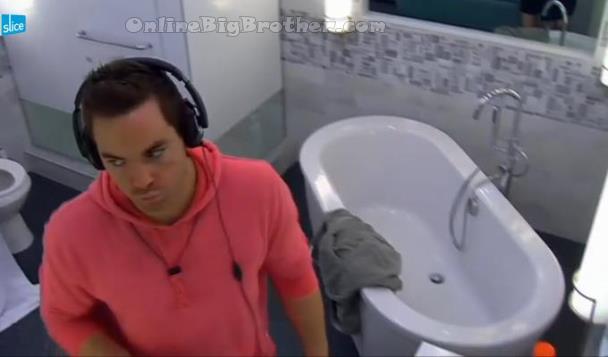 12:15pm HOH Liza and Tom Liza tells him about what Andrew just said down in the bathroom. Tom isn't too worried thinks Andrew is just saying all those things to see if it gets back to Tom. Liza doesn't think so. Liza instruct him to leave her name out of any conversations about Andrew nobody can know that what Andrew tells her gets sent up to king Tom. Talla barges in, Liza: "Don't you knock! what if he was ears deep?"
Tom: "Big Brother I need creatine.. I'm going to go hard and buck up big" Liza leaves and Talla sit on the bed with Tom. Tom wastes no time to tell Talla how dangerous Andrew is. He explains to her how it works to backdoor someone in the Big Brother Game, Talla really doesn't understand. Tom goes on and on about Andrew how he's in love with Liza but can't have her because she's with him. Andrew has something to prove because he's in the house with all these "Young Bucks" walking around with their shirts off… Etc etc etc . (this is the same conversation Tom has told Gary and Talla for the last 3 days.. )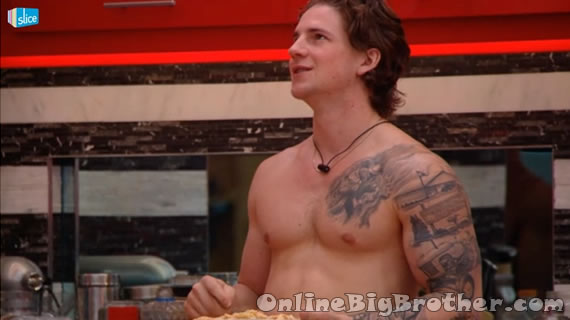 12:37pm Kitchen Jillian, Alec, Andrew and Emmett. They are joking about Suzette who is working out with Aj in the backyard. the joke is that Suzette is trying to get Aj's and Toms vote. Emmett mentions that yesterday he was trying very hared to avoid Suzette. He brings up some stories about how the group would leave rooms as soon as she appeared. Aj joins them says that Topaz is still sleeping.. "She must smoke pot or something" Andrew: "And she still manages to get more cameras on her than you do.. and she's asleep"
12:45pm Tom working out He's the young buck in the house, with all the brawn, he doesn't wear condoms and he's laying some major pipe.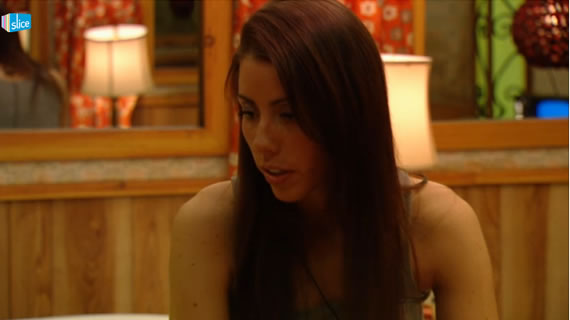 12:50pm Talla and Liza Talla is telling her that topaz isn't in the girls alliance any more. They try and figure out a name for the new 3 girl power alliance, Talla, Liza and Jillian. Liza proposes "TLC, crazy sexy cool" Talla: "When we need to talk we'll tap our heels" (LOL what a bunch of morons)
Talla is going to be going after Andrew if she wins Head of Household. Liza suggest they put Topaz up in case they can't backdoor Andrew. Talla wonders that maybe they should go after Emmett. Liza says maybe they just have to make sure he's up against someone he likes so make sure Emmett goes home. Jillian starts putting into Talla's head that Andrew is number one target, Emmett is target number two and Topaz and Alec could be alternatives. LIza: "I do think you are safe next week regardless of what happens.. you don't have to make a big move right now" Liza now says that Emmett isn't targeting Talla right now but if they want to have any chance of winning the game the showmances have to go. They get up to leave Liza: "If you win HOH I will shit my pants"
(Talla will essentially do whatever Liza tells her)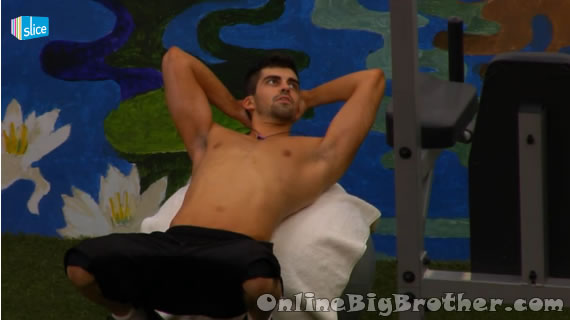 1:35pm Tom and Alec working out Tom tells him that he's talked to Liza and Andrew has said that Alec, Emmett and Tom are his targets. Tom thinks if he puts Tom/emmett up and the POV is played than Alec will be going up. He forewarns Alec no to worry if Liza wins HOH she's going to put Topaz up but she's not a target Andrew is. Tom adds that everyone is onboard to Backdoor Andrew. Tom: "Liza isn't controlling me he's reaching to people that I can reach to" Tom goes back to working out comes back and tells Alec that the play would be Aj and Topaz nominated but Andrew is the target. Tom explains if he wins Power of Veto he'll use it to save Topaz.
1:49pm Talla is now delivering food to Tom as he works out. She's making him a salad goes up to him in the backyard asks him if the salad she's making is to his liking. The King Tom says no he likes it with more spinach. She hurries off to make the adjustments.
2:00pm Backyard working out Tom and Alec Tom is saying how easy it is right now because there are so many people to get out of the house. Tom points out how this week was a cake walk because everyone wanted Suzette out.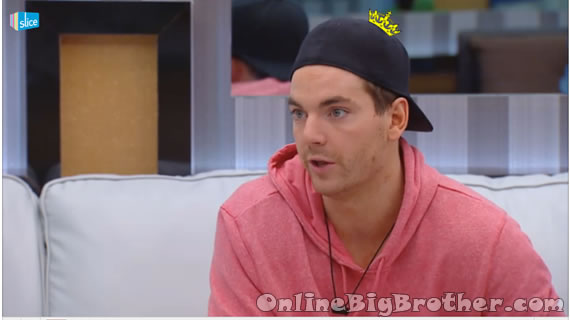 2:01pm HOH Jillian and Tom Tom is saying that the plan for the house is to Backdoor Andrew. Jillian: "Yup that's the plan" Tom: "If Andrew wins he's putting up Emmett and Tom". Tom thinks the best plan is to put up Aj and Topaz and if Andrew wins Power Of Veto they send Gary home. Jillian is onboard with that plan she thinks Gary is after her. Tom: "you are the strongest girl in the house the only thing that Liza has over you is she chats with everyone" Tom goes over and over everythign he's been telling people the last 3 days. He's the brawn Liza is the brains, Andrew is the target, Liza doesn't control him, You have to Win HOH or Andrew will send you home, Andrew has a fire in his belly, Andrew has something to prove because he loves Liza.. (It's getting pretty funny I won't bother posting the video we've all seen/heard his story before )
Jillian: "Oh gee.. I hope nobody takes me out before Jury house"
Tom: "I swear to god we'll get you to Jury house.. Topaz I couldn't care less about her all she does is sleep"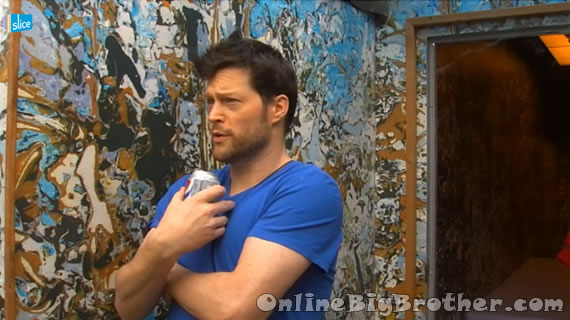 2:10pm Hot Tub Room ANdrew and Aj They are complaining about Emmett and Tom. Aj brings about Emmett not being able to hold his temper, he tells the story when Emmett punched a guy in the face at the bar. Aj wonders if he'll do that to Andrew. Andrew hopes one of the boys takes a swing at him than they are out of the game.
AJ says if Andrew makes a move he's got his back 100%. They both agree that Alec and Peter are good people and not on their radar.
2:20pm Gary and Talla fighting over dirty dishes
Gary to Talla: "You keep screaming at me like that I swear it's going to get real…"
Share it YO!!
Tweet