HOH: Xavier
Nominations: Azah and Kyland
Power of Veto: Xavier
Power of Veto Ceremony: ?
Big Brother 23 Houseguest Rankings – – RANK THE HOUSEGUESTS –
View the previous day ranks on the – Ranking Grid
Big Brother Spoilers nothing really much happened today. The plan appears to still be for Xavier not to use the veto and for BIGD to vote Kyland out. Kyland thinks Azah is being voted out.
10:00 am Wake up music is played.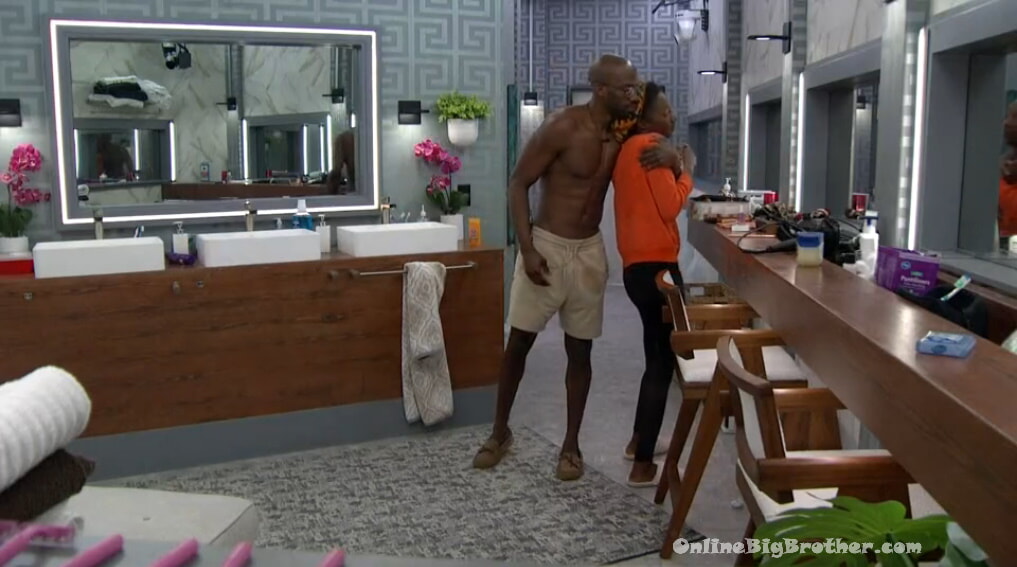 11:07 am Azah and Xavier
X – hello beautiful.. good morning
Azah – good morning
X – I'm good just did the dishes..
Xavier not able to talk from the mouthwash in his mouth mumbles and acts out something
X – what the hell do you think I was talking about girl
Azah – I was riding a horse..
X – HUH? if you said riding a mechanical bull I would believe that but riding a horse no f**ing horse you ride like this
Azah – yeah at the rodeo
Azah says she's not sure where BIGD's head is at
Xavier – don't worry about him. I don't think he's shifting because you guys had a disagreement. A difference of opinion
X – y'all need to stop talking about what you did in this game.
Azah – my thing is.. I don't talk about what I did in this game.. he does and I stay quiet and he starts talking about what I haven't done. Each time I say that is your opinion. I'm going to put my foot down at a point in time when I feel like I'm being disrespected. I'm going to say STOP..
Azah – that's what I did.. I said you didn't carry me and I told him to stop. HE said we will have to watch the tapes.. I don't care about the tapes. I don't give a flying f*** about the tapes What I'm telling you is to stop at this point it's four times you're telling me this.
X says he had a conversation with BIGD where he told them they all did what they could to get where they are it's not right for one of them to say they carried anyone else. "we all got here on our own.. if anything the cookout Carried all of us"
X – saying you carried someone is just rude. I don't think he'll be bringing it up anymore.
X – you need to just avoid that type of discussion it's just causing awkwardness.. We got 9 days left in here it's too late to be bickering.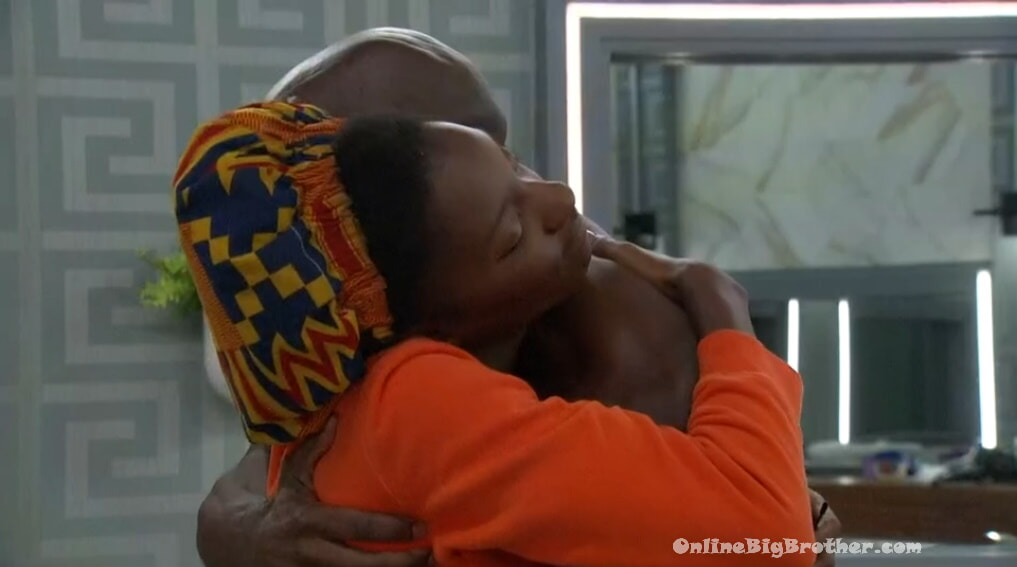 They hug. Azah is happy.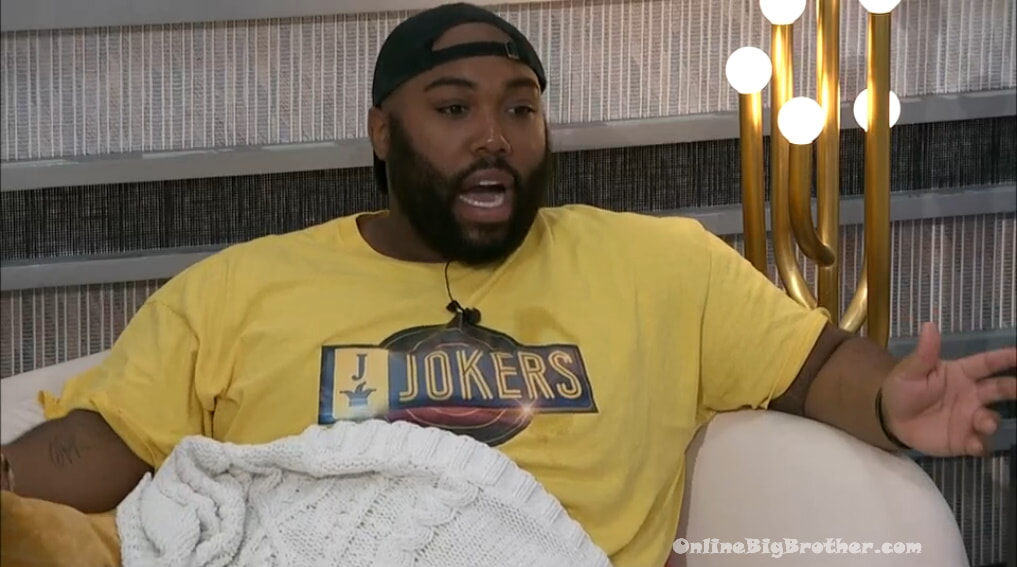 11:26 am Living room the Cookout guys talking about relationships
BIGD says he doesn't do long-distance relationships and by long-distance, he means across the country . "that's why I couldn't date Ky because he's in California"
Ky – that is the main reason
BIGD – I would date someone in New York that's only an hour and some change.. Delaware .. I would even date someone in Connecticut..
BIGD – When I get out obviously I have to separate the fans with someone serious which I'll be able to do (yeah cause there won't be any fans)
BIGD – if I get out of here and someone comes along I will be 100% about it. if nothing comes along I'm definitely going through a hoe phase. I feel like I never went through a HOE phase. I would rather get it out of the way before I turn 30
Ky – 30 is in a month
X – he's going to have a month to go crazy
BIGD – I would love to save myself for someone but it's like..
Ky – I wouldn't
BIGD – I could be sitting there waiting a couple of months cause I'm saving myself.. I've never went through it and I feel alot of my friends have went through it.. I'm late in the game. it's because I've never had the option.. Maybe now that guys have seen me on TV and people find me attractive then..
Xn – people will find you attractive that's not a question
Ky – yeah
BIGD – we'll see.. if there's options absolutely. at the end of this season, my and Ky will be going our separate ways but I'll always love him
X – you have a very attractive face.. you have appealing features.. your lashes your smile.. people will be very attractive to you
BIGD – I need to find men that like BIG MEN.. men that like BEARS and there's men out there.. the thing about it I like BEARS too. I like men that look like men.
BIGD goes on about how it's competitive to find guys of his type in Philadelphia
Ky – I'm not a big PASTA person so I'm like.. I would never seek a pasta meal I loved then DerekX made that pasta and I'm like this is my favorite dish in the whole world.. I would have never looked for it then I ate it and thought this is amazing.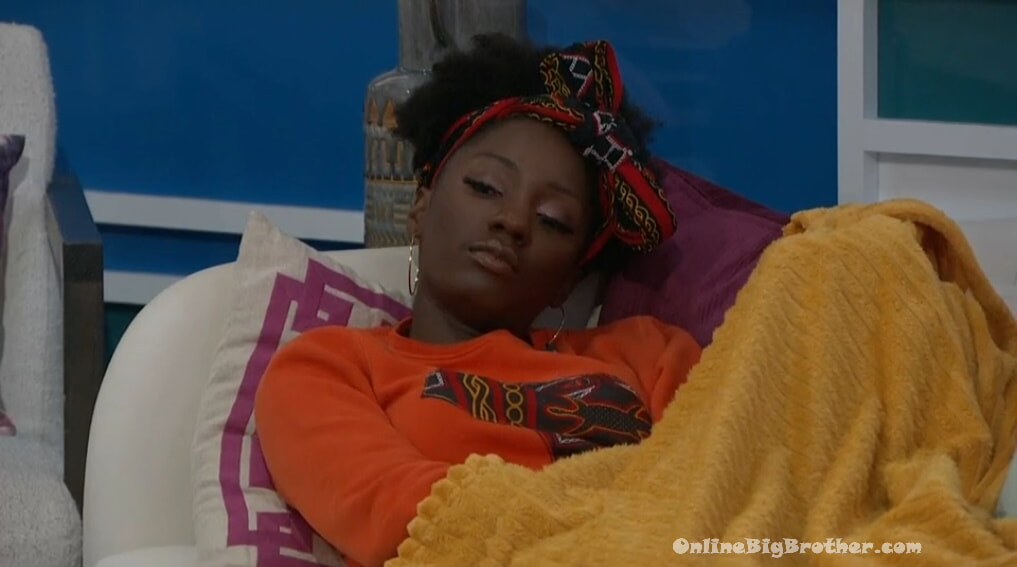 12:20 pm Azah, BIGD and Ky
BIGD still talking about guys. Says he liked guys that are bigger than him but he usually dates guys that are smaller.
BIGD says the last guy he was with "was a thick guy but he wasn't as big as me. he had a$$, he had thighs, he had arms, he had big hands he had big feet you know he was an Italian man.. He looked great he had a beard and a comb-over and sh1t"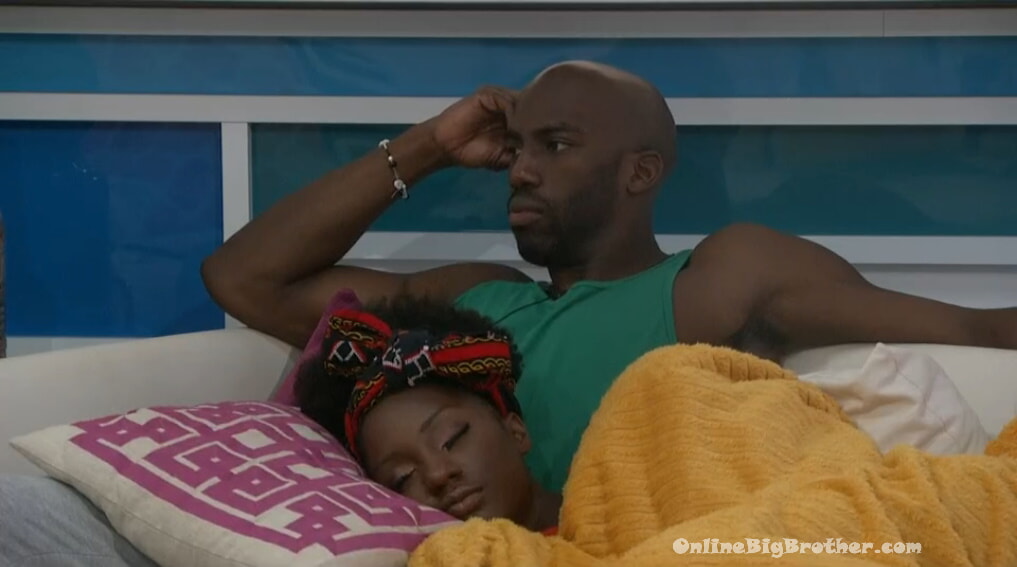 1:00 pm Xavier has now joined them.
BIGD still going on about dating guys.. "I've never had someone WANT me it was always me wanting them"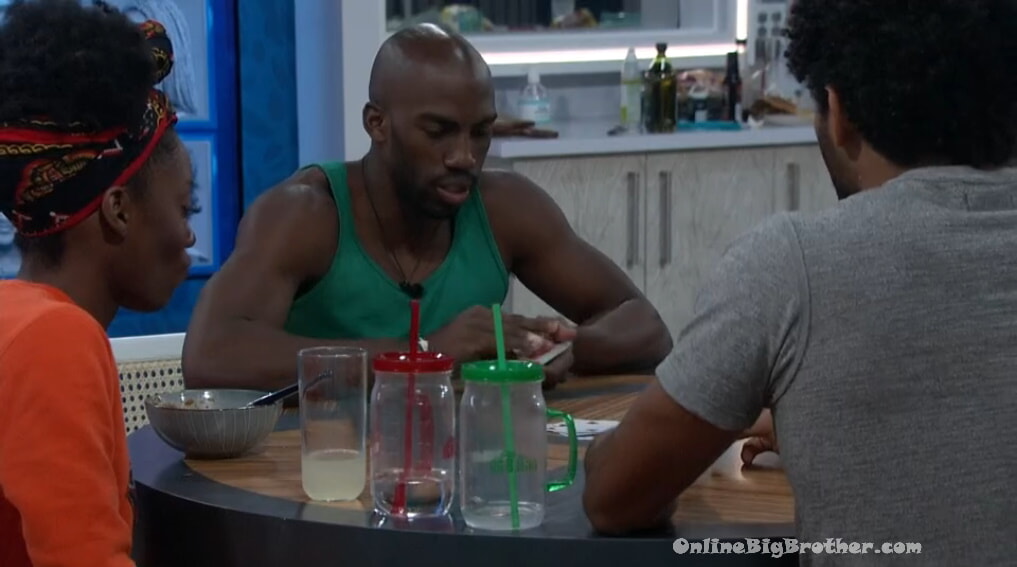 2:33 pm A break from BIGD talking about his hoe phase
4:00 pm
Zzzzzzzzzzzz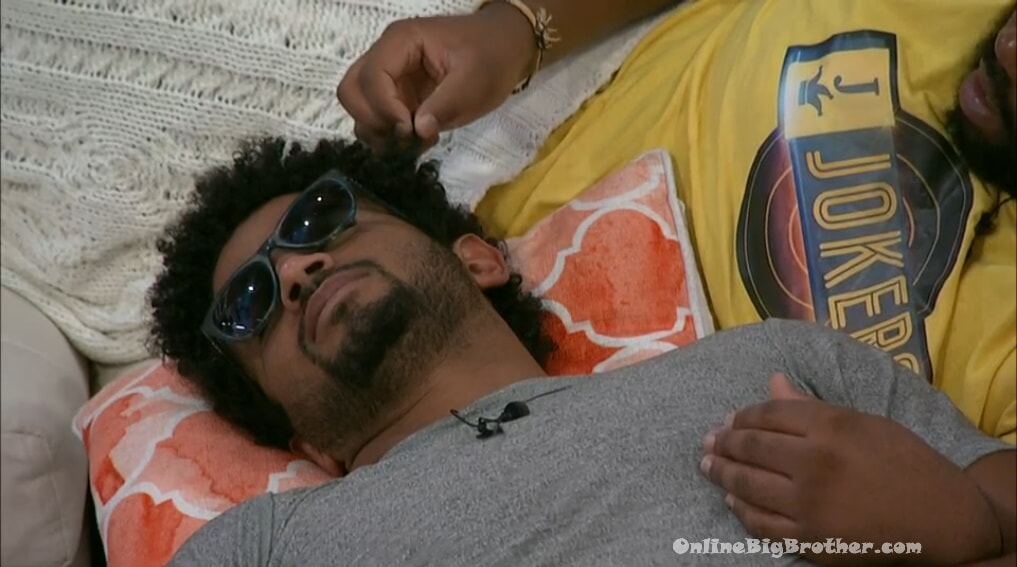 4:30 pm talking about Dragon Ball Z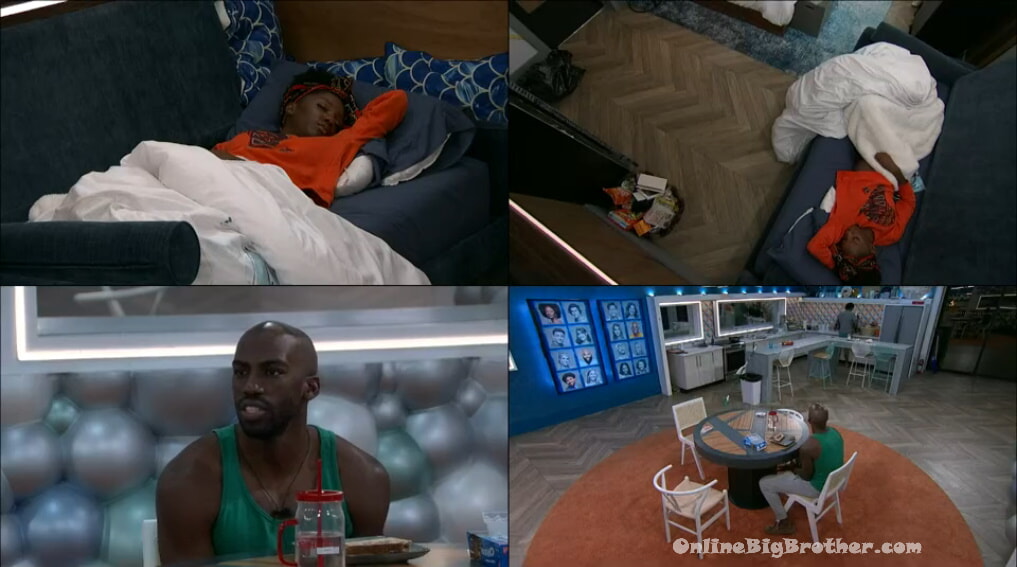 5:30 pm The boys are chatting. Azah is sleeping.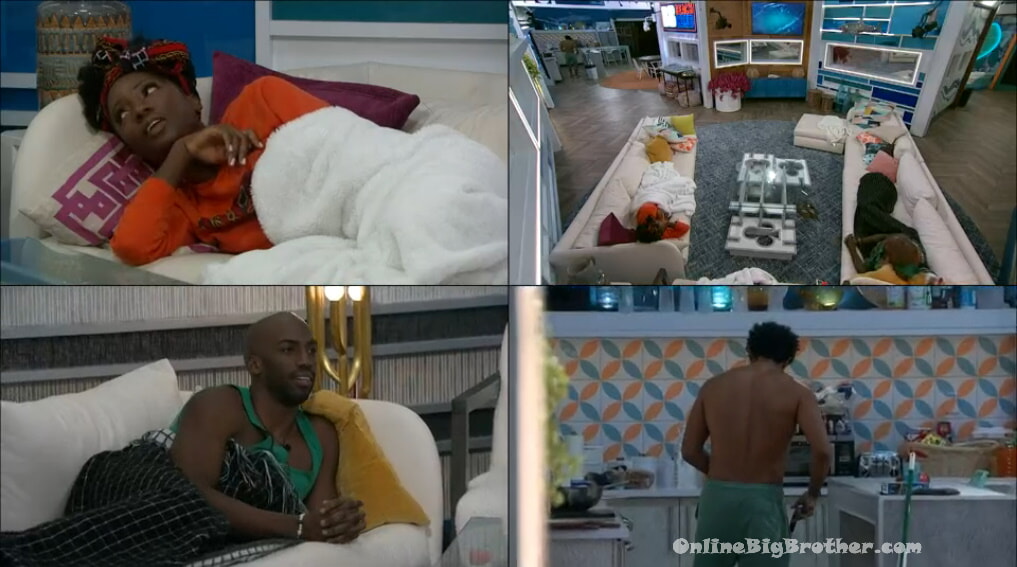 6:30 pm
7:47pm Big D and Kyland are making dinner. Azah is talking to Ky from the living room about TV shows.

8:45pm Dinner Time.
10:30pm They're sitting on the living room. couches chatting. Kyland gets the BB camera and starts going around recording them.
11:50pm Xavier goes to sleep in the HOH room.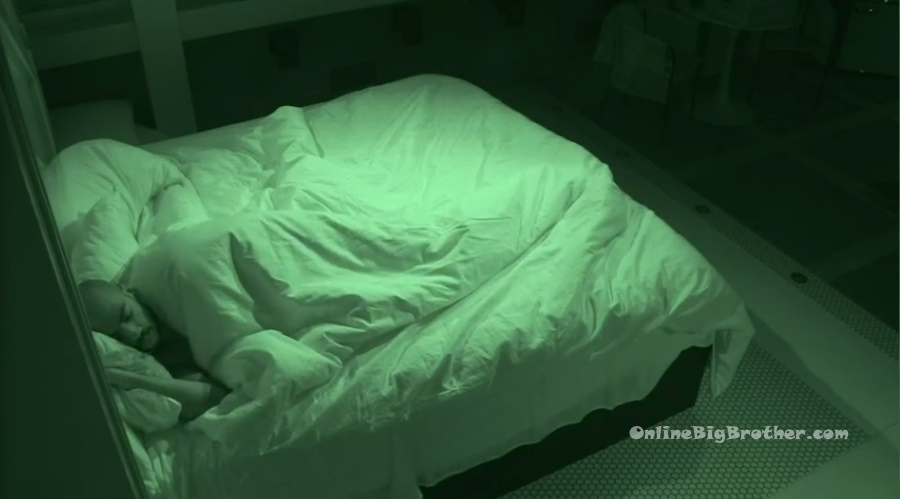 12am Living room. Big D and Azah are chatting about their moves to get to this point. Big D – for me to make it this far? ..Never thought! The fact that you made it this far and I made it this far and we're on the same team… shocker! Just how everything played out .. like that is crazy! You made it to top four in big brother.
12:27pm Kyland sleeping in the havenot room.