HOH: Kyland
HAVENOTS:
Nominations:
Power of Veto Players:
Power of Veto:
Power of Veto Ceremony:
Big Brother 23 Houseguest Rankings – – RANK THE HOUSEGUESTS –
View the previous day ranks on the – Ranking Grid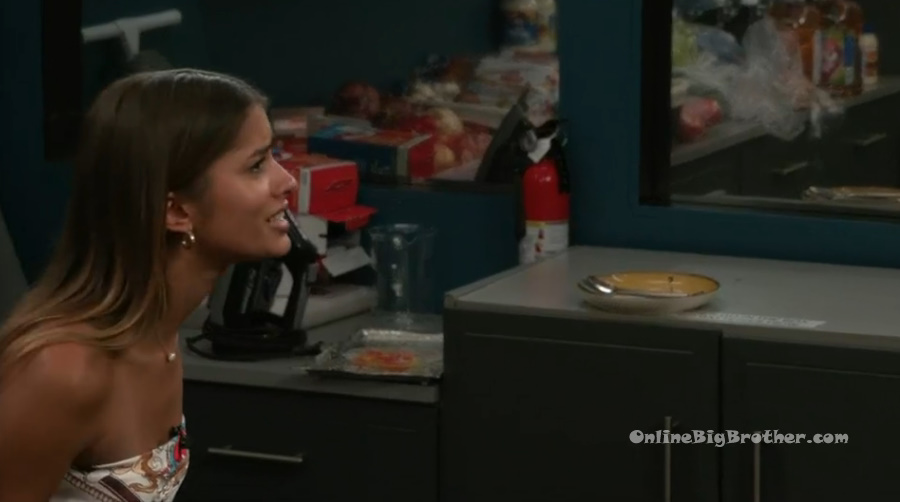 7pm Storage room. Xavier and Alyssa.
Alyssa – we would have had the f**king numbers!! Oh my god they're all f**king idiots!! They're all pissed. They know that if Christian had stayed that wouldn't have happened. Ky can't go and now SB is not leaving. Xavier – I know! Alyssa – idiots!!! Because they're too scared of Christian!? Xavier – they're all worried because now he's probably going to take a shot at them. Alyssa – and Christian would have bombed that! Xavier laughs – he would have done okay! Alyssa – he would have bombed that!
Bedroom – Azah and Britini.
Azah – I am probably going up as well, you don't know but what you need to do is just remain calm. Brit – I know, I know. Azah – I need to not be emotional and go put on a happy face. Brit – yup!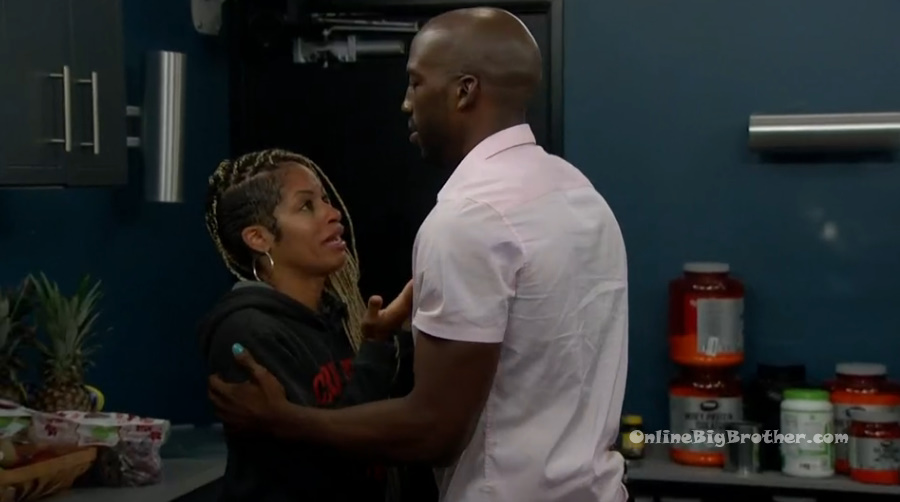 Storage room – Tiffany and Xavier.
Tiffany – DON'T EVER throw anything again! I am sorry you could have just had it! Xavier – Mmmmhhmmm. I know you wanted me to. Tiff – I, I wanted it because I really wanted to see my son. Xavier – I know. Come here. Tiff starts walking way. Tiff starts crying – no, because I messed up my whole HOH. Anybody could have won except him. I am so mad! Like just.. don't! Xavier – take a second. Its okay. Its okay! Tiff come here. Tiff – you could have just won it. Just wasted a whole f**king thing. Tiff leaves. Hannah joins Xavier in the storage room. Xavier – basically no one wanted it and Kyland won but he wasn't throwing it. I threw it to Tiffany and then he (Kyland) beat her. I was like BRO.. you know know the right answer .. answer wrong! Hannah – it is already contentious between the six .. this is just going to make it Tiff trust Kyland even less. Xavier – oh Tiff, Kyland, Azah, Big D, basically no one in the six trust Ky after how he kind of played that. Hannah – yeah. Xavier – we are going to have to do some damage control. We're going to have to be parents again this week. Hannah – yeah. Xavier – its going to be fun because I was Azah is already pissed and she is not hiding it. I am like Azah bring it back! Hannah – game face! And Big D is obviously physically freaking out. Calm the f**k down. Xavier – and the bottom line one of the six won.. none of us are going home. Ky has reason to go after Britini and he can make up excuses to go after Claire if he really wants to. Hannah – or Alyssa. Xavier – if Alyssa is next to Britini.. guess what Britini is going home or I win the veto and take Alyssa off Azah goes up and Brit still goes home. Boom! Hannah – he could potentially have the blood of five people on his hands… he puts up 2 people.. one could win a power.. they take themselves off and he has to put up another person.. Veto and second veto. And also with that third power that kind of messes things up because Julie said something about flipping ..I'm thinking maybe it gives you an extra vote and in that case we would no longer have the majority. So even if I go up as a pawn next to Derek X, I could go home. Xavier – I knew the answer but why would I want to win it again. Hannah – exactly you've won HOH already, why would you want to win it twice. Xavier – and this was not the week to do it. We will figure it out. I need to go do damage control. They leave the room.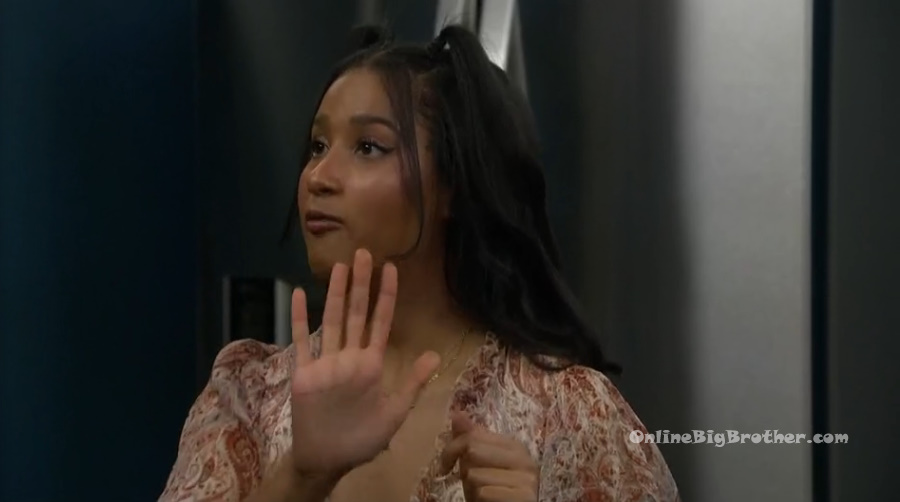 Havenot room. Kyland talking to himself.
Kyland – I am actually not freaking out for the record. This is good at the end of the day. The six have stayed in power. I just don't understand why Azah didn't pick the kings. I am not worried about her as a person. I am bothered because my understanding of the house outside of the six obviously .. the house target was Alyssa and Xavier so it would make the most sense for Brit to go that way. She had the very first pick of the house.. she could have picked Alyssa and Xavier no problem.. BUT she put up me and SB. Obviously I couldn't lose to SB. Here is my situation .. being targeted sucks. I am not worried about the six at all for the record. 0% concern there. But somebody could have let me know. Why not get out the only people that would have saved SB first.. X and Alyssa. That don't make no sense. So Britini should be panicking but I probably won't even put her up. There are a few things to consider.. Brit asked Claire to throw it to her. I don't know. Obviously DX is not going home. So DX and the six. DX probably has the best shot in the house at getting that power. That is also good. Or at getting the $100. He is a calculated gambler which is what we need right now. Noms are are 10:30am tomorrow.. I have to start my talks tonight! Everyone write down .. Oh that is fun.. oh sh*t okay! YES!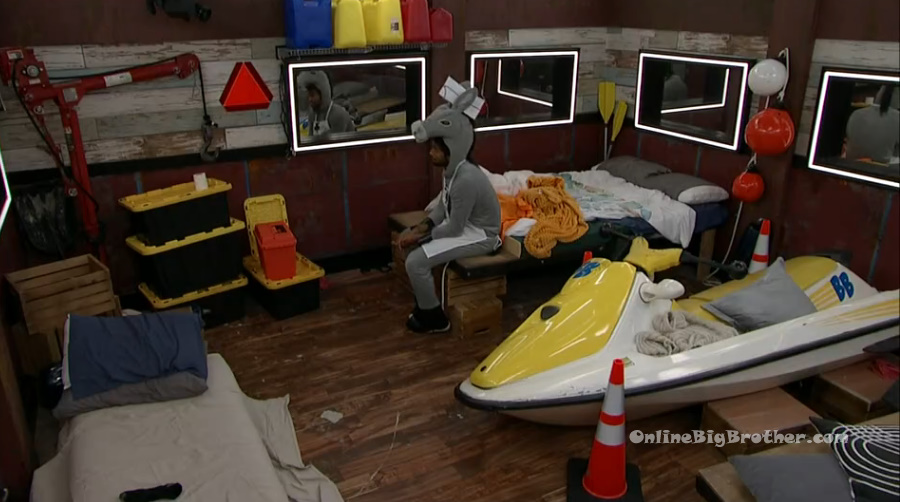 Bedroom – Hannah and Derek X
Hannah – Alyssa was out. X wouldn't have gone after you this week. Tiff wouldn't have gone after you this week. Kyland wouldn't have gone after you this week. Big D and Azah wouldn't have gone after you this week. And the person that wins HOH AKA Kyland has the blood of 5 people on his hands. You're already a big target.. why would I want to paint myself as a threat when I am not. Derek – that's really true. Hannah – At least not yet. Why would I want to be the first HOH (since jury starts), kind of like Frenchie and how that bit him in the a$$. Derek – I am scared Kyland is going to waste his HOH. I personally hope he takes out Alyssa. I think he might but him and Azah are butting heads so I don't know. This is between us but I am confused why Azah picked up twice. Because Brit picked Sb and Ky which made sense. Then Azah picked Ky and.. Hannah – we have conversations with Kyland we just have to reinforce the fact.. Claire joins them.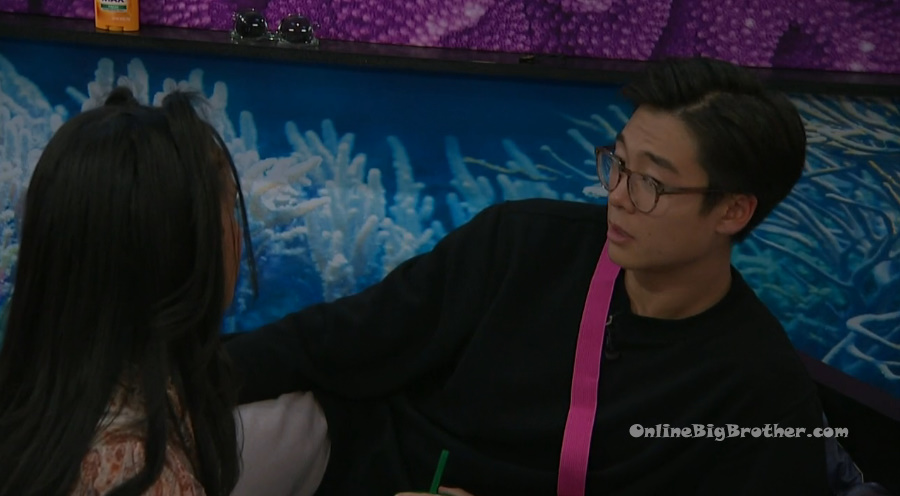 Bedroom. Hannah and Tiffany.
Tiff – I am just so mad at me.. that was so f**king stupid. I just wish X would have got me out. I would have rather X got me out than F**King KY! F**KING KY! I can't even be mad because he (Xavier) tried to let me win and I got the f**king thing wrong. Claire – its okay! Tiff – no its not f**king okay! I let my whole F**King team down. Hannah – you didn't let us down, I mean I lost to you.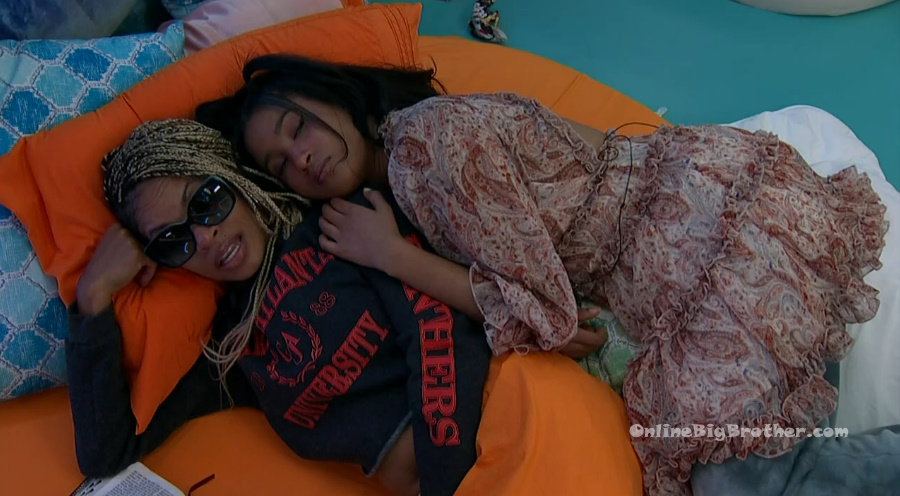 Bedroom – Azah and Britini
Brit – are you okay!? Azah – I am f**king pissed! Brit – I need to breath! I am pissed! That is the one person I didn't want to win the fan HOH. Brit leaves. Xavier joins Azah. Azah – the thing that gets me is he (Ky) said that he was going to throw the comp this week. He said he was going to throw everything this week. He went for it. The thing that makes me sad is I know he is going to put Brit up and he is probably going to send her home. Its going to be me and Brit. And Brit is probably going home this week. I know that we have to prepare for that possibility. Azah starts crying. Xavier – he has some explaining to do that is for sure.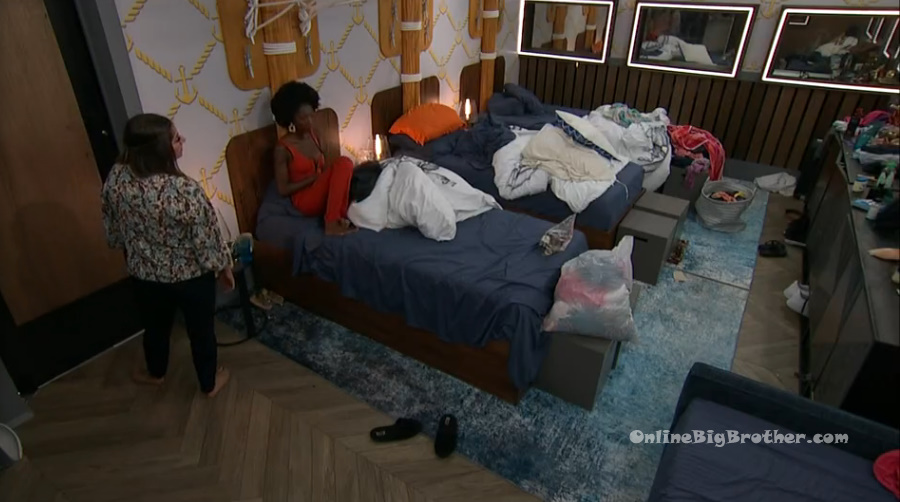 Havenot room – Big D and Kyland.
Big D – Tiffany is a f**king wreck! She got it wrong! She got it wrong! That's not on you. I am not going to lie, I did not feel comfortable with her winning because of everything. Ky – all I would appreciate is if a rumor starts between the six about me not throwing it.. Big D – Azah is pretty bummed because you kept picking her. Ky – but literally look at the people. Big D – I know. Kyland – like literally giving us away. Big D – but because she kept being picked I would have picked like me and Tiff or something like that. Ky – I can't pick Tiff.. it would have literally given us away. They go through the options in the HOH and why Ky picked who he picked to knock out. Big D – here is my thing.. you have 4 choices to send home.. and 3 of them you're close with. Ky – who is the third? Big D – Derek X, Claire, SB… Kyland – but here is the reality we only get one. So if Claire is Tiffany's .. then she is not mine. Big D – that is true. Ky – who is the number one or number two person to get $100 tomorrow. Big D – Alyssa? Ky – no. Big D – SB? Ky – no. Big D – Tiff? Ky – Derek X .. he has the entire country knowing he is out numbered. Big D – Mmm.. Kyland – Derek X will tell me if he wins it. Big D – who are you going to put next to Claire? Kyland – I am going to let the house decide. Big D – Azah is probably just upset because she studied her a$$ off. We need to make sure Alyssa goes out next. Ky – then Claire and SB.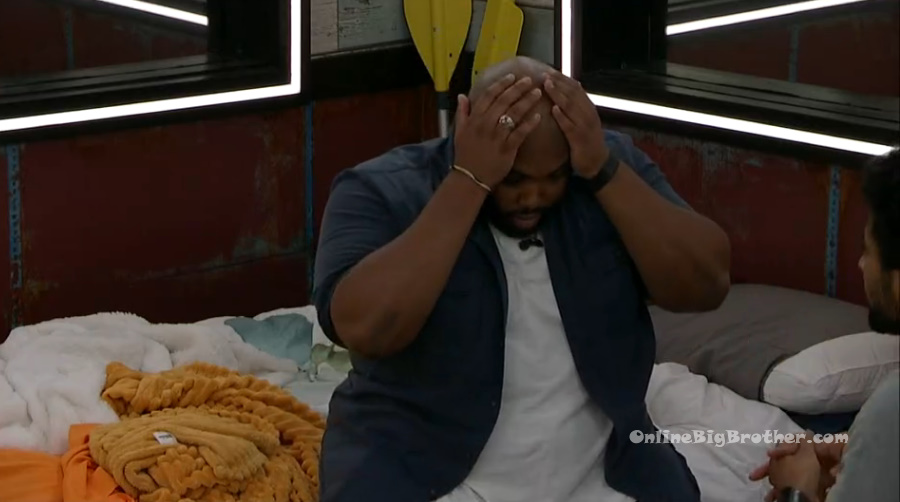 7:40pm Havenot room – Kyland and Xavier.
They talk about the HOH comp and how it played out. Xavier – you're HOH now, what moves are you thinking. Ky – I will say that all four girls are open for this time. Even SB even though that would be sh*tty. The way that she has been acting has been kind of weird. We had talked about distancing.. but after the vote it was hard to hug her. For the record right now she is an option but she is not ideal for a lot of reasons. I think that DX is the most likely to win the $100. And we need to minimize those chances because if he does win on the first try he will win on the second. I am curious .. and you don't have to tell me ..if you have a large fraternity of people voting for you? Xavier – I won't have a large amount .. I think I'll be sitting at $50. Ky – are you open to telling me what you do for a living? Xavier – I've told you. Ky – you get tired at 10 o'clock bro! I am not questioning you as a person. I am still good with us. X – I don't have a large following. Ky – Are you thinking Tiff and Claire possibly? Ky – that is challenging. X – you couldn't go Claire and Brit? Ky – I could. Ky – I don't know if the powers should adjust the orders at all. X – Alyssa was in a main showmance. I am not saying that is a reason but if you take a shot and you miss because she has a power. Ky – I don't think I will take a shot at her this week. Unless the six talk and it makes sense to. X – the chances of her getting a power are very high. And she is not coming for you.

8:03pm Havenot room. Sarah and Kyland.
Ky – how are you doing with the vote? Sarah – I feel a little silly. I thought it was dramatic. I am going to get myself evicted, it was too much. But I feel good, I am really really happy and relieved. I am happy how the comp went overall. I think it was revealing. Ky – what do you think was revealing? SB – I don't think both Brit and Azah did not want you to win. I think everyone in the house is cool with X. Ky – what are you feeling? SB – I guess happy. Ky – it doesn't seem like you're happy. Sb – oh my gosh I'm sorry. I hate to bring it up now .. maybe I am an idiot but I really thought Christian and her were just friends. And to be targeted right away just made me think our behaviour is coming off to other people and I don't want people in the house thinking that we have a relationship and I don't want Shelly (SB's girlfriend) thinking that either. Ky – not that's totally valid. That makes sense. Sb – I just felt like because of that I couldn't celebrate.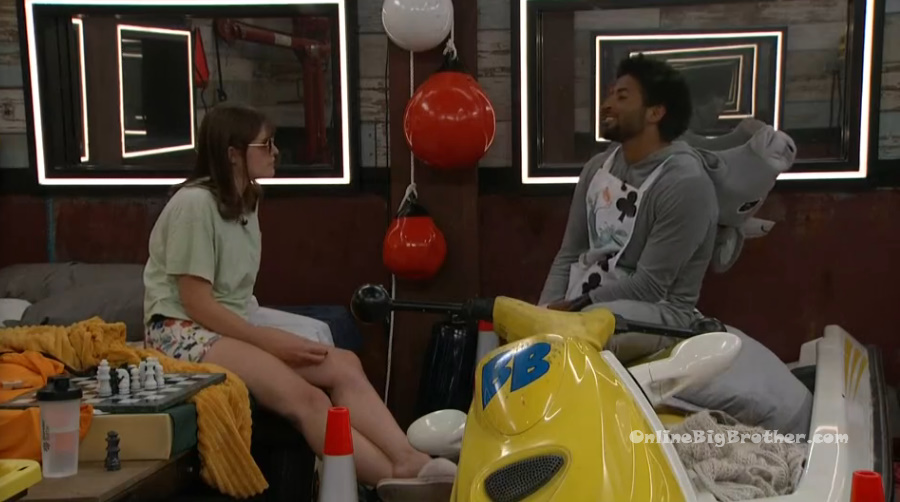 8:15pm Bedroom. Xavier and Alyssa.
Xavier – I think you're in love. Alyssa – no I am not! They're f**king idiots! We would have pinned them. IDIOTS! It cracks me up! Xavier laughs. Alyssa – I don't even care if I go on the block this week. It is so f**king funny that the pitch Christian had was here compared to SBs. And the only reason why they took him out was because they figured they could take out SB this week. And they all feel dumb as hell! IDIOTS! Xavier – I just want to talk to Ky to make sure that we don't see the block. SB will probably not see the block. I think it will either be the jokers of the members of his former team. Here is what you need to do .. if he asks you who three people that you were going after prior to Christian going home. Be like Derek X, Hannah and probably TIff or Claire. And for reasons just says like I don't know that I could beat them .. not that its anything personal. I said DX, Hannah and Cliare. Alyssa – Did he ask you? Shouldn't I switch it up and be like DX, Hannah and maybe someone as a pawn.. I don't know who the third person would be.. I have a valid reason to put up DX and Hannah is close to him.
8:14pm – 9:10pm Havenot room. Tiff and Kyland.
Tiff talks to Ky and tells him that she is happy he won she was just upset because she really wanted to win to see her son. Ky – and I wanted you to too. Ky explains how he still doesn't know what the actual answer was for that question. Tiff says it was peer pressure. You did nothing but try and help me. I should have just not have answered the f**king question. I don't lose well. Ky brings up the drama with her the other day. Tiff rehashes what happened and why. Tiff – I don't know who should go home with who you can nominate. I don't think sending sending Brit home is best for us. Ky – I don't want to send Brit home. Tiff – if we send Alyssa home X is going to be mad. And I don't know how you can put SB on the block. So I feel like you're in a f**ked up situation and I feel like I could have done it. Ky mentions Claire. Tiff – if Claire has to go up then Claire has to go up I don't know if we have enough votes to keep me if I am up. Ky agrees. Tiff explains that Claire is my person but that she is not above the six. We need to agree to have better forward communication. Maybe it is just me but if feels like your game is closer with SB than me so it makes me take a step back.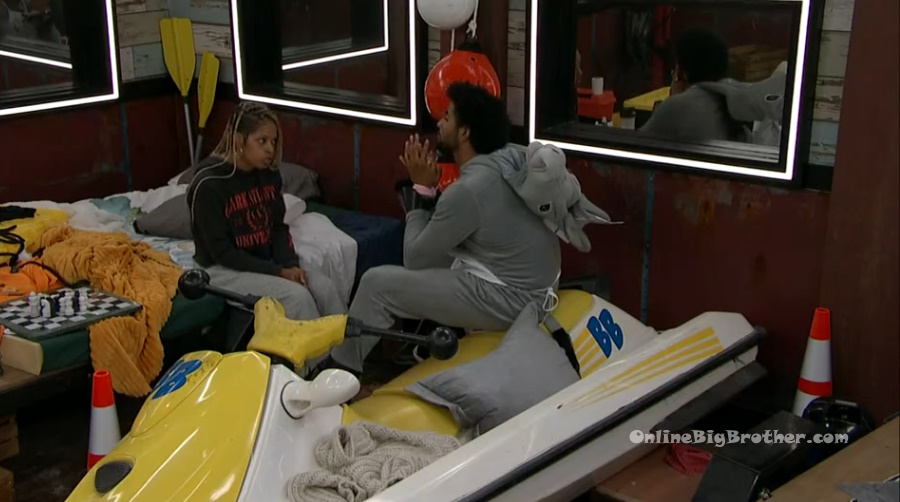 9:18pm Havenot room. Kyland and Alyssa.
Alyssa – congrats donkey! I don't want you to think that I am not happy for you. It was an emotional day. Ky – I am sorry for Christian. Alyssa – its okay its a game. Just so you know if I win HOH I would not put up you, SB or X. Ky – I don't want to be in a situation where I am making promises to anyone. But I can't imagine any time soon .. given power I don't think you would have gone after SB or me. I can't make any promises but as of this moment, I just can't imagine a reason why .. especially giving that game.. why it would make sense to go after you guys. Alyssa – same it doesn't make sense for me to go after you. Ky – I definitely want to do something for gathering information before these noms.. I don't know what but I do want to do something. I wanted to know your perspective on trying to get.. (being Ky he goes off on a tangent about who might get the fan votes.) Alyssa – so what would you want to do regarding raising hands. Ky – nothing to do with raising hands. Alyssa – my two people I would say to put up are X and SB. Ky – I'm thinking for the format.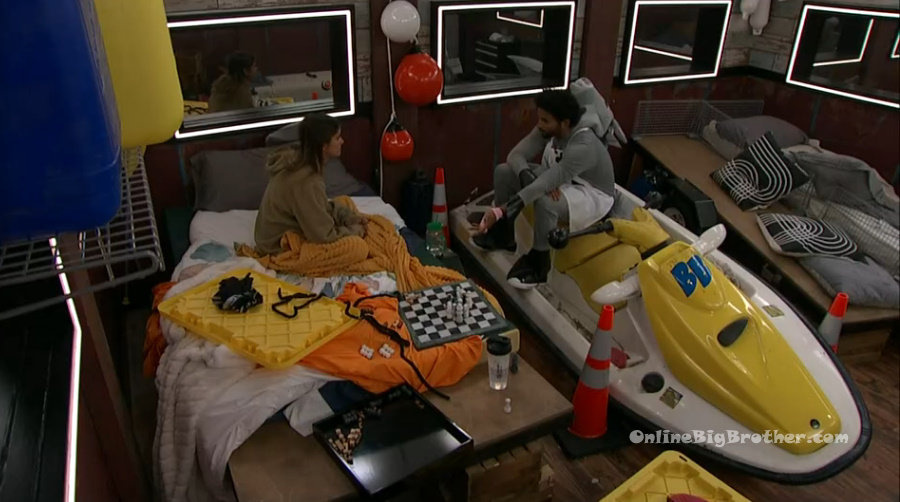 9:40pm Bathroom. Xavier pacing in the bathroom telling himself to keep it together. I could have helped Whitney stay.. All these people I could have helped stay. Bro come one!

10:12pm Havenot room – Brit and Kyland.
Kyland – I didn't go into (the HOH) thinking he needed win. Alyssa – my reasons for not picking her ..because I love SB dearly. I have never been next to someone on the block and have them stay. So for me she was the only person that I wasn't 100% sure what direction she was going to go. If I had won it she was going up, she was going to be my target. Ky – saying that by not picking Alyssa because it would show your cards that you would want to target her. If picking someone first lets them know that is who you're after, why would that not apply to me. Brit – why would that not apply to you? Because I have given my word. I can assure you that if I win HOH the next couple weeks you are not touching the block.. And if you would like 3, I will go three because you weren't going up anyways. And If I get a power this week I will let you know since it would end up affecting your HOH.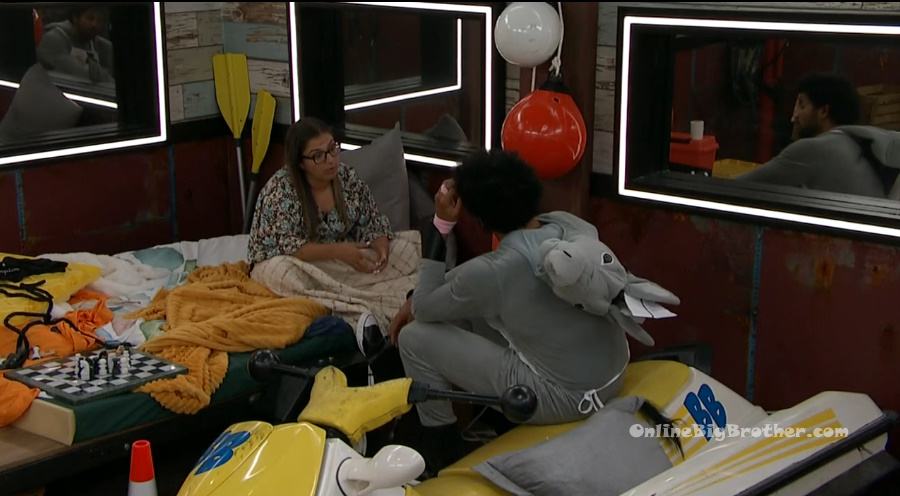 11:35pm Bathroom. Brit and Derek X talking to the camera Brit – give us the HUNDO because we gave you what you wanted last week.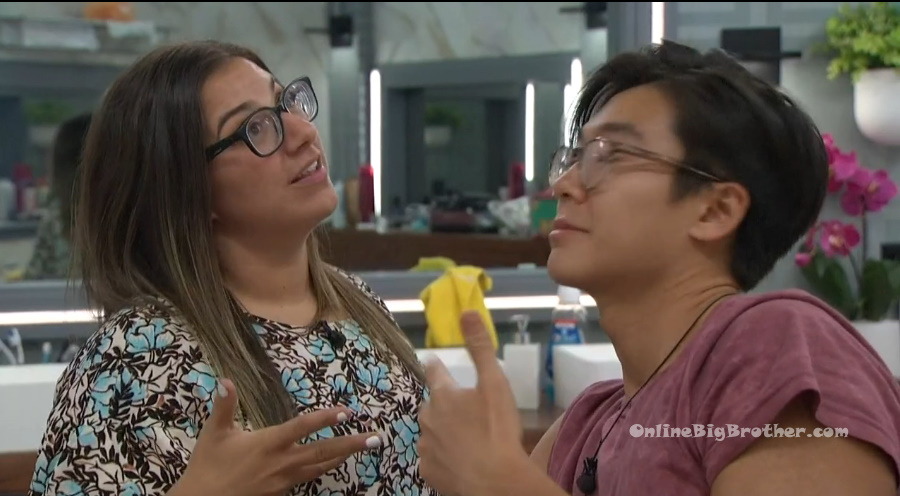 11:54pm Chess – Xavier and Alyssa.
Xavier – once he (Christian) got the feels for you I don't think he really cared about the 750k. Protecting you in the game and making sure you made it as far as possible but what happened to him. I don't think he really cared and there is something to be said about that. Alyssa – there was no love. Xavier – you know like the feels. Alyssa – I wonder what Julie asked him. Xavier – I hope she didn't ask him the love question because that is a little heavy. Alyssa – right like what do you say? Alyssa – at least with that he would have told me. Xavier – I think he might tell you. They talk about the possibility of the the final two being two minorities.
12:37am – 1am Bedroom. Alyssa and Britini
Alyssa is upset about Christian leaving. – I just feel so bad because he (Christian) didn't even get a change to fight to stay and I got two chances. Brit – you did the best you could. Alyssa – I know but I couldn't even campaign to stay because it was bad for my game. Of course I wanted him to stay. I could have done mor but it would have been bad for my game. Brit – this past week was all sorts of weird.
12:53am – 1am Kyland comes out of the diary room.. Who wants to see my HOH room!! They all head up to the HOH room. Kyland's HOH pictures are of the same person. Big D – Ky you have a girlfriend?! Kyland – she's single. Ky reads his HOH letter.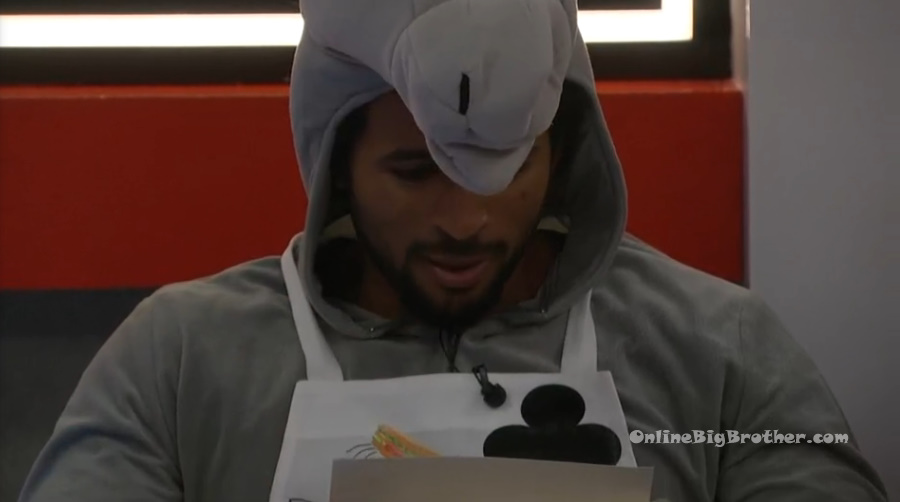 Please consider a donation to keep the madness going. BIG thanks to the people that have already chipped in.