10:55am – 11:10am Brendon and Rachel talk in the HOH room about buying out someone by giving them $5000. Brendon says the only person he worried about winning the next HOH will be Matt. Rachel says that he could be bought out by the $5000. Brendon says that anyone in the house can be bough out, but especially Matt since his wife is sick. Brendon and Rachel both agree that they wouldn't even be temped by that small amount of money but that the others are stupid and would go for it. Brendon talks to Rachel about making a deal with Britney and says that he isn't opposed to making a deal with her. Rachel says that she isn't either and that she trusts Britney. Rachel says that they just haven't shook on a deal yet. Rachel tells Brendon that he needs to win the next HOH and that he needs to start training. He wants to go over personalities and people… Brendon and Rachel start talking about how it's stupid if they make alliances with weak players that aren't winning anything. Big Brother calls for an outdoor lock down. And Brendon asks so Britney is not going to use the POV? Rachel says yeah she's not going to use it. Rachel is pissed and says that it's just too coincidental that just before Britney was going to talk to Hayden she is called into the diary room so that she cant talk to him. Brendon asks what? Rachel says that Britney was just about to let Hayden know that she wasn't going to use the POV on him. Rachel thinks Big Brother is trying to alter the game. Rachel says but now she thinks its just better that Hayden gets blindsided at the POV ceremony.

SEE what they CAN'T show you on TV! 3 Day FREE Trial

11:15am All the houseguests go out into the backyard except for Britney who is still in the diary room… Soon after the feeds switch to the we will be right back screen….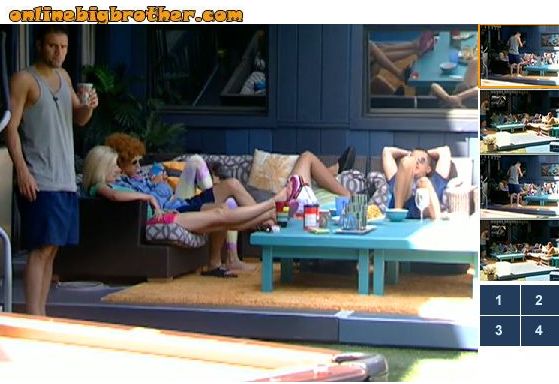 11:35am The feeds are showing TRIVIA …The POV ceremony is happening right now. We pretty much already know that the nominations will stay the same, Britney and Rachel discussed the options and decided its better that Britney doesn't use the POV to save Hayden. Its interesting that Big Brother called Britney to the diary room and didnt allow her to tell Hayden before hand that she wasnt going to use the POV. Hayden is going to be blindsided now and probably isn't going to be too happy….