POV Holder:
Alec
Next POV
March 23rd
POV Used
NO
POV Ceremony
March 18th
HOH Winner:
Gary
Next HOH:
March 21th
Original Nominations:
Tom & Liza
Current Nominations:
Tom & Liza
Last Evicted Houseguest
Aneal
Have Nots
Jillian, Emmett, Talla and Alec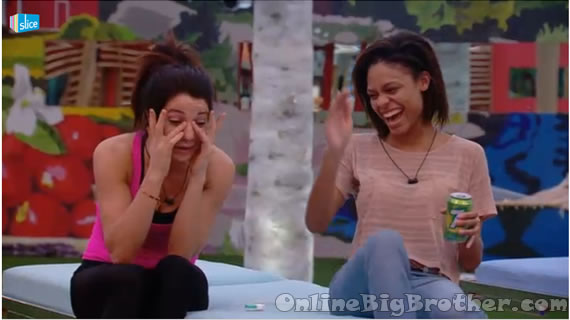 12:15AM Pool Topaz and Gary
Gary wonders how Liza can say she has such a wonderful life when she works at a tanning Salon. They don't see a person making much money at that jon. Topaz and Gary come to the conclusion that Liza works as a escort. Gary says that Emmett thinks he's a joke. Topaz doesn't think so she tells him to just leave it alone. Tom walks outside for a minute. Gary says that Tom's image is sinking fast. They are sure the video of what Tom did is all over the internet. Gary is wondering that maybe he's slipped up a couple times and he's all over the internets.
Jillian joins them and they start talking about Topaz and Liza. They start rehashing the days events.. lots of laughing at what happened. Gary: "Shits goin crazy.. seeing d!cks, Topaz is yelling and Suzeette is still eating Chili in the bedroom"
Topaz says that LIza smiles when she's nervous. the entire time during the altercation today she had a giant smile on her face. Topaz goes on to explain that during the Nominations she noticed Liza smiling a lot when she went up. Ever since Topaz has noticed it. Gary: 'I think she's an escort". They give Jillian a rundown of what they think Tom was doing in the house game wise. Tom was using Liza to get to the "girls" and the "Gays" because those were the two groups that he had trouble reaching. Gary is worried that Liza is going to be tough to get out of the house if Tom goes this week, he wonders if the house will start believing her bullshit.
Jillian gets up to go to bed. Topaz tells her she plans on apologizing to people tomorrow for the outbursts.
Gary is nervous that they are losing people to vote out Tom. Topaz doesn't think there are nearly enough votes to save Tom, she can only think of 2 people. Gary says they only have Emmett and Talla the rest of the house will vote to evict Tom. They briefly wonder if more people will start because they see Tom as down and out.
Gary complains that the water is cold in teh pool and his d1ck is all shriveled up.
Topaz: "That poor Alec.. his d1ck was shriveled and tiny because he was in the shower"
Gary: "We've all seen that thing in the track pants when he's s$mi h*rd we know he's packing some heat"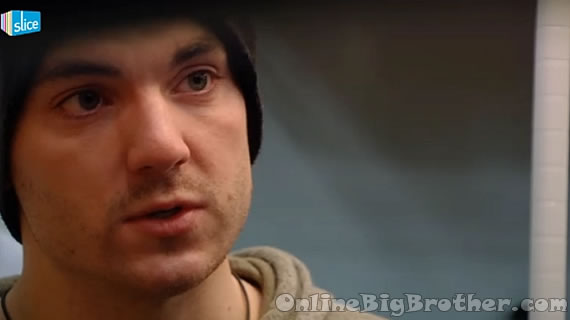 12:15AM Storage Room Alec and Tom
Tom: "I was hurt that I got the knife in the back by you guys"
Tom says Liza was lying to him, she tells him that she is going but then he goes around the house and finds out she's campaigning against him and that the vote is against him. Tom: "I cannot even sleep beside her"
Alec: "She doesn't have the votes"
Tom: "Jillian just told me.. " Tom rambles on about what he's hearing in the house, he thinks he's going and he's confused, "I'm so stressed out"
Tom: "I want to keep the quattro going.. Emmett told me everyone is lying to my face.. I'm going home on Thursday and need to separate myself from Liza.. Emmett told me I have to go to everyone and tell them that I had no Idea about the things Liza was doing.."
Tom: "Emmett has thrown in the towel with me he told me he's still voting to keep me but he thinks if I leave he'll be better off.. What the F*** man.. all I did was win HOH and tried to get Suzette out"
Alec: "All you need to do is convince Gary… I've heard 4-5 people say they are voting based on what the HOH wants.
Emmett Joins them
Alec says that pissing Topaz off isn't going to help Tom's situation..
Emmett: 'we kinda gave up on yo man.. "
Alec: "Don't worry man you have me, Emmett, Jillian, Peter, Talla and Aj that all you need"
Tom: "I don't know if I have them man"
Alec: "We'll talk to them"
Tom: "You think it's going to be 6-3"
Alec: "I can't control Topaz.. don't believe Liza.. she's lying up and down"
Emmett: "I don't know the vote could go either way"
Alec: "Why do you think everyone is flipping on you.. This is good for us.. the blow up"
Alec: "The best thing you can do right now is not run around make deals and let Liza kill herself"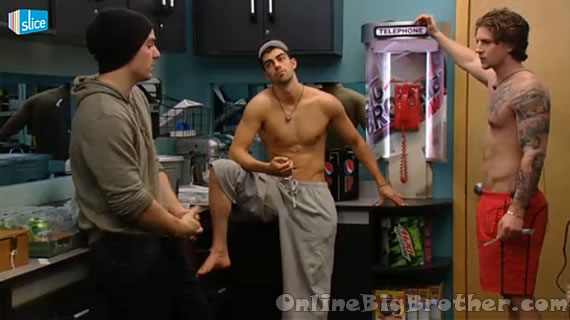 Tom: "I'm not giving Gary a F**** blowj*b to stay in this house"
They all giggle.
Alec tells him to stop freaking out and know that he is not going anywhere he's got the votes to stay.
Alec: "Who is telling you these rumors that you are going home"
Alec says he was genuinely upset by Tom showing everyone his weiner but he is saying to people to not factor what Tom did into their game decisions.
Tom wonders why he's in such a unsafe spot when he thought his boys had his back. Tom would vote Liza out now. Emmett chimes in that before Tom would not have and that was the problem. Tom: "If you guys came to be before like we are now I would have"
Alec reminds Tom that Liza is the most hated person in the house not Tom.
Tom tells them that Peter talks to Liza every day.. Liza says they are close.
Tom says that Peter told him that he wasn't onboard with this move and that got him thinking and stewing. Tom adds If peter isn't down with Quattro and he's on the block what the hell is going on.
12:50M Living Room Emmett and Alec
Alec thought Tom was feeling bad about what he said. Alec: "I was going to say you know what Tom it's water under the bridge.. he comes right up to me.. says yo man i'm nervous about the game man.. I don't know what to do.. "
Emmett: 'i told him straight up look man I don't care if you go home.. the way you've been acting"
Alec: "You should not be doing that it's not in our best interests"
Emmett tells him if Liza goes home this week they have no threats next week.
Alec: "Doesn't matter.. the biggest threat to us is Tom.. if you are allied with someone you don't trust"
Emmett wants to keep Tom. Alec is pissed at Emmett for telling Tom he's going home. Alec is also pissed because Tom hasn't apologized yet.
Emmett: "I'm with you.. it's your call"
Alec: "It's not my f*** call it's the teams call.. "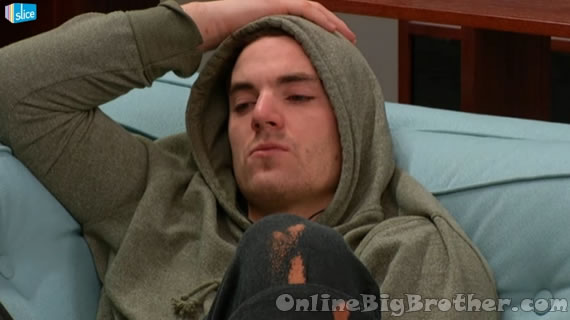 1:16AM Tom Alone in the Living Room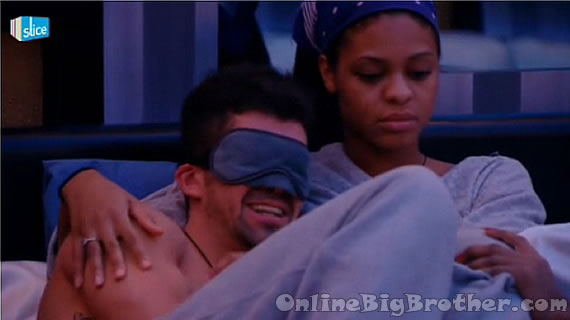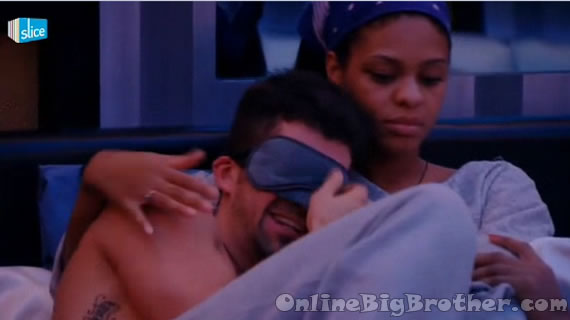 1:20pm HOH Alec, Topaz and Gary Alec crying for being exposed in front of the camera.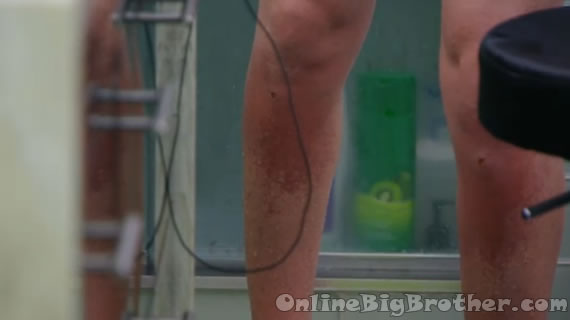 1:42Am bathroom Andrew and Tom Tom is telling Andrew his sad story about how he was on top of the world last week now he's on the block, his bro's don't have his back and the girl he was chilling with is spreading lies. Andrew's knees give me nightmares.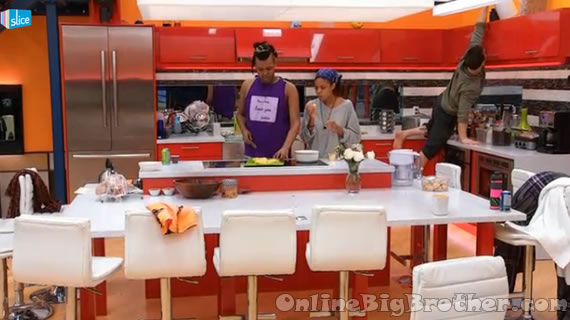 2:17AM Tom is alone in the Bathroom and of course Topaz and Gary are up making food and drinking pop
They chat about the "Cute" boys in the house. Gary thinks Andrew is cute in a old man way. Topaz and Gary both agree that Peter is cute.
Tom joins them briefly to make a protein shake.
2:32pm HOH Topaz and Gary
Gary loves Suzette but hated her at first
Gary loved Andrew at first but now he annoys him
Gary loved talla at first now he doesn't
Gary about Andrew: "His legs look crazy… looks like something is going to crawl out of those holes"
Topaz: "looking at those legs make my eggs look itchy"
Gary: "He's got prescription ointment for those leg now"
Topz: "Both legs look f**ked up"
Gary: 'They're F*** up"
Share it YO!
Tweet