Want to watch the Big Brother Canada 5 live feeds but live outside of Canada?
Bypass the geoblocking with HideMyAss VPN and be Canadian Anywhere: VPN Help Guide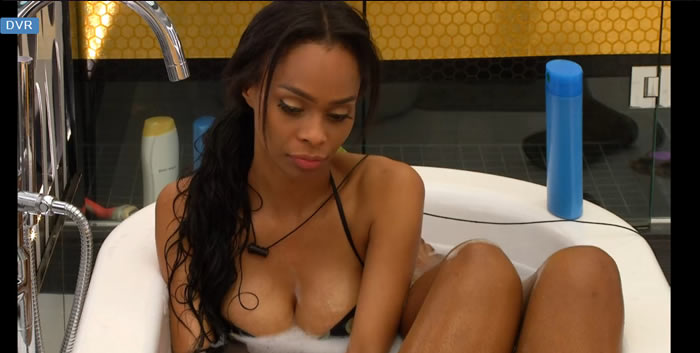 9:00pm Bathroom Demetres Ika and Gary
part 1
Ika thinks Sindy wants to get in with them.
Demetres – She's already in with Kevin and Bruno .. our alliance is going to change..
Ika – and when it does change I want her to like us more than Neda
Ika says Neda is a "Spoiled brat" "Poorest Sport Ever"
Demetres – I know
Demetres – Neda when her shit runs out.. I feel like the other people left in the house will go after her
Ika lists Emily, Dillon, her and Dmetres.
Ika – Gary will go after her for sure, Dre will do it..
Ika – I feel that Dre will target Bruno and Kevin before she targets Neda
Demetres says Neda is better to take to the end because she's worse at comps. (Neda will win all the fan twists)
Ika – She's won.. and she's tiny
Demetres – she's weak as shit
Ika- these people all hate us and they all like her
Ika – better if we take someone like Dre or Sindy she's not well respected
Ika – Jury people are so bitter
Ika – is getting rid of Gary the right thing? He's a strong player and will always be a target.. and he's always gong after NEda he hates her
Demetres – yeah but it looks bad
Ika points out they don't want it to lok like "they" (they other side) is controlling everything they do.
Ika – I don't want Gary to go.. he's a big target
Part 2
Ika – I feel that Gary has more revenge in his soul
Demetres – he has more firepower
Ika – I don't want either of them to go
Ika – when do we draw the line (Pick a side)
Demetres – we have to get rid of Dillon and Em first
Demetres – if we draw the line with our own alliance they are going to snag up Dillon and Em (Too late already done) and now we have the entire house against us
Ika – we can just lie and say we thought it was backwards week
Ika – all the good entertaining people are leaving we're left with a bunch of dry toast people
Demetres still wants to keep dre
Demetres – if Will goes with Jackie
Ika – we're f***D
Demetres – who is Jackie after
Ika – Me
Ika – I like Sindy a lot more than I like Neda
Demetres – every week we're changing
Ika – we have to make Sindy feel a lot more appreciated on our side.
Ika – have you told Neda you valued your opinion
Demetres – I told her this morning..
Ika – don't throw me under the bus too much because she is concerned about image on live feeds.
Ika suggest he tell Neda that Ika is a bit irrational and he felt that Ika was about to turn on him and that he feels that Neda is more level headed.
Gary comes in "I need water"
Ika – Bitch you need a pitcher of water for that thirst (HAHA)

Part 3
Gary mentions that it was "shady" that Neda was so rude
Ika – Neda is a rude person
Gary – she showed her a$$
Demetres – Showed her a$$?
Ika – means she showed her true colours
Ika says they have to translate these things for Demetres.
Gary says once Neda wasn't getting her way she sat in the corner, "So that's how it is when you don't get your way.. When you're not in the winning lane. You're going to quit.. "
Gary – I never once said I was going to quit bitch and I'm in the bottom of the barrell.
Ika – I hate all these people
Ika – Jackie thinks I'm the biggest villain in Big Brother history.. That's what she told Sindy..
Part 4
Gary says "the tea" is the info and the gossip.. Spilling the tea is spilling the gossip. 7
Gary asks Demetres – what's don't come for me? Demetres – like verbally attacking someone. Like I'm going to say s*t about you. Ika – so don't come for me, I didn't send for you. Gary and Demetres laugh. Demetres – I'm grinding here. Gary – what does that mean? Let us in? Demetres – that means like I'm thinking. Ika – what is showing your a$$? Demetres – showing your true colors. Ika – ahhh… he's learning. Gary – what's giving face? Means your giving me a dirty look. Ika – what's a queen? Demetres points to Ika and Gary. Ika – I'm going to drag you? Demetres – I'm going to beat you up? Ika – no. Demetres – I'm going to drag you by your weave? Ika – no. Its I'm going to tell you off so bad that you're going to rethink your entire life.

Part 5
More translations
Feeds are down again.. they've been down for most of the day.
12:33am Feeds still down.. no idea what is going on. In the past they've shut the feeds down for parties.
*** Feeds were down all night becuase they got massive amounts of Alcohol ***
This happened for BBCAN3
Next and Previous posts
Shortcut to Comments
Share it YO!
Tweet