POV Holder:
Ramsey
Next POV
April 16th
POV Used
Yes
POV Ceremony
April 18th
HOH Winner:
The Brothers
Next HOH:
April 21st
Original Nominations:
Ramsey and Maddy
Current Nominations:
Tim and Maddy
Last Evicted Houseguest
Paige, Sharry, Christine, Kelsey, Loveita, Dallas, Mitch, Raul
Have Nots
Tim, Cassandra, Kelsey
Watch the Big Brother Canada 4 Live Feeds anywhere in the world with HideMyAss VPN.
ALLIANCES IN THE HOUSE
There will likely be a lot of alliances during the season – keep track, read our alliance help guide.
9am – 10:25am
Big Brother wakes up the house guests. Jared, Kelsey and Cassandra head out to the hot tub room. Tim says the problem with them (Brothers) is if you're doing anything remotely fun in the HOH room, they want to be involved in it. Yesterday, Phil was cooking dinner and I asked if I could work out in the HOH room and then he said he wanted to join. Jared and Kelsey head inside. Tim says once Maddy goes there will be more stability in the house. We've taken out the reckless people like Loveita and Dallas. I think a lot of the people left are pawns. They don't think for themselves. Cass says people say he's the new born Emmett. He's not. I don't think people really like him. Tim says I don't know who Canada would like. Cass says they would like me, you, the brothers, Joel. There's no way Kelsey deservers to win over anyone in this house.
10:45am – 12pm Hot Tub room – Tim says I'm not going to say I won't ever do another reality tv show again. Like I'm not going to chase it but if they come asking, I might. Kelsey makes a slop breakfast for her and Cassandra. Cass asks why are you so nice to me. Kelsey says because you've got a great a$$. Kelsey hops up on the bar and eats hers off Jared's butt. Tim talks about how when he came to Canada he had to fly back to Australia for 1 day. It was the stupidest 3 days of my life. Jered asks why? Tim says for an event. Big Brother blocks the feeds. When they come back, Tim is talking about his birthday coming up. Tim says when he was younger he pretended to have appendicitis so he could get 2 weeks off from school. Tim starts talking about wanting an o*gy. Big Brother puts the house guests on an indoor lock down.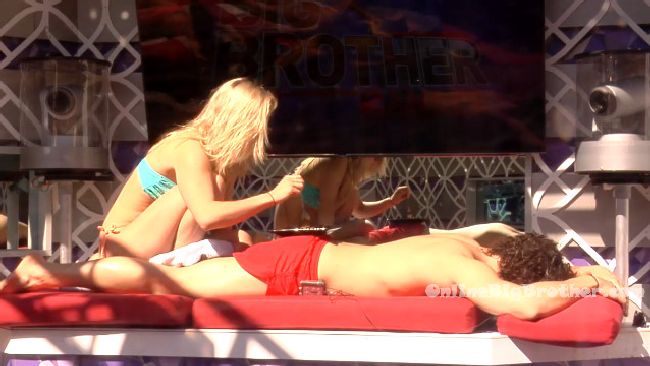 2:30pm – 2:50pm In the bathroom – Cassanda, Cassandra, Kelsey, Jared and Tim. Nikki says I felt really sorry for her when Ramsey left and then 20 minutes later she was on to Phil. I hope Ramsey wasn't watching.
3:20pm At the kitchen table – Phil, Joel Nikki and Nick are teaching Maddy french.
3:40pm In the havenot room – Tim and Cassandra are making a flower headband for her. Cass asks Tim about his situation back home with a girl. Tim says he doesn't want to talk about it. Kelsey comments about her ex and how they've been broken up but still hook up every once in a while.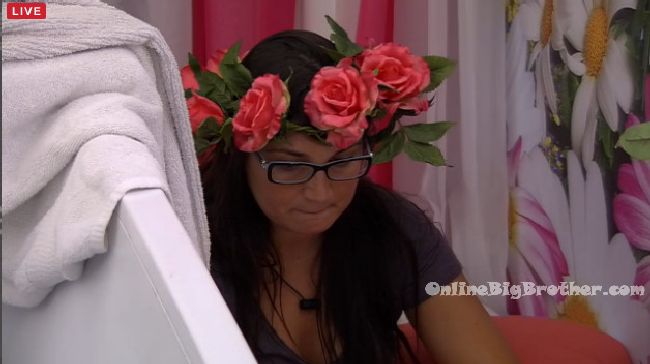 4pm Joel comes into the havenot room and Kelsey and Cass ask him how his manscaping went? Kelsey and Cass tell him to go get in the shower so they can check it out. Joel leaves to head upstairs. Kelsey and Cass laugh that they don't want to see his weiner. Kelsey says no matter what we have to go like WOW! Even if its a different looking weiner. Kelsey tells Jared she's going to go look at Joel's weiner. Jared says nice have fun! Cass and Kelsey asks Joel if he's ready. They're laughing. Nikki then gabs the door handle and opens the shower door. Big Brother then cut the feeds.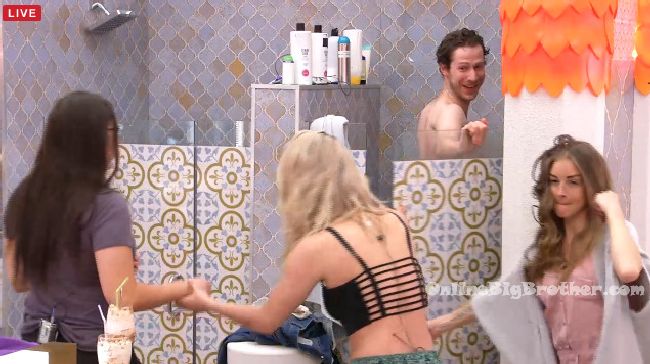 Kelsey & Cass come to see Joel's "manscaping"
Nikki opens the shower door to show them@bigbspoilers #bbcan4 pic.twitter.com/LeCxADDt3V

— Dawg (@DawgsBigBrother) April 19, 2016
4:25pm In the HOH room – Kelsey tells Phil that she saw Joel's weiner. Phil asks how big was it? Kelsey says big. She says that Joel was upset that Nikki opened the door. Big Brother cuts the feeds. When they come back Phil asks did Nikki say sorry? Big Brother blocks the feeds again.

5:30pm – 5:40pm In the havenot room – Cassandra tells Phil if Jared is sitting in final 2 he wins. Phil agrees. I see what you are saying and I would support that decision. Cassandra says that it's you, me, Joel and Tim. Nikki is with Tim. Then there is Jared and Kelsey. Cassandra says do you think Jared should be the target next week? Phil says it's not my HOH. Tell me what's best for the group and I'd support it. Phil says I don't think I can beat Jared in the final 2. Cassandra says I don't either. They shake on taking a Canadian to the final 2.
Watch the Big Brother Canada 4 Live Feeds anywhere in the world with HideMyAss VPN.
[polldaddy poll=9390090]
Share it YO!
Tweet