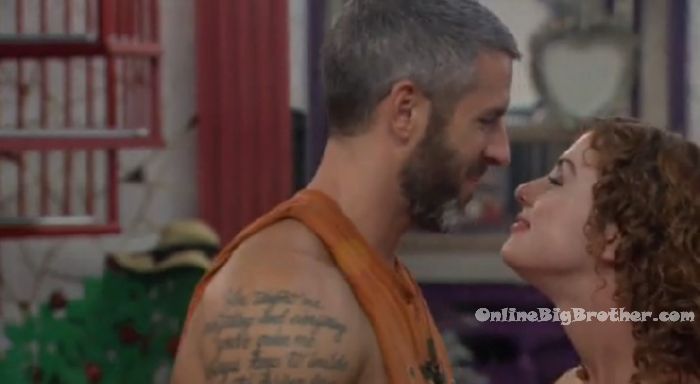 Check out our BB19 Ranking Grid. . rank your houseguests here
8pm Kitchen – Raven and Matt flirting..
8pm Backyard. Jason, Alex, Paul, Christmas and Kevin.
Jason says Josh is sleeping. Its because he crashed his own brain today. He overloaded it. Now he's going to be like my family's going to hate me because I over reacted. Alex – I wonder if the think he is right or if they're like holy sh*t he's losing his mind. You know what I mean, are they sitting there justifying it. Paul – I think he's been babied his whole life and now that his mom isn't here. Christmas – you can tell about how he puts his stuff away. Kevin – that's the thing he doesn't put his stuff away. Christmas – exactly. Kevin – his shoes are everywhere. I've tried to be nice to him and be like listen you can't keep your shoes everywhere. You're mothers not here to follow you around and pick your sh*t up.


See what they can't show you on TV Try the live feeds for FREE!
8:35pm Backyard – Kevin and Mark.
Kevin – a few people should be thankful now there's Dom, Josh, Ramses, Jessica … She's (Christmas) one of my favorites but she's got a broken leg. I think they'll have her back next year. That's what I said. She can't really compete. Mark – its a very interesting game. I just can't put up with someone in my face all the time. Kevin – that's why I don't put up with it and I told him that. I didn't put MM's in your bed. I'm not in college. Jessica admitted it today. Everyone wants to kiss Paul's a$$. I tell a joke and no one laughs and Paul tells the same joke. I was like how come they laugh at your joke? Oh right, because you're the HOH. Kevin – its a done deal. Everyone should try and have 10 good days together. Or whoever wins HOH put him up. Put him (Josh) and Ramses. Mark – exactly. This is the situation. I was man enough to go up to you and apologize. Kevin – yeah you did, and he won't accept it. If he was going to do something he would have did it. If you hit him in his face in front of his family why didn't be do something right then. Mark – because he's all talk. That's what he's embarrassed about. He's embarrassed that you put pickle juice in his face. But there's no sense yelling at girls. Although some of them can be pains in the a$$es. I'll agree. Kevin – he'll go home and then he'll watch this on tv.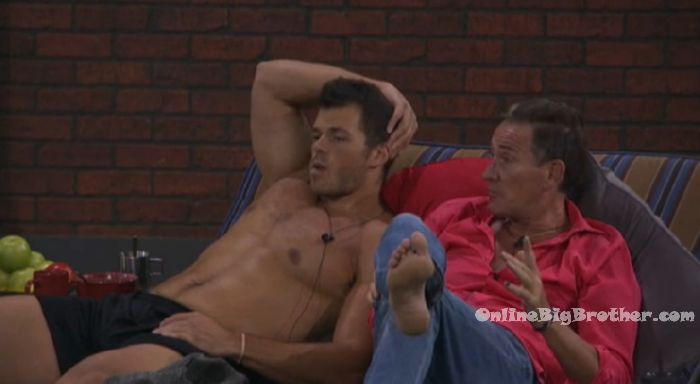 9:23pm Raven and Ramses saran wrap Paul's bed.
Raven #BB19 @bigbspoilers https://t.co/sLQeY1KjzC pic.twitter.com/EJbH3n4D8h

— Dawg (@DawgsBigBrother) July 18, 2017
10:10pm Mark – I was honestly expecting someone to be like oh no he didn't! And no one did, it was dead silent. Did you really think I was going to drink it? Paul – no. Mark – I said being the man that I am, I'm a man of my word. Do you honestly think you beat me fair and square? Yes. Okay! I feel like I did the right thing. I gave him the chance to explain. I asked first!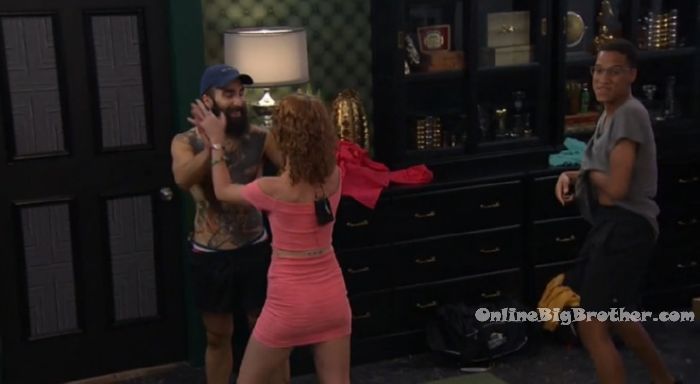 10:20pm
The house guests head to the bedroom to look at Paul's bed. Paul thinks it was Josh who saran wrapped his bed. Paul – I'm going to piss in his bed. Paul starts to head out of the room and Ramses and Raven admit that they did it. Elena brings up how she told Mark to throw pickle juice and hot sauce in Josh's face. Paul – so this is your fault. Mark – she did tell me 30 times not to do it. Elena – I honestly thought it was funny.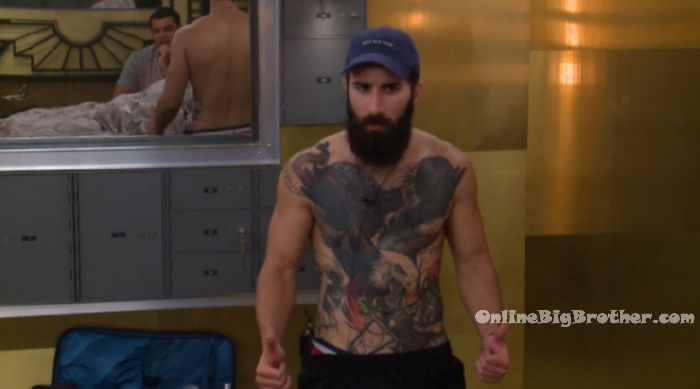 10:15pm – 11:25pm HOH room – Paul, Josh, Alex, Ramses and Jason.
Jason talks about how he's been tested for chlamydia 7 times and had it 3 times.
Jason – every girl I humped had it. The campus medic was like really Jason?! Well they don't tell you they've got it. Paul joins them. Paul – you guys feel good about this week. Jason – hell yeah. Paul to Josh – do you see how she tried to instigate you and I tried to calm you down? Josh – I noticed everything popped off after she approached me. Paul – She started nodding her head and saying yes, yes… That b***h! I've had it with her. Josh – but also Mark saying you want to talk about game .. continue to question me. And I said Mark I don't want to go there. Paul – don't let people instigate you. Squash that. Josh – yeah, I'll squash that. Paul – we just need to win HOH. Is it safe to say that if one of us get it everyone here is safe. They all say yes. Paul leaves. Josh leave. Alex to Jason – we need to keep our social game strong. They start studying the days / events.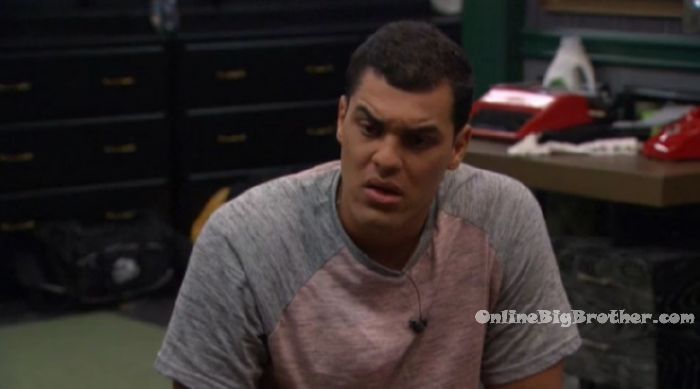 12am Bedroom – Josh and Dom.
Josh – like over the shower? I never did that! EVER! I swear to god I won't say anything. I never did that! Ever! I don't think Cody would make things up. Why would he say that?! I want to go home. Dom – no you're not. Josh – that's so sick who would say that?! Who would say something like that?! I never did that! I never even touched a girl in my life. All I think is that every girl is beautiful and I expressed that. I'm 23 years old. Dom – there's nothing wrong with that. It goes back to not being concerned about what people say. Josh – its not about being concerned, Its one thing to not like somebody but that's like calling someone a racist! And they're not. Dom – MMMMMhhhhhmmm it is. Josh – I've never done that peeked over the shower. JOsh – I'm not even going to entertain that because I know its not true. And I would never do something like that. Dom and Josh hold hands and she prays for strength and protection for Josh and his family. Josh – this stuff is hurting my family. I mean they know me. Nobody in this house knows that hell that I have been through.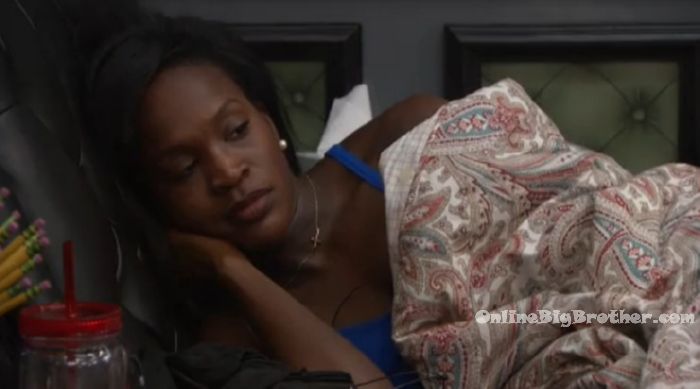 12:50am Matt and Raven make up under the covers…
1:50am Bathroom. Dom to Ramses – understand that no matter what you have done to me in this game.. when you came in you got mad respect from me. There are only two people that get mad respect from me and that's you and Josh. Because not one person has decided to be honest with me this entire time. Just know that I do believe in you and you will go very far. Ramses hugs Dom and says thank you. Dom – I wanted to make my rounds before Thursday. Or the house could get turned upside down and I end up staying. I would be shocked if I didn't get it based on they show what has happened. America's going to see things and hopefully they'll see it the right way because I was framed.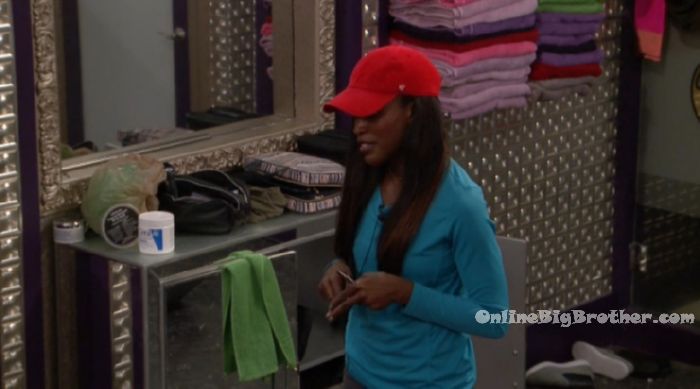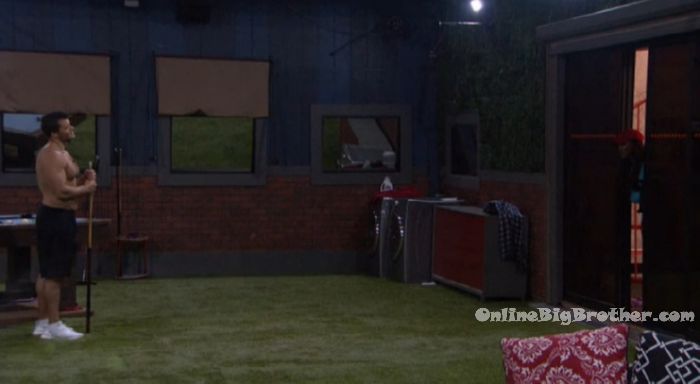 2:47am – 3am
Mark is playing pool by himself. Dom asks him if he is okay. Mark – I'll be okay. Are you okay? Dom – I have no other option than to be okay. I just had one of the best DR sessions I have ever had. Still feeling isolated. My number hasn't changed. Do you want to talk? Mark – do you? I'll be in, in a little bit. Dom goes back inside. Elena comes out. Mark – you're not going to sleep? Elena – not just yet. I was talking to Kevin and Paul and then Dom came out of the DR and then came this way so I thought I would check into it. I heard she had the best DR of her LIFE! Mark – she wanted to see how I was doing. Elena – is she going to return to talk? Mark – I don't know. Elena – so if I hadn't come out would you have talked to her? Mark – probably not. Elena – why are you smiling? Mark – this is just a weird game. Do you know what its like to be isolated? Elena – no, not really. Why are you asking me? Because you feel bad for her and you think I'm heartless. Mark – do you not trust me? Elena – I didn't say that.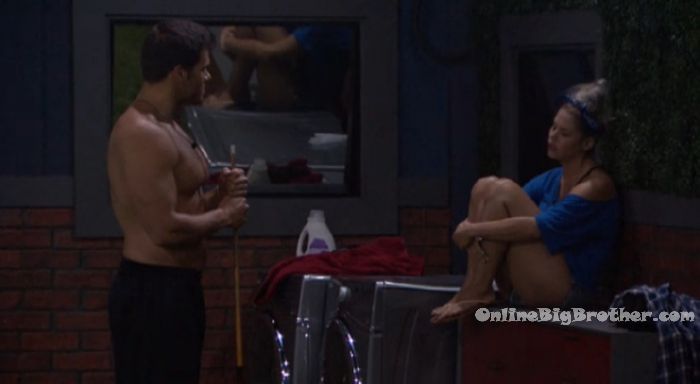 3:20am All the house guests are sleeping…
Links to the ranking system
Rank your house guests here
For those of you that like Statistics here are some expanded reports.
Next and Previous posts
Shortcut to Comments
Share it YO!
Tweet