Kevin Searching #BBCAn5 @DawgsBigBrother pic.twitter.com/bHoD1fnmTJ

— OnlineBigBrother.com (@bigbspoilers) April 10, 2017
William and Kevin
William tries to talk Kevin into using the veto so Jackie can go up. He's really going to put Bruno up.
Dre – lets not tell anybody… we can tell Demetres .. you can tell Demetres but you better make sure to tell him when nooooo…one is around. Ika – yeah I won't even tell him.. lets keep it between us for right now. Dre – lets keep it between us and think about it. Right now we're a group, its not an individual idea. We're a team, we're thinking for the team. I'm not trying to push my agenda. I think actually that Bruno is better for all of us right now. William – for sure. Ika – this is a good idea but you would have to know that Emily and Dillon will not betray us. And Jackie .. leave me the F**K ALONE. Jackie will go with Emily & Dillon. Dre – the first part is to see if Emily and Dillon are on board with this plan. If they're on board, then we follow through. If Dillon is up with it, I actually think this is a great thing to do.
William – I'm sorry Bruno … take a seat.
Ika – then after that one of us win HOH. William – please win it now.. don't be eliminated on the first question. Ika – it was the second one boo boo! No one got out on the first one.. don't try me! Dre laughs. Ika – I was so embarrassed. That was my most embarrassing comp to date.
Kevin & William are studying the days / events of the season. Dre joins them and asks to speak to William alone. Dre and William start speaking French. Emily joins them. Dre tells William – you know how I've been telling you, you need to make Kevin use the pov? William – MMmHHmm. Dre tells Emily to tell William the plan. Emily – Kevin is sketchy. Kevin is f**king sketchy and I was working with him. If you can convince him to use the veto on me and I come off the block and then its Dillon and a replacement nominee and you make it known that, that is your target and that person goes home. Me and Dillon both stay and US f**king 6 work together. Scoop up Karen and we are f**king 7 people. Dre – do you think its like .. we would put up Jackie? Emily – yeah, it has to be Jackie. We're going to try and backdoor somebody. That would be huge, that would be F**KING HUGE! Dre – we need to convince Kevin to use the pov. Right outside Ika was talking to Emily so we just came in and explained everything that just happened. Dre – does Kevin look like he wants to use the pov? William – I think he is going to do what I want. He trusts me. Emily – we can't let him know the plan though obviously. William – no, no, no. Emily – he can't know anything .. just say you're going to put up Jackie, if he asks.. and then put up whoever the F**k you want. Dre – do you think Bruno is going to convince Kevin not to use the veto. William – I'm going to rub his back, I'm going to kiss his a$$. I'm going to do what he wants. Dre – I've been here like he has to use it!!
William and Kevin are studying the days/events of the season.

Ika, Dre and William. Ika – don't do it. Dre – she is just stressed for no reason. Ika is laughing telling William to abort, abort. Ika leaves and Dre & Wlliam start speaking french.
Dillon and Dre
12:25am Kevin and William
Kevin – On my side of the house no one trusts Jackie. You're good with everyone if we do this right? William – MMmmHmmm. Kevin – Then I'm good with Dillon & Emily. On your side of the house would Ika & Demetres be mad at you? William – I don't think so. She doesn't like Jackie anyways. Kevin – Karen, she doesn't like Jackie… so you're good with everyone and I'm good with people too. This is so good for us! William – okay. Why didn't you say that to me before? Kevin – because I didn't want to rock the boat. I like it, we should do it. Jackie is going to be very blindsided. William – I know. Kevin – If I use it Bruno will be able to control Dillon. I like it. I don't like Jackie. William – that looks like Big Brother, I like this.
Kevin says likes the plan to use the veto on Dillon so William can put jackie up.
Kevin – I'm really excited..
kevin jumps up and down.. "I Like it.. i'll sleep on it but I like it"
(If Kevin uses the the veto he's dumber than poop)
Kevin – should we tell people before? William – I don't know, so you think we should? Kevin – I don't know because if we tell people, we have to tell everyone. Kevin – to be honest, I don't know because everyone thinks I'm not using it. William – yeah. Oh because you're scared people will be like ..oh you lied or … I can say that was me. Because you said you were going to do what I want so I changed my mind like you said. Kevin – we should just tell people.. I think because even if it gets to Jackie… William – she isn't going to do anything. Kevin – so Dre knows … I'll tell Bruno. I'm just really happy though…
12:37am Dre, Emily and Dillon
Dre says if Kevin uses the veto they might backdoor Bruno if Kevin doesn't use the veto Dillon is going home.
Dillon – that's OK

1:00am Karen and Dre
Dre – we basically told Emily that Kevin and Bruno are the ones that f**ked them over. And we told Emily that Bruno in the room was trying to get her to go… which is true because they wanted to have control over Dillon. And that Bruno is the one that wants you gone because they want to keep Dillon and we said we want to keep you. So we were …well Ika was trying to see if we could work with her. And you were right .. she looked like she was PISSED at Kevin. And I think she would be willing to work with us. Karen – did my name come up? Dre – no. But what is happening … you can't get mad .. I think that Kevin is going to use the power of veto and I think that William wants to put Bruno on the block so that we can evict Bruno. Do you think its a good idea? Karen – YES! FANTASTIC.
Dre tells her about the possibility that Kevin will use the veto thinking Jackie will go up then they'll put up Bruno and vote him out.
Karen says she's down (Like a boss) for it She'll vote out Bruno.
Dre – William knows that Kevin is playing him. I don't know if this is going to work but if it does we can backdoor Bruno and Emily and Dillon are going to be loyal to us because we kept them. Karen – are you sure Emily isn't targeting against us. Dre – I'm sure 97%, Emily loves you. She thought she was going to be alone in this game. Karen – does she think I'm with you now? Dre – no she doesn't. Karen – so she knows I went and told you what she wanted me to tell you? Dre – no. Your name never came up in our conversation. Since William is trying to convince Kevin to use the POV. William is saying I am going to put Jackie up on the block and Kevin is buying it because I don't like Jackie. Karen – but do we have the numbers?
Dre – we can pull in Dillon and Emily.
Dre – Dillon is going to vote to keep Emily, I'm going to vote to keep Emily, you're going to vote to keep Emily, Ika's going to vote to keep Emily, Demetres is going to vote to keep Emily… that's 5!
Dre – we only needs 4
Dre – that will only leave Neda, Sindy, Jackie and Kevin
Karen – that's just 4 (HAHAHAH Vets get killed)
Dre – we have to make sure next week we win HOH … but we already had to win HOH except this time they're going to see that something happened obviously but they're 4 against all of us. Karen – will Dillon stay loyal to us?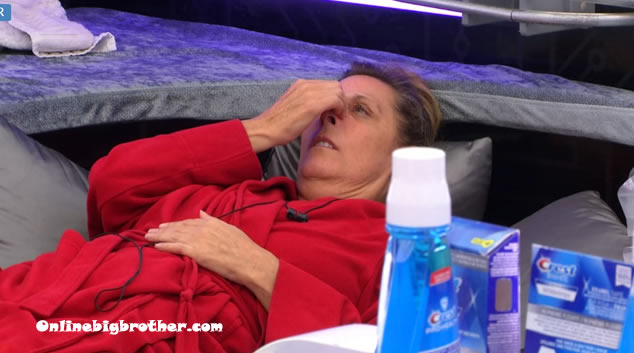 1:07am Karen in her corner
karen – I don't think Emily is it.. Too Sneaky.. this is why I miss Gary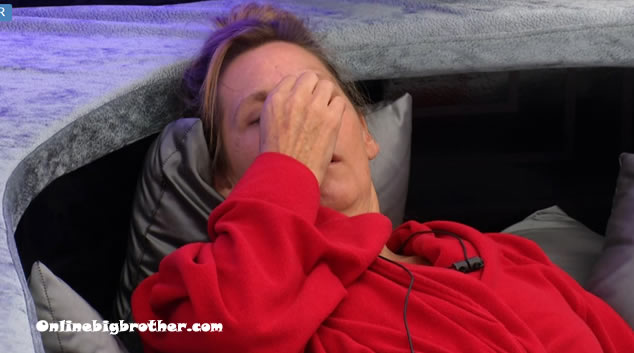 Karen – I just have a really bad sinus headache.. it's terrible (It's a karen blog)
Neda- goodnight Karen
Karen – goodnight Nedz
The Greek and Ika
Ika – if we win HOH who do we put up
Greek – Jackie
Ika – and who else
Greek says they need to get Jackie on their side.
Late night Ika and the greek
Ika tells Neda that William wants Kevin to use POV so they can pull Dillon and Emily onto their side.
This Morning Neda fills Kevin into the plan they were trying to get Kevin to use the veto so they can get Bruno up.
[polldaddy poll=9718569]
Next and Previous posts
Shortcut to Comments
Share it YO!
Tweet