Check out our BB19 Ranking Grid. . rank your houseguests here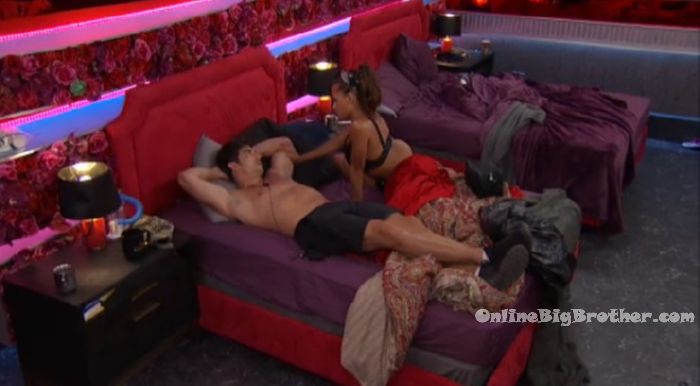 See what they can't show you on TV Try the live feeds for FREE!
2:15pm Bedroom – Jessica & Cody.
Jessica – I am sorry if I let you down. Cody – you don't have to be sorry for anything. Jessica – that wasn't my intention. I am sorry if you felt unsupported at any time. Cody – you've been nothing but loyal to me and I recognize that and I could never repay you for that. I think you're amazing. Jessica – I am hoping you have time to calm down and realize you'll come back around. Just know that I am here to talk or if you need anything. Cody – I just want out, so don't use the hex. Jessica – And what about us? Cody – figure it out after the show. Jessica – I think that life will get easier outside of the house and I hope that you still feel the same way. Jessica kisses his forehead and leaves the room.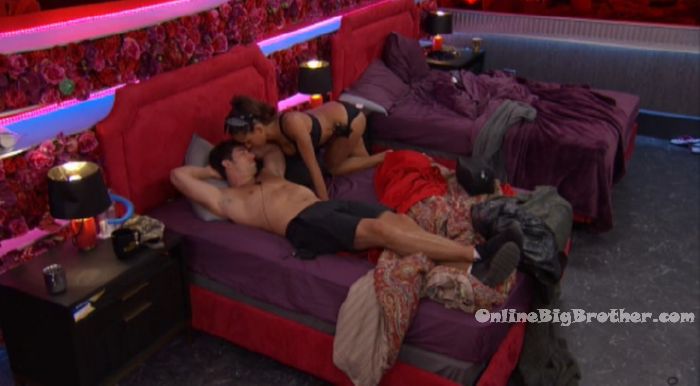 2:43pm – 3pm
Paul tells Mark and Elena that if there is ever going to be a time it is now. Mark, Elena, Matt, Raven and Paul meet in the HOH room. Paul explains the plan how Jessica agrees to not use the hex so they can vote out Cody in exchange for 2 weeks of safety and that they will vote out Alex next. Matt – Cody's been the only one protecting her (Alex). So you have everyone up here plus Christmas Joy .. that none of us have a problem with you. Jessica – If I am going to not use this hex to allow you guys to vote out Cody, the one person I want out of this game is Alex. Paul – done! Jessica – so if I am giving you guys this, I want her out. Mark – deal. She is the worst person for me in this game. Matt – she beats me in every single comp. Everyone agrees to get Alex out next. Christmas joins them. Jessica – I think this is something that needs to be said … I know that some of you have had a hard time living with Cody and he makes you feel uncomfortable .. and I get that. You also have to remember that he is a marine. He went to war and our government conditioned him a certain way. He was over seas with a bunch of people that he trusted with his life and he there was nothing but loyalty, comradery and trust.. now coping with post war and now this is the circumstance is the exact opposite. This game thrives off of stabbing each other in the back and lying. And he is not the type of person that takes those things easily so when he gets defensive.. absolutely not. I am not defending that. No one should get in someone's face however I adore him and I will defend him till the end of the moon. As a vet no one should shut their doors to someone who has fought for our freedom. And I will continue to stand by him and support him… so please if you see me with him understand that is not game, that is real life. Paul – we do not want you to abandon Cody .. that is not what this conversation is about and I would never want you to do that. And what you just said further shows that I don't think this environment and game is right for him because it only gets harder .. worse. And in the jury confining .. its not a good environment for Cody. This is day 40 and its only going to get worse. Its only going to get weirder, harder and more f**ked. Jessica – just please be sensitive about what you say .. I don't want this to affect him on the outside. Jessica – if the DR tells me no to the question that I asked then you need to … big brother blocks the feels. When the feeds come back – Jessica – they told me they would tell me before veto (Ceremony). Big Brother blocks the feeds.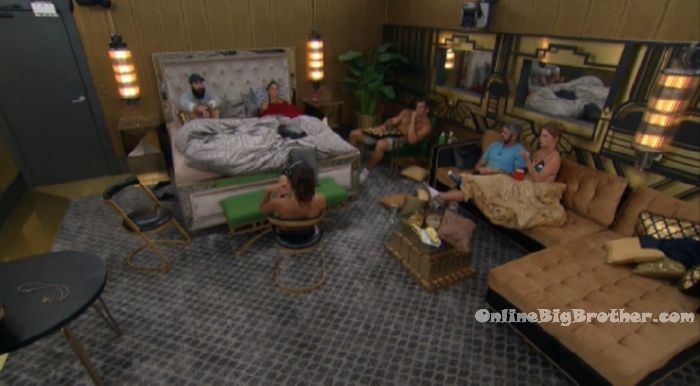 3:15pm HOH room. Elena tells Paul and Christmas – you two are the only ones that know that he (Mark) and I have separated. Elena leaves the HOH room. Paul tells Christmas – so this is what's going to happen, y'all better strap on your big boy pants and win the HOH. Did you see how she worded that .. the next two evictions.. if there is a double eviction we need to put up Alex as a pawn and Mark or Elena. Christmas – Mark is lower on my totem pole. She is a great game player. Paul – then lets take her out. We could fool her (Jess) once with it. Lets not get ahead of ourselves.. you pump her up. Christmas – last time I was telling her to not leave Cody and now I am. Let me be clear he is not good for your game. Did you come here for a boyfriend or 500K? Paul – if we pull this off some of us are sociopaths. And good move. Christmas – some of us are sociopaths.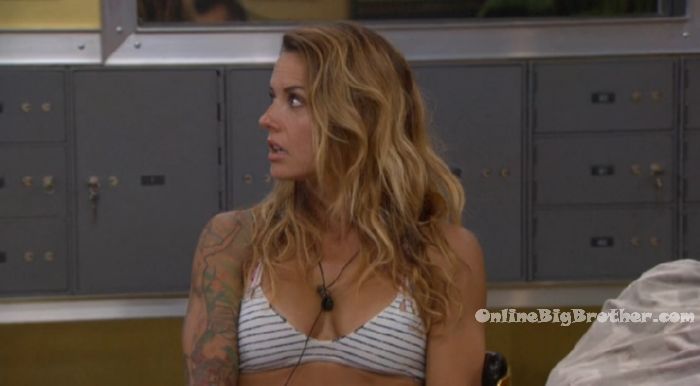 4pm Jessica and Cody making out..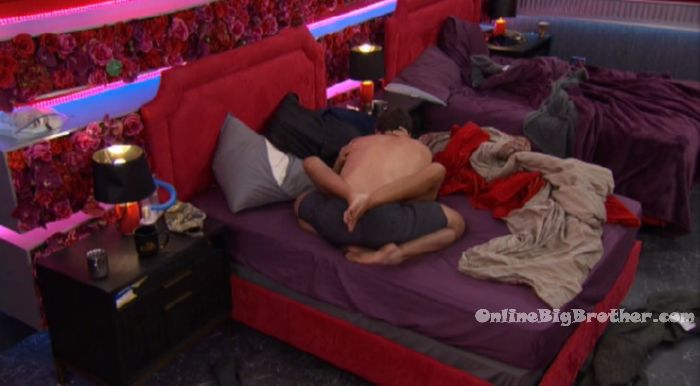 4:10pm Jessica and Cody.
Jessica – The hex said that I can use it at any time during the live eviction. So I wanted to know (from production) if during the live eviction .. if I was evicted if I could stop it and use it. (She can't she has to do it before the votes are cast.) Cody – no way they would allow that to happen. Jessica – they told me they would get back to me. Cody – oh damn Jessica. That would be crazy. Cody and Jess head out to the backyard.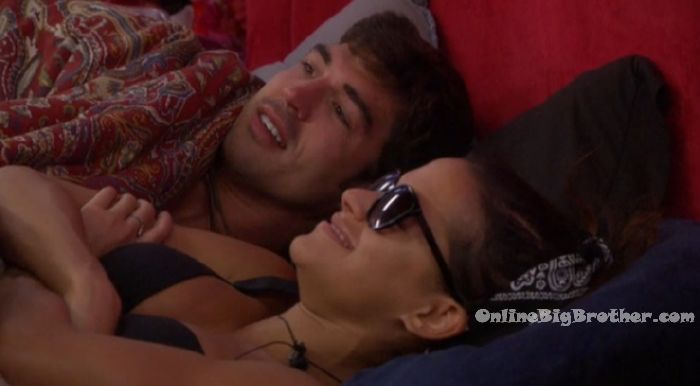 4:40pm HOH room. Paul and Raven
Raven – what Alex said she was going to do was if she or Jason win HOH they would put up Jessica. Make her use the hex and then put up Elena and Mark. Paul – perfect. Raven – what I was thinking is I would volunteer to go up next to Jessica and convince her to use it right off the bat. Paul – smart. But she will definitely have people in her ear not to use it until eviction day. Raven leaves the HOH room and goes to the lounge room with Matt. Raven tells Matt her plan to volunteer to go up with Jess if Alex wins.
5:30pm – 6:30pm The house has quieted down. Cody and Jessica suntanning. Christmas doing the dishes. Jason telling stories to Christmas, Josh, Raven and Paul.
6:30pm – 6:40pm Bathroom. Jessica and Cody.
Jessica is telling Cody about what Paul said about Cody keeping Alex and Jason to take her out and how Matt said he wasn't participating in this. Cody – He said I said it the first week. You know how much was said in the first week!? oh my gosh. I thought he was saying I made a deal with them to keep them and sh*t. Jessica – no. Cody – the first week I was calling you the babes and saying lets string them along and then cut them off. I thought I told you that a million times. Jessica – you did but did but you didn't say that you expected Jason and Alex to come after us. Cody – you know how many billion different conversations about who would be taken along? Jessica – so you're saying it could have been said? Cody – possibly but the only deal I made with Jason and Alex was to keep everyone safe. Jessica – if they didn't use it on the show already .. it will be a flashback
now. Cody – if they can find that. (LOL) The amount of different stories there were .. there is now way.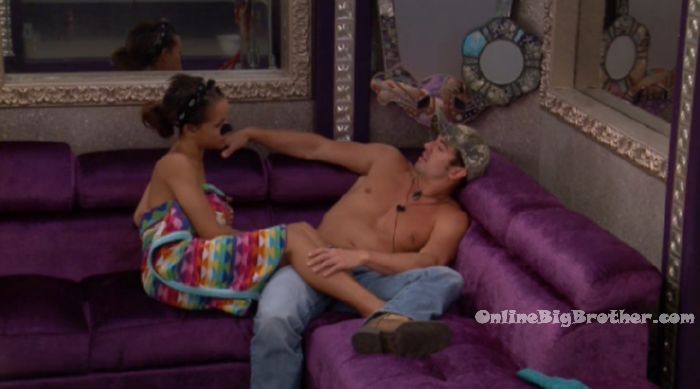 7pm – 7:20pm Bedroom. Jessica and Paul.
Jessica tells Paul that she can't use the hex until just before voting. So if I am still on the block… Paul – okay no one knows that. Only I know that, so that can be burned down buried right here and this information goes no where and Cody goes home. Jessica – I don't know if I can trust that. Paul – nobody is not voting Cody out. Jessica – people will vote out someone with a power. Paul – People have the understanding that you can use it after voting. I am telling you don't repeat that. Jessica – if you use the veto and pull me off then I don't have to use the hex. Paul – people would be suspicious. Jessica – then if they put me on the block in the next two evictions then I am just going to use the hex. I've been promised a lot of things in this game and its fallen through. Paul – I don't want you, I want Cody out that dies right here. Jessica – also on a side note I am not trying to make you feel like I'm making you do something .. but if your veto speech is attacking Cody… I don't know if it is or not but if it is very negative I will get defensive. Paul – I'm not going to say anything negative against Cody except for one comment which I am just going to make tv.. I am not trying to get a rise out of him. The whole point is to uplift you.. Jessica – I don't need to be uplifted..



Big Brother blocks the feeds. When they come back.. Jessica – you guys are asking me to stab somebody in the back right now that I do not feel comfortable doing. Paul – we're not asking you to stab him in the back.. we're asking you to make a game move. You can still use that hex but just know what the downside of that is. This is the best thing for your game as much as it is for everyone elses game. What you asked of me and I already did .. its going to be me that rallied things up.. Its going to be me not you. Also putting a target on my back .. if I don't pull Jason off .. that side that we left in the dark today is going to start asking me questions. They don't know exactly what your temptation is. Jessica – If I feel on Thursday that I am in danger I will use the hex. Paul – the last thing I want to do is poke and prod a bear. Jess – the last thing I want is for him to get upset. Paul – okay, I won't say it. But you need to promise me that what you just said to me doesn't leave this room and let me continue making things less obvious. Moving forward I upheld my part .. do we need to talk again? Jessica – I hope not. Paul – people were already going to put her up (Alex) so don't let your paranoia get the best of you. It is not in my benefit to have you gone.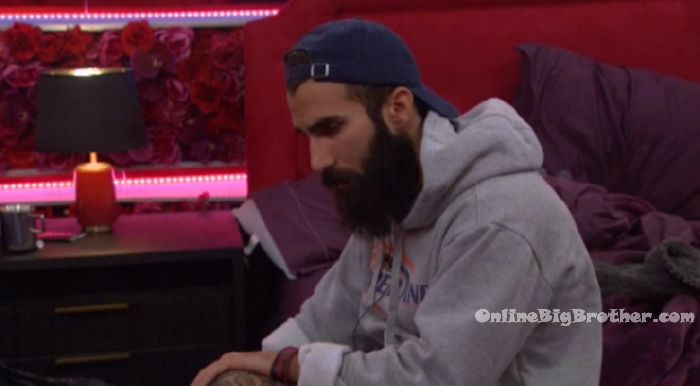 7:50pm Bathroom – Jess and Mark.
Jessica – I already told Paul is you go off on Cody in the veto ceremony I will use the hex. If anyone else was HOH it would be easier for me to not use the hex. I don't like that Paul is getting Cody out due to their rivalry. Mark – I respect the way you are playing this game. Elena is backing away from me because of how I reacted to another man yelling at me for 30 minutes banging pots and pans. Jess – If i use the hex this week and you win HOH will you promise me that you will not put Cody or I up? Mark – I am a man of my word. You wont be a target or a pawn. Jess – god I love you. Mark – it would be fun to mess with people. Jess – I need to talk to Cody and if he is not okay to stay in the game I will not do it. He got called into the DR today and told to cool it. Mark – I have your back. If he is in here I have his back too.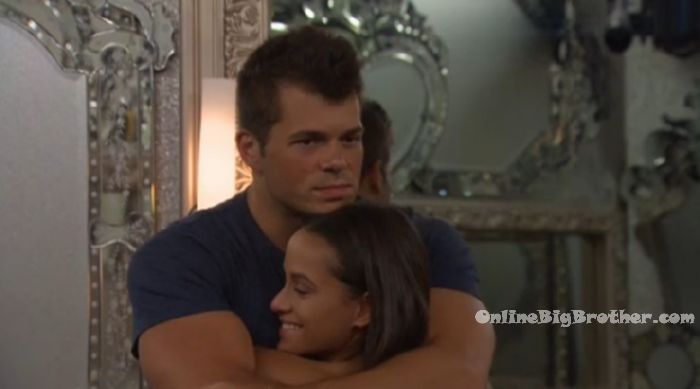 8:10pm Kevin and Mark playing pool.
8:25pm Cody, Jess and Mark.
Jess – I think if her (Elena) life was different she would play a riskier game. Because she doesn't have a job she wants to stay in the game as long as possible. Mark – I get it but I dont see how she doesn't make it to jury. Mark talks about how Elena needs space from him because of how he reacted to Josh. He says that it pisses him off that since then she's been hanging off of and talking to Josh.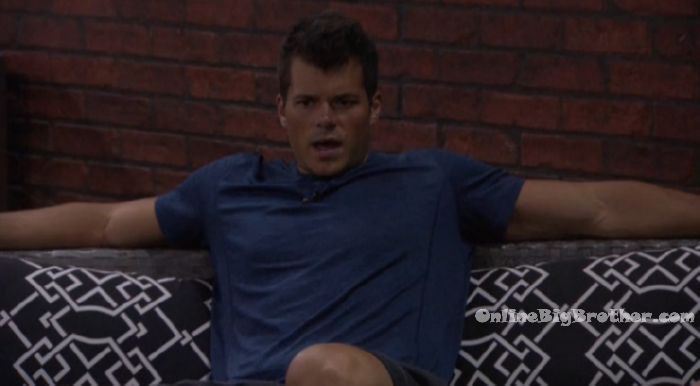 8:30pm – 9pm Hammock – Cody and Jessica.
Cody – a relationship doesn't work if there isn't trust. I've tried and it just doesn't work. Its miserable, I hate it. Might as well cut it off. Jessica – it was never a trust question… it was a now I have to kill you because now I have to deal with this. Jessica starts talking about her friends. Big Brother switches to Alex, Matt and Raven in the hot tub. Matt says his sleeve tattoo took 40 hours. (lol I highly doubt that. Even Paul said ALL of his tattoos took about 90 hours.)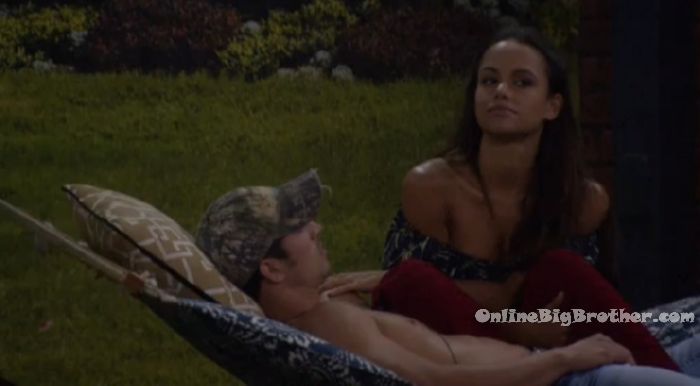 Links to the ranking system
Rank your house guests here
For those of you that like Statistics here are some expanded reports.
Next and Previous posts
Shortcut to Comments
Share it YO!
Tweet