POV Holder:
TOM
Next POV
March 9th
POV Used
YES
POV Ceremony
March 11th
HOH Winner:
TOM
Next HOH:
March 14th
Original Nominations:
Gary & Suzette
Current Nominations:
Suzette & Aj
Last Evicted Houseguest
Danielle
Have Nots
Alec, Topaz, Aneal, Jillian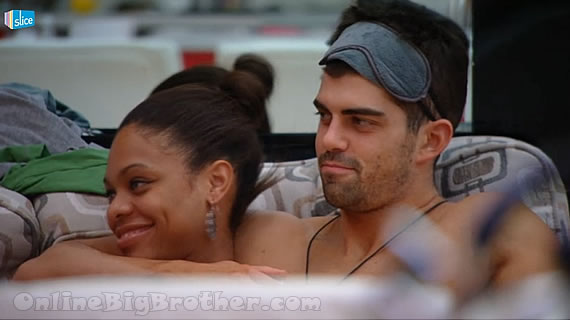 12:13AM Kitchen Talla, Andrew, Gary, Alec, Aneal, Topaz, AJ Random chit chat all over the place i'll list off some of the interesting comments.
Talla about AJ: "We're strictly Playtononic". They question if that is even a word. She says "50 cent" said it in a rap once.
Alec has wanted to be on Big Brother since Season 2, "I love this sh1t"
Alec wants to continue being a research psychologist the only reason why he would quit would be ifg he found out he was no good at it.
Alec wants to Have kids but not right now he wants to be more established with his job and live.
Topaz wants a really big Family.
Gary is done with school, he wants to start his own clothing boutique. Gary and Aneal start to "bond" they are having a conversation about their dreams. Apparently all the gems Gary attached to his forehead using eye lash glue are still on his head.
Topaz and Talla start to wrestle..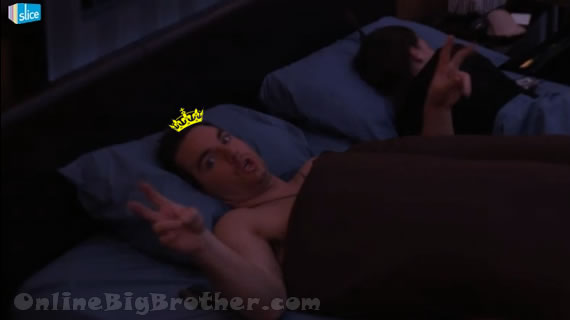 12:30AM Head of Household Tom and While the house is downstairs chatting and getting to know each other the King is up in the HOH bedroom with Liza
Tom says a lot of funny things while laying in bed with Liza. He's worried that after the show if they go out for dinner there will be paparazzi. Liza knows a guy who has slept with over 400 different girls. Tom: "That's a lot of p**ntang"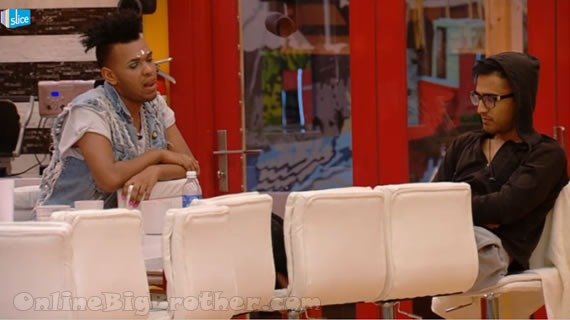 12:36AM Gary and Aneal alone in the kitchen chatting about Liza wanting them to do their dirty work. Gary: "B1tch you do that yourself" Gary says that Tom and and Liza have been upstairs working on their Script. Gary: "Aneal if you trust her I will trust her do you trust her" Aneal says he does a bit in the short term. Topaz and Aj join them..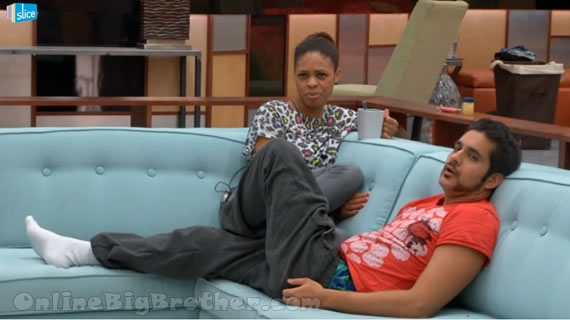 12:40AM Living Room Couch Topaz and AJ
Topaz: "wait… close your nostrils.. I just farted and it smells like slop"
Topaz: "do you think i'm too harsh on Alec"
AJ: "Ya but he loves it.. I know you like him and he likes you"
AJ explains that when you are in the house it's easier to get wrapped up with people but when ou get out it's a entirely different thing. Aj tells her that Long distance relationships never work he's tried it before. Topaz says she has a Couch date with Alec. Aj leaves to go to bed. (Everyone in bed except for Topaz and Alec)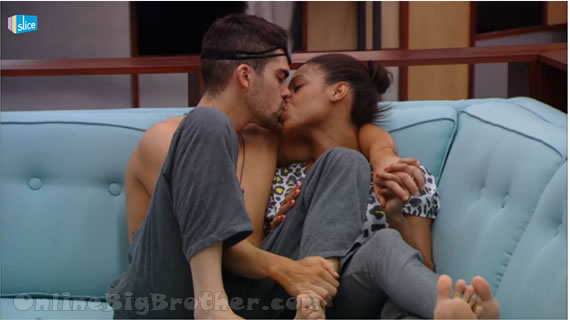 12:50AM Couch Date Topaz and Alec
Alec asks Topaz if she's told Talla to go hang out with Pete. Topaz says yes.
Topaz explains that she talked to Talla after she had her meeting with King Tom and then she talked to Gary who was also in the meeting and the stories were different. Talla's story was "Sugar coated" Topaz: "I can't trust Talla 100% "
Topaz also brings up that Tom was asking her and Talla about the girls alliance and Talla automatically thought she had said something to Tom. Tom apparently went on a tirade about people wanting to keep Suzette in the house and how it's the house going against him. Topaz: "Talla is running her mouth around the house it's crazy"
Topaz is trying to get Talla to hook up with Peter so that Peter feels safe and they can drop Liza. This plan was first put forward by Alec becuase Alec trust Peter and wants to keep him onboard but knows that LIza is gunning after the shomances. They both laugh at Aj standing in the way of the Peter/Talla showmance.
Topaz: "I don't trust Pete"
Alec: "You should trust Pete.. if you trust me you should trust Pete"
Topaz Farts/burps a couple times throughout the conversation.. (Slop diet)
Peter said to Topaz that he doesn't talk game talk with LIza. Topaz rightfully believes that this is total bullsh!t they all know that Liza talks game with everyone. Alec defends Peter says that he's trying to get information for them. Topaz: "I can tell that He trusts her" (Peter and Liza) Topaz: "I'm sorry but I don't trust Peter anymore… don't tell him anything I tell you from now on" Alec: "I trust him 95%"
Topaz says that Liza wants to take Tom to the end, she adds that the girls alliance will never work.. They start to kiss. Alec: "it's funny that at this time the most private part of the house is right in the middle of it"
They start to shomance it up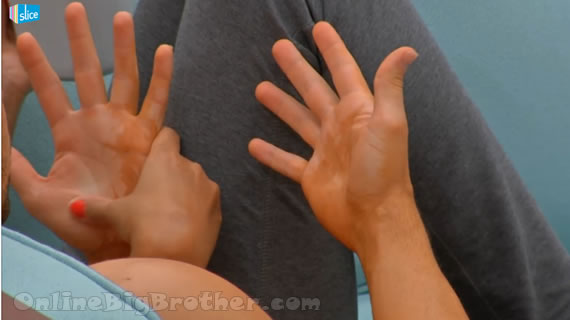 1:06pm Alec's messed up spray tan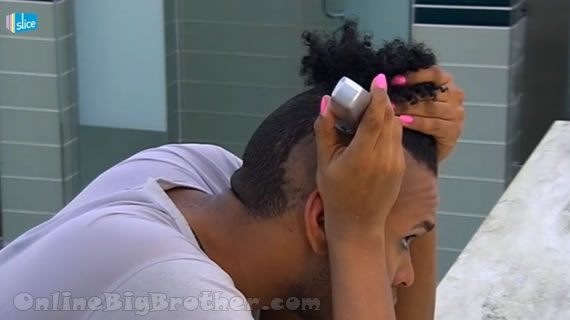 1:25AM Gary working on his brand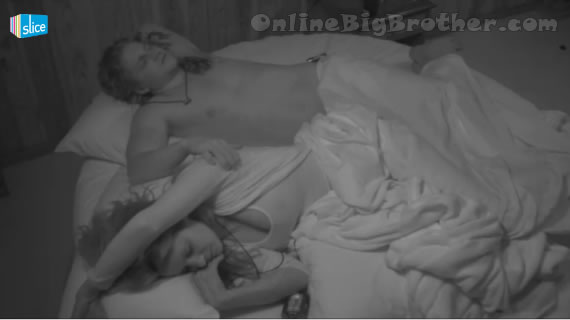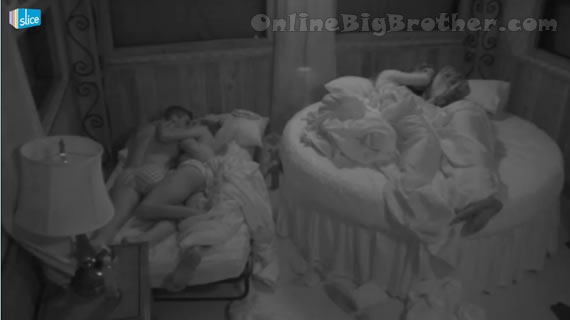 1:38pm AM Have nots room, Alec/topaz in one bed rubbing each other and Emmett/Jillian in the other bed doing the same thing.
2:00AM AJ's Plan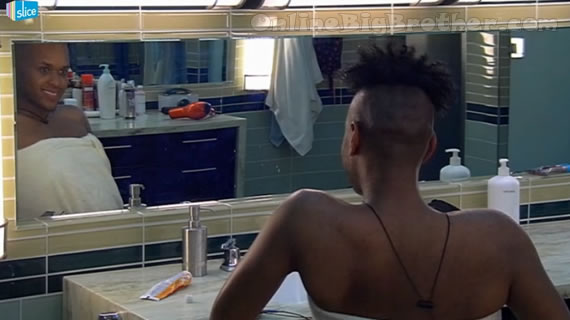 2:00AM Gary working on his brand
[polldaddy poll=6954869]
Share it YO!
Tweet