POV Holder:
Kenny
Next POV
?
POV Used
Yes
POV Ceremony
March 10
HOH Winner:
Andrew
Next HOH:
March 13
Original Nominations:
Paul & Neda
Current Nominations:
Paul and Kyle
Last Evicted Houseguest
Anick
Have Nots
Rachelle, Neda, Heather and Sarah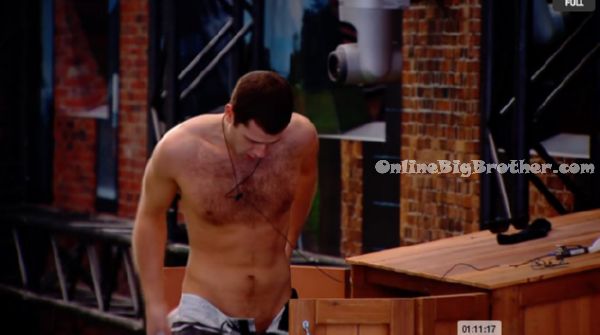 9am Arlie wakes up and heads downstairs and out into the backyard. He gets into the pool and takes a swim. When he's finished his swim he gets out and changes out of his bathing suit. He then heads inside the house. Big Brother then starts waking up the other house guests. In the bedroom – Ika is sitting on her bed waking up. Arlie comes in and takes off his shorts right in front of her showing his b*tt.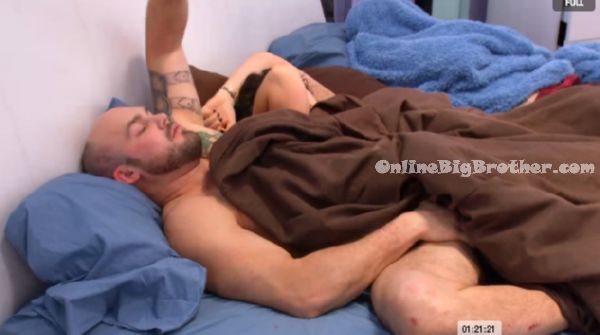 10:15am In the kitchen – Kenny, Andrew and Arlie are talking about random things. Andrew says I love to make music whether its through my mouth or my an*s. They guys laugh about how Sabrina slept up in the HOH room between Andrew and Kenny. Jon says that Sabrina commented on how cold it was …was her trying to justify to her gandmother it was okay to sleep between two dudes. All the guys laugh. Andrew says mean while Kenny and I were sweating it was so hot.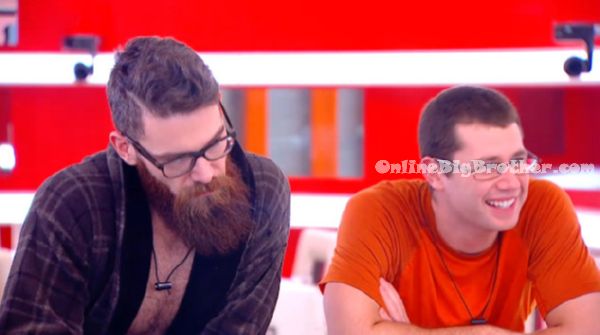 )

Big Brother gave the girls wax so they can wax their hair. Sabrina asks who wants to help me wax my v@-j@y-j@y?! Sabrina starts waxing herself in the bathroom. Sarah tell her she'll help her. In the kitchen Paul complains about how Kyle and Adel were jumping on him last night while he was sleeping. Paul says come on dudes!! What was that?!
11:10am In the living room – Kenny, Jon, Arlie and Andrew talk about the POV competition. Jon talks about how Paul fell. He says Paul is the largest man he's ever seen fall like that into the pool.

)
)
11:45am IN the bathroom – Neda and Rachelle are holding up a blanket so Sabrina can finish waxing her v@-j@y-j@y. Sabrina asks Neda for help. Neda starts helping. Jon wonders what's going on and asks if she eating her v@gina. Down in the living room – Kenny, Heather, Andrew and Sarah are talking in the living room. Heather says what's weird about showering in here is that you can't see your body when you're naked. Andrew asks uMM… can't you just look down? Ika comes through the living room and Sarah tells her that she dropped her underwear. Arlie heads straight for it and Sarah calls him out for wanting to smell her underwear. Arlie says he wasn't going to smell it ..he says he was going to kick it. Andrew asks Heather if they can play ball cup with her mouth.
)
)
12:50pm
IN the living room Arlie compliments Ika and tells her she looks good today. Ika says thanks! Kenny you look good today. Arlie laughs and says that was mean. Up in the bathroom – Sabrina, Neda and Racehelle talk about Jon not being himself lately. Neda says that she thinks he really misses his girlfriend and family. She says that she thinks he's jealous of how close Andrew and Kenny are. Sabrina talks about how ever since Andrew won HOH, Kenny has been sleeping up in the HOH with him. The cam switches to Jon in the havenot room talking to Sarah about how close Andrew and Kenny are now. Jon and Sarah talk about how they want to hashtag everyone… #calmthef**kdown. Jon and Sarah talk about how Andrew has been on a power trip ever since he won HOH. They feel bad for Paul. Sarah says that he made a mistake .. everyone does .. I do all the time. Jon says that Paul won't be able to recover from making those comments to Andrew. Sarah says that she feels bad about what we're doing because it is a form of bullying. Jon says its hard because you can't go talk to them, you can't sit with them because it will ruin your game. Jon says after the game is over, I'll be the first one to call them (Kyle, Adel and Paul) to tell them what happened in the game stays in the game. Sarah and Jon hope this game changes them (Jon & Sarah) for the better. Jon says the game makes him appreciate what they have outside the house and family so much more. Jon says that he has so much respect for Neda because she's a single girl and she's not all over Andrew or the other guys. They talk about how Andrew bosses everyone around. Jon asks do the girls talk about how bossy he is and the sexu@l comments he makes. Sarah says that she isn't sure because she is kind of on the outs with the girls. Jon says I am kind of afraid if one of the girls wins HOH ..they won't be strong enough to take a swing at Andrew or Kenny .. they'll take a swing at lower guys like me or Arlie. Jon comments on how smart Kenny is in terms of this game. Sarah talks about how Heather has told so many lies. Jon says yeah and its catching up to her. Sarah says if I win HOH, I would put up Adel and Paul .. and if one of them comes off I would put up Heather and send her home. The stupid b*tch!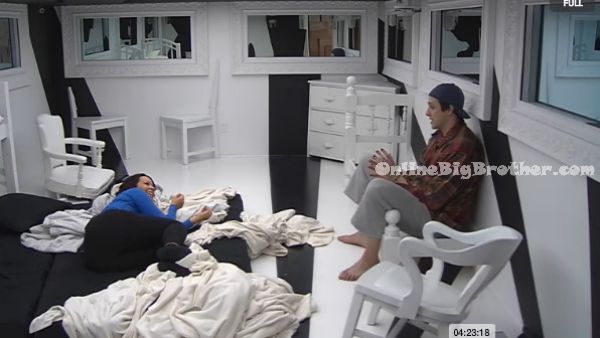 )
12:50pm – 1pm UP in the HOH room – Sabrina tells Kenny that Jon told her, Neda, Rachelle and Sarah that we needed to think about thinking about your game by taking out a strong player. Kenny asks why the f**k would he say that. That worries me. Sabrina tells Kenny not to tell anyone that what she tells him. Sabrina tells Kenny that it worries her that Kenny moved all his stuff up to the hoh room. Kenny says yeah because of the blow up. Sabrina says yeah.. She then heads back downstairs.
)
Check out the NEW OBB Forum https://forum.onlinebigbrother.com/
Stay connected and interact with other Big Brother Fans on our Facebook page.
And Follow: @BigBspoilers and @Dawgsbigbrother on Twitter for the most up to date spoilers.
Share it YO!
Tweet