Head of Household Winner – Cliff
Have note are: Tommy, Christie, Jackson, Kat
Nominations are: Jack and Jackson Bella
Power of Veto Players are – Cliff, Jack, Jackson, Sis, Sam, Kat
Power of Veto holder – Jackson
Power of Veto Ceremony – Jackson used the Veto on himself Cliff nominated Bella
Powers in the game
Christie – Panic
At any of the next four Power of Veto Ceremonies, Christie can turn the Golden Power of Veto into the Diamond Power of Veto and allow the current veto holder pull someone off the nomination block, but instead of the Head of Household naming the replacement nominee, the veto holder names the replacement.
Grab your live feeds —-> BB21 Live Feeds Subscription Link
Rank your houseguests —-> Big Brother 21 Ranking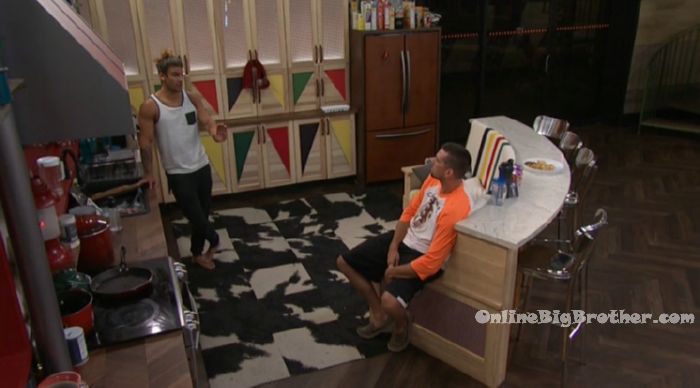 8pm Kitchen. Jack and Sam. Jack – I know that how you're feeling. Like what can I do to prove that I care and want to be a part of something. I think the only way you can prove is by doing. Sam – right just time. Jack – and it sucks because you want to just be like .. FIXED! You have time! You do have time. You're a great player and a great guy. I like you. And this ain't bullsh*t. I'm not trying to blow smoke up your a$$. You need to think of it as how am I going to rebuild this. How can I prove that I am trust worthy. Relax and be present. You have time. I relate it to quicksand. Sam – should I make an announcement? Jack – a house meeting? That's all for blowing up stuff. Do whatever you think is best for your game. Sam – what I think is best for my game is obviously not working. Jack – I think honesty and a couple apologies .. even in real life you tell a lie to protect people that you love. White lies happen all the time. In order to protect people because you don't want them to get hurt. In this situation you might have done something to protect yourself. At the end of the day its your game. I am not going to sit here and say that you're dead to me. That doesn't do any good for either of us. I would love to build trust with you and I would hope that you want to build more trust with me. Sam – still in this next HOH I want to put any of the majority up. Jack – I know what you're talking about.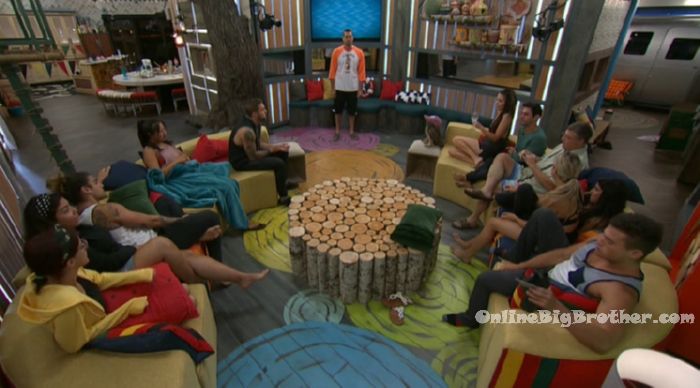 8:21pm Sam screams its time for a HOUSE MEETING!! Cliff should we get some pots and pans in case they're needed? Sam goes around the house and collects everyone to come to the living room for the "30 second meeting". Once everyone is in the living room Sam jokes – I would like you to join me up here Kat. I just realized that I look like garbage. It has been brought to my attention by Sis.. Sis and I were playing pool and she mentioned to me that she feels kind of in a weird position talking to me because she feels that I am not trustworthy after the Nick and Bella thing. Sorry – I will probably call you (Nick & Bella) out a little bit. It made me realize when she said that .. if she feels that way other people probably feel the exact same way so I want to AIR IT ALL OUT and get it all out because as far as I was concerned I had nothing to do with the Nick and Bella conspiracy, however I am thinking that my name is somehow brought into this. So did you (Nick) drop my name at all? Who's idea was this and was I a part of it? Nick – I made up the idea on the hammock when I was talking to Sis. That I was going to get .. well I hadn't talked to Cliff yet but I was hypothetically going to get Christie to go upstairs and tell Cliff that she wasn't going to use the power and then someone would go up and not Bella. Sis – so why did you decide to use me? Nick – I was talking to you about it so and why did you want me to go to Christie? Nick – well I said that I would talk to her but you said that would look sketchy. Sis – no you were like maybe you should go so it doesn't look like I'm being shady. Nick – well I would have gone either way. I already admitted what I did and that I was being sketchy. The idea came to me and I shot it .. I shot my shot and I missed. Sam – and this all happened when Sam Smith was nestled safely under his covers. Nick did come to me and when he started to explain that he was going to talk to Cliff I said dude leave me out of it. I don't want to be a part of it. I don't know, leave me out of it. I got jammed up being associated with Nick and Bella before so I was leery and hence why I was trying to spend more time with you guys so that I wouldn't look as shady. I wasn't going to go and say Nick and Bella are conspiring .. if that's there game it has nothing to do with me. When that all happened I had no idea this was going down because that's what they decided. Nick – the only person I told was Sis the fake idea and Kat the real idea. Christie – there were two idea? I am intrigued. Nick – well I told Sis what I wanted people to think and I told Kat what my actual plan was I suppose. Christie – so when Sis came to me and said that this is great, Nick is fine with Bella going… In that moment I kind of figured out that it wasn't a genuine idea and felt like using Sis was a good in because she is sweet and likable. Nick – it really wasn't like a predetermined like oh I am going to pick her.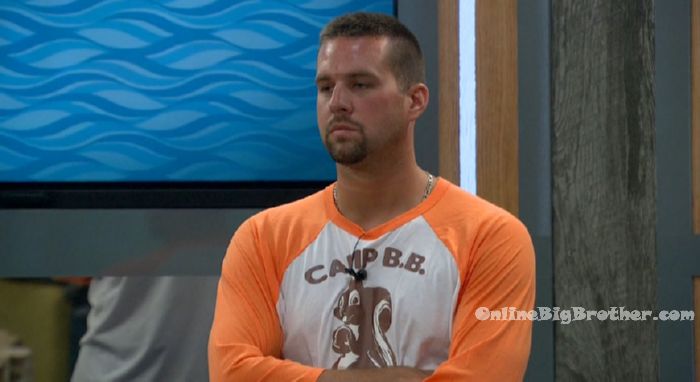 Christie – honestly credit .. it was a really good plan and I am sure Cliff would have had no problem pitching that. Unlike me as a person with a brain .. would I be like cool I am just going to just chill on my power and trust this dude who I nominated week one and just evicted. So I am going to like def require a handshake, a swear or a bible and I knew that once that would come into account Cliff would never break it. Nick – and I just made this idea up in my head and I figured that he wouldn't do it but I never talked to him yet. At the same time if he has said no Bella would have gone up and I could have just gone up there and said hey Cliff here is my blessing .. put her up and then I would have been good with you guys. 75% was scheme and 25% was like if it happens. Christie – respect. Nick – and it wasn't any personal attack at you Jack but I was F**KED! Jack – I was just talking with Sam and I was like its your game. Christie – there was pressure from both sides. Like don't use it, don't use it, leave it. And then there were people saying use it. Obviously this all comes down to me because who the F**K tells the whole house they have a power?!!? It was just in my best interest in not so much protecting Jack .. But I had to protect myself. Nick – I made my bed. I already know that most likely if I don't win next week you guys will put me up and it will still be respect. Its just a game. I got caught. I know I could never beat Jack.. and I didn't want Bella to go. Nick starts crying. Christie – this game evolves and changes so don't count yourself out. Jack – you made a decision for your game and you cared about someone. I respect you. It doesn't make me judge you or want to put you up. Jackson – you have to switch gears in your head .. because the lines coming out of your mouth.. I'm never going to beat Jack you're never going to beat anyone with that attitude. You have to look yourself in the mirror and kick yourself in the a$$. You can't expect anyone to come and save you. Christie – everyone appreciates a straight shooter. Cliff – this game was designed to bring out the worst in people. Nick you are my buddy no matter what. Nick – please don't take this out on Sam he had no part in this. I thought it up in the hammock. Bella didn't even know my plan. I just asked her do you trust me and she said she did.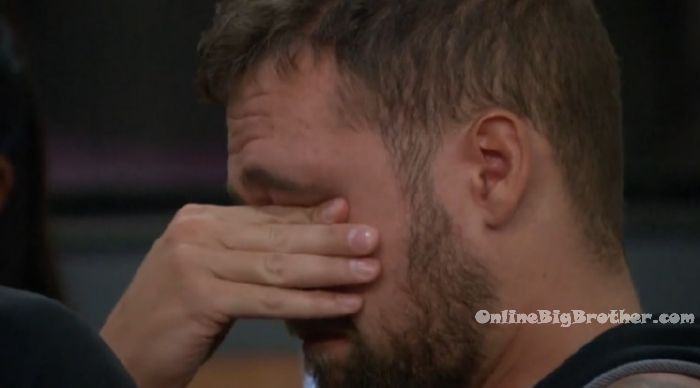 Sam – I am here to plan an honest and trustworthy game and I have shot everyone straight as far as I know. Christie – I didn't hear your name involved in any of this plan. Sam – even though you might not have heard my name I didn't want you to be like well …. a little seed in your brain and then three weeks later its watered and its a full bloom you hate Sam because you think that I was associated. I am just trying to rebuild these connections and bonds. I love all of you and I really am trying to be honest and trustworthy! Are there any questions for me?! (No questions from anyone about it) Cliff – does anyone have any questions for me about this week. (No questions for Cliff about it) Nick – Sam and Cliff didn't have any part in this. Sam – meeting adjourned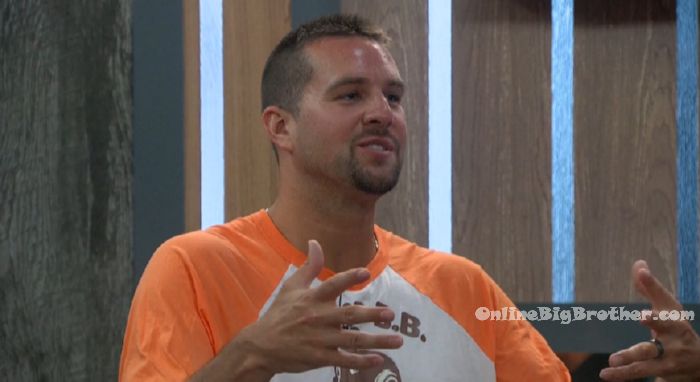 8:50pm Storage room. Kat and Tommy. Kat – I am pissed! Tommy – no one cared. Kat – I think that he literally told me so that if it got out he could throw me under the bus. I didn't tell .. well I told you and Christie figured it out anyways. I am just annoyed that I got called out in a house meeting. Tommy – he once again showed his character by throwing people under the bus to safe himself. You're 100% right but .. no one cares. Kat – I know that no one cares. Its just if he wins HOH next week I am probably going to go.. Tommy – we would protect you. Kat – what if its me and someone else? Tommy – no he won't .. he would put up .. I don't know. I don't think he would put up anyone that was in the old alliance.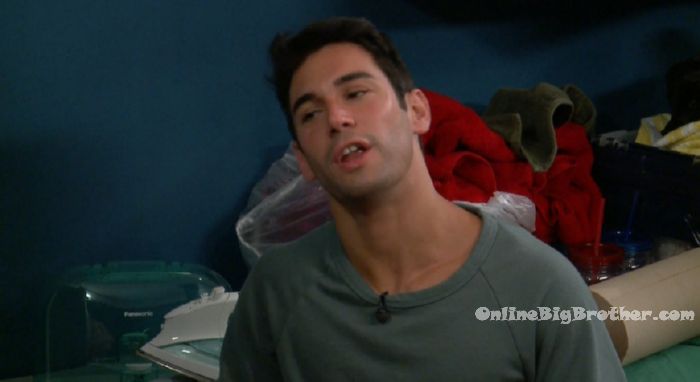 Kat – I know its not about me but all it did was show he was trying to use me as his Nicole or his Kemi. Christie – but by you not saying anything it showed you're trustworthy. It showed that you can keep a secret. Kat – I was just a little upset but whatever.. Tommy – even though Sam wasn't involved with this instance he was involved with everything before.. Christie – I bit my tongue when he said I've tried to be honest with everyone … Clearly you haven't!
9:40pm Bella and Nick. Bella is crying. Nick – I love you so much. its going to be so hard to play this without you. Bella – you're literally an amazing person I've met and everyone loves you so much. Nick says that he will give it everything he's got to try and win the HOH. A wall comp will be hard but I will give it every second I have. Nicole would have a good chance at winning it. If I can't win it, one of them has to.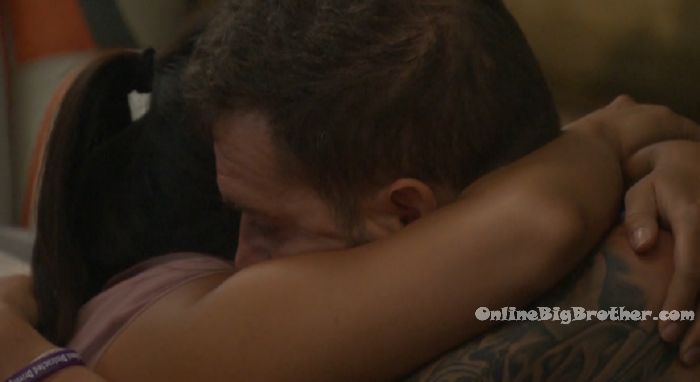 10:03pm Hammock. Sam, Jack, Sis, Christie, Holly, Tommy and Jackson are hanging out by the hammock chatting about random things.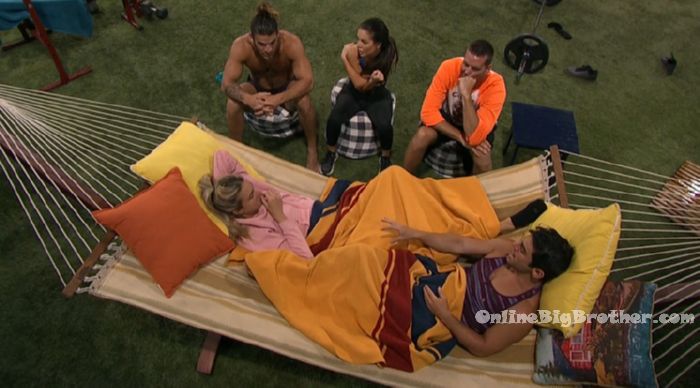 10:40pm Bedroom. – 11:15pm Nick and Bella. Nick – I just pray that someone f**ks up in the next couple days. Bella – I think its better that its happened now than later. Now you just know who to trust. Nick – which is no one. Nick – I think if I was to win HOH next week.. Bella – you would have to put up Jess and Kat. Nick – that is such a baby move. That is such a b***h move. If I am going out, I want to go up with a big move. Bella – I hope you guys make it. We've been here for a month. I feel like I've known you for 3 years.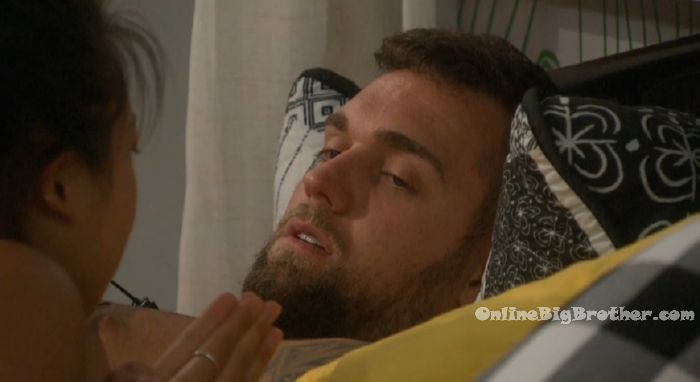 11:25pm – 11:40pm Jack, Cliff and Jess in the backyard. Jack – at some point something is going to start kicking back into play here. Our wactivia has been down for a week. So punishments will start getting handed out. Jess – yup! Jack – someone is going to have to start reading hamlet. Cliff – I can see this next POV being the prizes and punishments. Jack – there will be another round of powers. Cliff – all things being equal your power was pretty sucky. Jack – if I had been able to hold on to my power until .. Big Brother switches the feeds.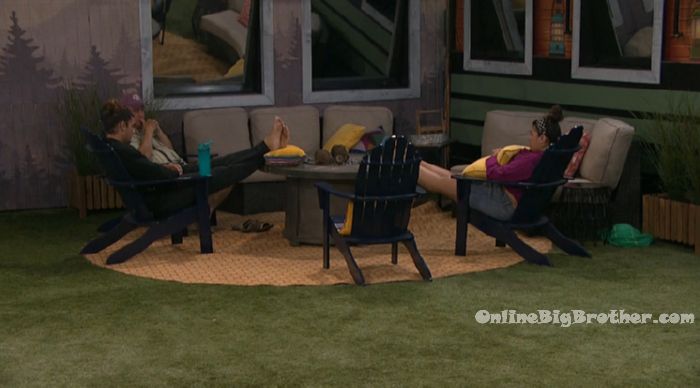 12:04am – 12:35am Hammock. Cliff and Nicole. Cliff – … You and me and Kat, she (Christie) has kind of names this little dream team. I don't know how much I can trust her though. Nicole – I know. The more she has been talking today, the more no offense I feel like she is just covering her bases. She is like alright I have this big group of 6, one of which is Jack who absolutely loves her and now I have Nicole, Cliff… you know what I mean? Cliff – I know. Nicole – She is just setting her self up and I don't know which way she would fall. You know. Cliff – I am kind of at the place .. the whole reason I made this move in the first place is because I feared their numbers and I didn't want to get picked off. Now I am at the point where if Bella goes home and then Nick, that buys us two weeks to see if some divisions pop up. Nicole – I know but I guess my fear is that divisions pop but and not that we get to that point and its like we're all still together .. lets get rid of Cliff and Nicole! Cliff – oh I know it. Its almost a waiting game at this point. Nicole – do you think that there is anyway that Jack would go home over Bella? Cliff – I don't think so. I would love to say yes but I don't think there is anyway Kat is going to send Jack home over Bella and without Kat in there. I just don't think it happens. Nicole – I know. Because it would be Nick, Sam, Me, and you and I talk to Jess.. we would need Kat and then you would break the tie. And that's the thing that would cause a division and that side would be mad at us but even still.. Cliff – so what?! Nicole – I was upstairs in that game area and heard Tommy come in and talk to Michie and they were whispering .. I have no idea what they were saying but I heard like cole, Jess, Cliff. I heard that, maybe they were talking about their favorite people in the house.. I don't know. But I have a feeling it was oh lets get Nicole, Jess, then Cliff. Cliff – I could easily see that. I can expect that Bella is going to be campaigning pretty hard tomorrow. I would love to still see you and Jess and Kat and Nick and Sam .. and that would be five votes and if it came to a tie I might create a lot of bad will over there but I've got to take the shot. That's why I did it in the first place. Nicole – so if it was a tie you would? Cliff – I would, that was the goal of my HOH in the first place. Nicole – Nick is a number for us. I worry with Jess and Kat because if Kat runs to them and goes Nicole is trying to keep Bella, I am F**Ked. Cliff – and if Kat goes and says that Cliff would break a tie and send Jack home then I lose everything I got done doing here. Christie, Jack, Tommy, Holly and Sam join them. They chat about random things..
1am Kitchen. Sam and Nick. Sam – yeah we're f**ked! Nick – I literally need someone to f**kup between now and Thursday. Sam – just play it cool and be super sociable. Nick – tomorrow will be easier because everyone will be inside. I'll be like Nicole. We have a 25% chance of winning this next HOH.. 3 out of 12. Sam – 4 out of 12 is 25% .. it doesn't work like that. Its a lesser chance. A quarter is 25% chance. Nick – yeah 3 out of 12.. how many times does 3 go into 12? 1 in 4. 25%. Sam – yeah one of us has to. Like if you don't odds are you're out the door. Nick – or I have to win the veto.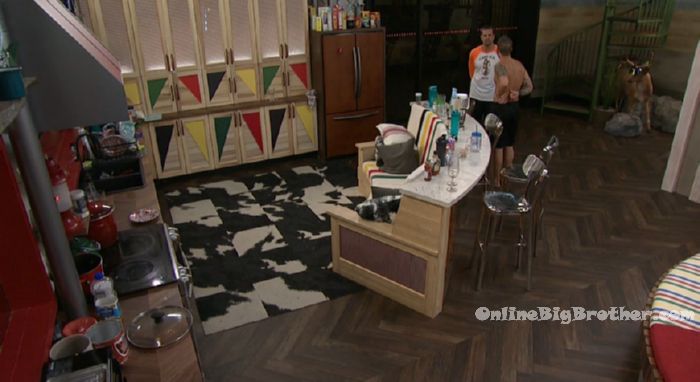 POP a Nut Trick Shot #BB21 @bigbspoilers pic.twitter.com/vxORTjQQoG

— Dawg (@DawgsBigBrother) July 23, 2019
Holly, Jackson and Tommy chatting by the hammock. Jackson – we have to execute when we need to. We have to win HOH's in order to be able to do sh*t we have to be able to get it when it counts. Tommy – you've heard about the plan to now include Cliff and Kat and go back to the original plan. Jackson – Gr8ful 2.0. Tommy – we can even call it "More Gr8ful" or "Even More Gr8ful". Holly – and then still get him out because if Cliff stays long term he will get to the end. Tommy – something we brought up is that we have double evictions coming up and they're puzzles .. and he (Cliff) would be good at that and be one of the team that aren't going for us. And then, we would have to get him out right after that. Jackson – if he stays longer than that… scary! Tommy – when you have a team you need people that bring different things to the team.. and we don't have what he bring. Jackson – the mental capacity that he does. Tommy – yeah. We don't have it. Jackson – dudes a smart guy. Tommy – I don't have it. Jackson – I'm horrible at puzzles. Tommy – we have social, we have physical, we have strength, we have small strength, large strength .. we have all different kinds of things as far as that goes. We don't have mental. Jack's got some mental and Christie does too. Holly – I thought I did. Memory though, I'm f**ked! Jackson – we went from facing imminent death to driving. One of them even said that he would go home next week. Holly – that's fine with me, lets facilitate that. Jackson – Sam called a house meeting out of desperation. Tommy – for no reason. Jackson – do you know why your wife freaks out about house meeting because they're f**king stupid and no one will tell you that because we all want you to keep being an idiot. Holly – I do worry about other people building better relationships with Cliff ..like Kat and Christie.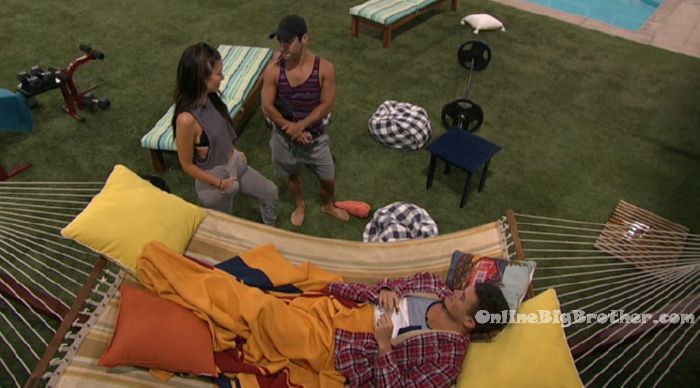 Next and Previous posts
Shortcut to Comments
Share it YO!
Tweet