SEE what they CAN'T show you on TV!! 3 Day FREE Trial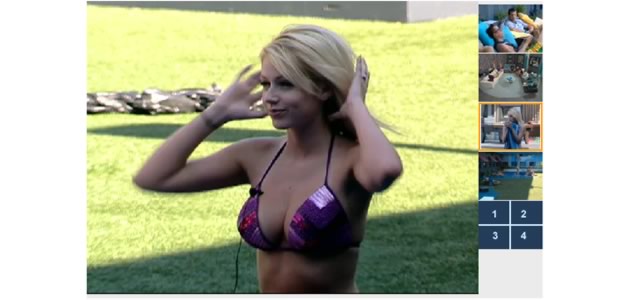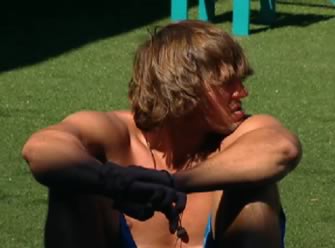 4:30pm Backyard All the houguests sitting around talking about this and that. Ragan in the background talking about how much he wants a "fucking" dog or horseshoes so they have something to do. Matt agrees they should have something to do forr the live feed blokes. They all start talking about getting letters from family if they win HOH.. Talk soon turns to the Saboteur Ragan tells them that the messages they are getting are all connected to upcoming competitions.. he points out that they are getting each one a day before a competition. Britney asks them if the goodbye messages are being filmed tomorrow. Ragan says Probably they will need a couple days to edit them for the live show. Brendon goes back to the saboteur he really thinks that there is a pair in the house that are working together. He mentions that the saboteur signed a contract that if they are in the house at week 5 they win 50 large ones. Matt questions him how the fuck does he know that. Brendon says he's not a liberty to say. Britney tells him the saboteur because the HOH at week 5 they can get up during eviction and nominate 2 new people. Matt thinks that would be very bad for them. Britiney thinks the twist is over week 5 regardless of what it is. She tells them that the group is small they could figure it out if they tried.
5:15pm The group starts to break up and go to different parts of the house. Monet and Kathy go upstairs to take a bath. some more head to the kitchen other hang out outside.


5:40pm Kathy and Monet in the hottub talking about Houseguests they can trust. Both Kathy and Monet trust Hayden and think he's deep down a good guy. They both are getting sick of Annie walking around telling people the story about how much she has lost
by being on this show. Monet "everyone has lost something.. we all made sacrifices being on this show". Both agree that Annie had no idea she was going up, Monet says she thought that maybe she was going up. They fantasizes about winning HOH, Monet says if she wins she'll take a bath every day Kathy says she really looking forward to the Letter.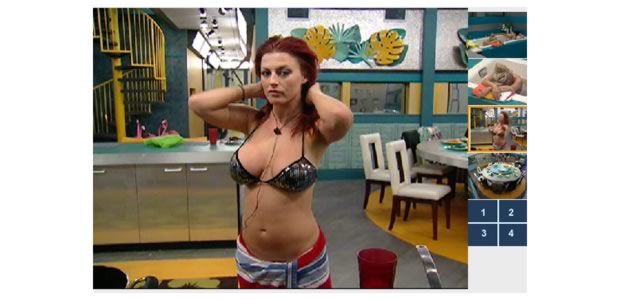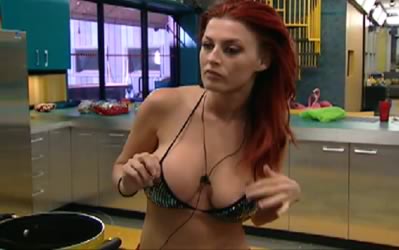 5:45pm Kitchen rachel and Brendon cleaning up. Rachel just prancing around showing off her fake chest in the mirror and cameras. They do talk a little game. They agree that Ragan is playing the peacemaker roll in the house. Both think that things may get heated in the next couple weeks. Rachel asks Brendon what kind of Animal she is… she suggests a Peacock. Brendon agrees, "Your so bright and colourful" Rachel comments that everyone tells her that and she doesn't know why.
6:25pm Around the feeds in 60 second – no game talk going on. Backyard Enzo, Brit and lane talking about love, brit doing most of the talking says she's only been in a few serious relationships that she considers love the rest were not.

Kitchen Annie, Matt and Monet, Annie and Matt talking about how they use to be fat Matt says he stopped eating fast food and beer and he lost his weight annie says she did the same. Monet starts giving Matt nutrition tips.

** sorry about all the Bikini shots ladies.. i'll try and find more dudes fr the next one. **
Share it YO!
Tweet