Godfrey as host Arisa Cox introduces the BBCAN2 Rerun segment. Bobby as Kenny Brain comes up to to the front and introduces himself as being a model that's gay but he won't reveal that to the house. Johnny is Andrew. He comes up and takes his shirt off saying he has a tattoo of hops on his chest. Ashleigh is wearing the costume Heather had to wear last season. Pilar is Rachelle Diamond wearing the hotdog costume. Jordan is Paul. Bruno is Jon Pardy. Willow is Sabrina. Brittnee is Ika Wong. Kevin is Arlie. The first scene they do is the Paul Jackson scene when Paul called Andrew a racist and a sexist.
-Post has been updated--Post has been updated-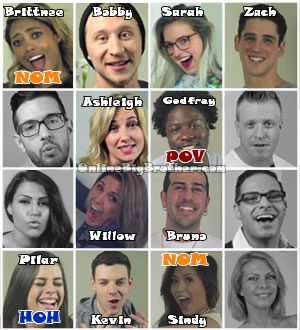 Big Brother Links
Bitchy Big Brother Blog
Big Brother attwx
Hamster Watch
Quirkydudes Archives
Big Brother Archive
Big Brother Gossip
OnlineBigBrother Forum
I Love Reality TV
Big Brother Junkies
The Reality Junkies
Big Brother Fans Blog
IHateBigBrother!
Big Brother 2009
Big Brother Network
Big Brother Insider
The Big Brother Forum
Because You're Addicted
yakkityyaks