12:05am Backyard - Clay tells Shelli that she is a stone cold fox, ambitious and the list goes on and on. He says other people have been a let down to him. Shelli says you know we were put here for each other. That's a fact. He says if he was with someone else and they cheated on me then clearly I wasn't doing my job and they weren't the ones for me. Shelli says see you later! Clay says exactly. Shelli says I know you're young, why don't you want to sow your wild oats? Clay says its not gratifying for me to go out, bring someone home, sleep with them and then kick them out. I don't find fulfilment in that.
-Post has been updated--Post has been updated--Post has been updated-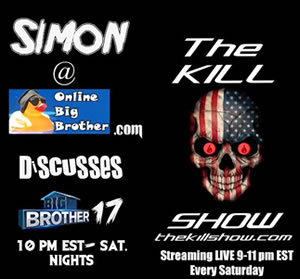 Simon from Onlinebigbrother on THE KILL show Saturdays @ 10pm
http://thekillshow.com
9-11pm
Big Brother Links
Bitchy Big Brother Blog
Big Brother attwx
Hamster Watch
Quirkydudes Archives
Big Brother Archive
Big Brother Gossip
OnlineBigBrother Forum
I Love Reality TV
Big Brother Junkies
IHateBigBrother!
Big Brother 2009
Big Brother Network
Big Brother Insider
The Big Brother Forum
yakkityyaks