1:30pm The live feeds return. Derrick and Caleb are in the fire room talking. Caleb says I knew when we had Frankie upstairs, I knew he was going to rock the boat with that one. Derrick asks as far as what? Caleb says when he was like I am just going to tell him I'm not voting for him. I was like oh god! Derrick says I'm sure they (production) didn't like that. Caleb asks upstairs? Derrick says in the walls. Caleb says you mean what we told Frankie? Derrick says yeah. Big Brother says you're not allowed to talk about production. Big brother blocks the feeds, when they return Caleb says yeah I trust him. I trust him.
-Post has been updated--Post has been updated--Post has been updated-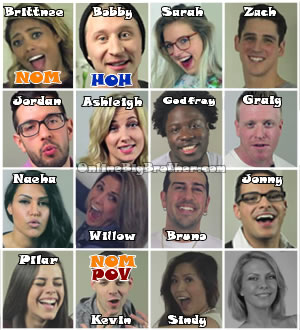 Big Brother Links
Bitchy Big Brother Blog
Big Brother attwx
Hamster Watch
Quirkydudes Archives
Big Brother Archive
Big Brother Gossip
OnlineBigBrother Forum
I Love Reality TV
Big Brother Junkies
The Reality Junkies
Big Brother Fans Blog
IHateBigBrother!
Big Brother 2009
Big Brother Network
Big Brother Insider
The Big Brother Forum
Because You're Addicted
yakkityyaks