-Post has been updated-
9am Big Brother wakes up the house guests. Heather has already been awake for awhile. She tell Adel when he gets up that she woke up with a nose bleed and couldn't go back to sleep. She says the others in the main bedroom were being super loud last night too. JOn says that he feel like he is going to die. If I can't sleep outside I am going to throw up. All I can taste is chicken fingers and rye. Rachelle asks him if he remembers everything? Jon says yes. Jon says I can't believe I smoked 3 cigars last night! Jon heads down stairs. Neda, Rachelle and Sabrina talk while they get ready. Sabrina asks Neda if Jon remembers what they talked about last night. Neda says yes. We'll talk tonight when everyone goes to sleep. Big Brother tells them they have 3 minutes before they will be on a backyard lock down. Jon is laying in the hammock.
-Post has been updated--Post has been updated--Post has been updated-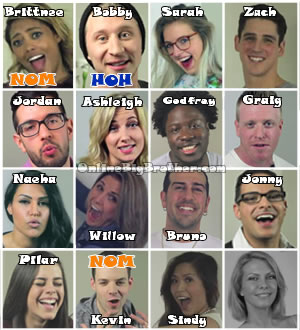 Big Brother Links
Bitchy Big Brother Blog
Big Brother attwx
Hamster Watch
Quirkydudes Archives
Big Brother Archive
Big Brother Gossip
OnlineBigBrother Forum
I Love Reality TV
Big Brother Junkies
The Reality Junkies
Big Brother Fans Blog
IHateBigBrother!
Big Brother 2009
Big Brother Network
Big Brother Insider
The Big Brother Forum
Because You're Addicted
yakkityyaks