-Post has been updated-
Recent Spoilers
-Post has been updated-
6:10am the havenot room - Meg, Jason and James are talking. James says now we're going to see where everyone is at. Jason says no one wants to get Johnny Mac out. Jason says I feel bad for Day though. Jason says it doesn't even matter we have to save Day otherwise we're down one. If we save Day do you think Shelli would backdoor someone other than Audrey. James says Maybe not. Meg says I don't know if I would trust what she would do. Jason says I'm already safe for the week so me winning it doesn't even matter. Meg says its still so early in the game that if you go against what she wants it could be this whole other blow out.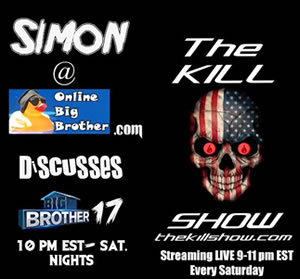 Simon from Onlinebigbrother on THE KILL show Saturdays @ 10pm
http://thekillshow.com
9-11pm
Big Brother Links
Bitchy Big Brother Blog
Big Brother attwx
Hamster Watch
Quirkydudes Archives
Big Brother Archive
Big Brother Gossip
OnlineBigBrother Forum
I Love Reality TV
Big Brother Junkies
IHateBigBrother!
Big Brother 2009
Big Brother Network
Big Brother Insider
The Big Brother Forum
yakkityyaks