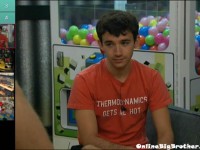 2pm – 2:10pm Jenn and Danielle talk about Ian last night. Jenn says yeah I heard he was still doing it after I went to bed. She says she almost did something that would make her leave the game. Danielle says yeah he threw the basketball hoop in the pool and flipped Frank off. Jenn talks about how Ian apologized to her. She says that she was there at 9/11 so it was really personal for her. Jenn says that she knows he is wanting to put her up and says we need to win this HOH. She says that she wanted to kill him last night. Jenn says that she saw his horns come out last night.
Back in the arcade room, Ian says that he enjoyed the beer last night and that it was worth it. Frank says I don't know about that, you said some pretty offensive things that even people at home won't like. Ian says that he already apologized for that and that was not how that was supposed to be meant.
Big Brother Live Feeds FREE 3 Day TRIAL: Try them and see what's happening right now!