12:30pm Cabana room - Austin says I wonder if my sister Gabby has totally dropped out of society and watching the feeds 24/7. I could totally see her doing that. She probably freaking out though because of all the lying going on in the house. She probably cant even watch though being like Oh my god he's getting fooled by everyone. Liz says yeah that's what my aunt is doing like literally watching the feeds all day. Austin says we made the best decision going to bed so early 2 nights ago. Now Audrey is trying to drag us into it. Liz says yeah right not me. She can't say anything about me. All I heard was that I was in the "Black Alliance". Austin says oh yeah I can't believe you were in that without telling me. Liz says she thinks Clay and Shelli are making more alliances. Austin says he's such a schemer .. he's so gross.
-Post has been updated-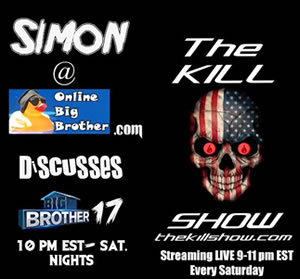 Simon from Onlinebigbrother on THE KILL show Saturdays @ 10pm
http://thekillshow.com
9-11pm
Big Brother Links
Bitchy Big Brother Blog
Big Brother attwx
Hamster Watch
Quirkydudes Archives
Big Brother Archive
Big Brother Gossip
OnlineBigBrother Forum
I Love Reality TV
Big Brother Junkies
IHateBigBrother!
Big Brother 2009
Big Brother Network
Big Brother Insider
The Big Brother Forum
yakkityyaks