10:45am All of the house guests are still sleeping except for Austin and Vanessa. They're out in the backyard talking game. Austin says I'm worried about who might get put up. I'm worried Jace might get backdoored. Vanessa says it definitely might happen. Austin says I had to go eat crow with Audrey. She seems to be controlling James. She is trying to make an alliance with everyone. She is always silently talking game with everyone. She almost called a house meeting yesterday. And then Day threw us under the bus. She said she didn't trust Audrey and then 10 minutes later Audrey is pulling me and Liz aside saying did you guys try and throw me under the bus today? I was like what?!
-Post has been updated--Post has been updated--Post has been updated-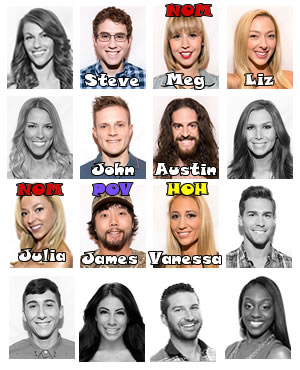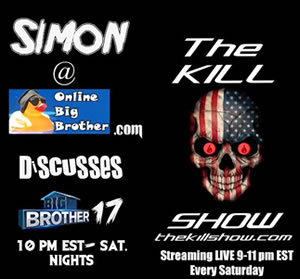 Simon from Onlinebigbrother on THE KILL show Saturdays @ 10pm
http://thekillshow.com
9-11pm
Big Brother Links
Bitchy Big Brother Blog
Big Brother attwx
Hamster Watch
Quirkydudes Archives
Big Brother Archive
Big Brother Gossip
OnlineBigBrother Forum
I Love Reality TV
Big Brother Junkies
IHateBigBrother!
Big Brother 2009
Big Brother Network
Big Brother Insider
The Big Brother Forum
yakkityyaks