1:25pm HOH room. Jackie heads up to the HOH room asking what happened. Vanessa says that she was put in the position to trust people that she didn't feel like she could trust. I was expected to jump into a concrete pool expecting people to catch me and I don't think they would. Its pretty obvious that James and Jason have been working together. So when I am the newest person to gain Jasons loyalty do I think I can trust it no. I think the people that were backing me in the Austin decision weren't really going to be there for me. I gave you my word I wouldn't back door you and I stuck to that. There are two sides and we're foolish if we don't believe that. This decision was terrible.
-Post has been updated--Post has been updated--Post has been updated-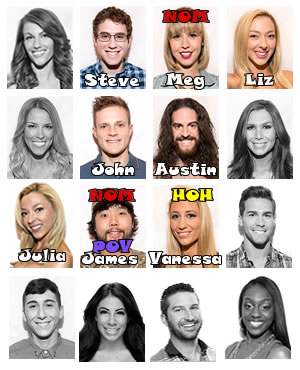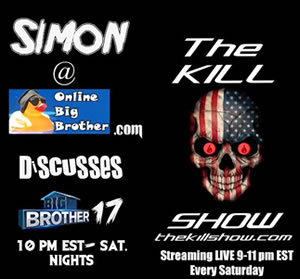 Simon from Onlinebigbrother on THE KILL show Saturdays @ 10pm
http://thekillshow.com
9-11pm
Big Brother Links
Bitchy Big Brother Blog
Big Brother attwx
Hamster Watch
Quirkydudes Archives
Big Brother Archive
Big Brother Gossip
OnlineBigBrother Forum
I Love Reality TV
Big Brother Junkies
IHateBigBrother!
Big Brother 2009
Big Brother Network
Big Brother Insider
The Big Brother Forum
yakkityyaks