12am - 12:45am Bedroom - Steve talks to Vanessa and tells her that Shelli and Johnny are freaking out about the 8 person alliance. Vanessa ask what alliance? Steve says the one you told me about. Vanessa says that's not an alliance. Steve says the 8 person group whatever you want to call it. Vanessa asks how do they know about it? Steve says I don't know. Vanessa says it was only a 1 week deal. Steve says oh okay I didn't know that. Vanessa says you know I hate liars. Be honest with me.. did you tell Johnny Mac anything that implies I have any opinion about him. Steve says about him no I have not. Steve says that he ranted to me about the fight. He was upset about the finger pointing.
-Post has been updated--Post has been updated--Post has been updated-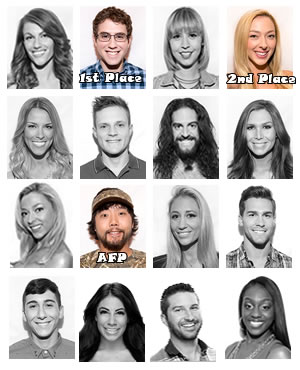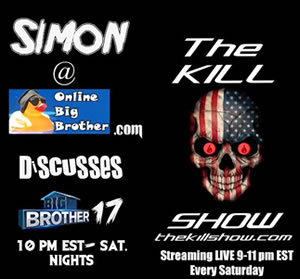 Simon from Onlinebigbrother on THE KILL show Saturdays @ 10pm
http://thekillshow.com
9-11pm
Big Brother Links
Bitchy Big Brother Blog
Big Brother attwx
Hamster Watch
Quirkydudes Archives
Big Brother Archive
Big Brother Gossip
OnlineBigBrother Forum
I Love Reality TV
Big Brother Junkies
IHateBigBrother!
Big Brother 2009
Big Brother Network
Big Brother Insider
The Big Brother Forum
yakkityyaks