-Post has been updated-
3pm Bobby comes back up to the HOH room. He tells Zach "Don't worry about me mentioning anything to Bruno" Nothing ever came of it so there's no need to. (How Ash told Bobby that week 1 how Bruno tried to flip the votes on him.) Zach heads downstairs to make burgers. Willow joins them in the HOH room. They talk about whether or not there could be a double eviction. Willow says in a Double you take out the people you can't normally get out. Bobby says I don't care what happens as long as Kev goes. Bobby leaves. Pilar joins them. Willow asks Ash if JP is mad. Ash says no. I hope not. I think he should know.
-Post has been updated--Post has been updated--Post has been updated--Post has been updated-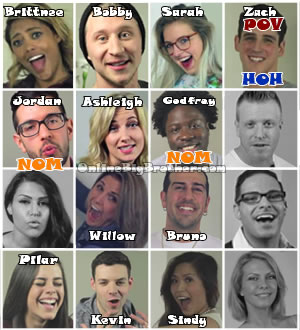 Big Brother Links
Bitchy Big Brother Blog
Big Brother attwx
Hamster Watch
Quirkydudes Archives
Big Brother Archive
Big Brother Gossip
OnlineBigBrother Forum
I Love Reality TV
Big Brother Junkies
The Reality Junkies
Big Brother Fans Blog
IHateBigBrother!
Big Brother 2009
Big Brother Network
Big Brother Insider
The Big Brother Forum
Because You're Addicted
yakkityyaks