8:15pm - 8:30pm In the lounge room – McCrae, Amanda and Andy are talking about who to put up on the block. Amanda thinks they should put up Howard and Aaryn. Andy talks about how they were bullying Jessie in the kitchen right before the vote, how dumb is that!? Andy says thank god Helen got it! McCrae agrees and says that next week will probably be endurance and Helen probably wont be that good at it. Andy, McCrae and Amanda agree to keep the five (Helen, Elissa, McCrae, Amanda and Andy) of them safe and under wraps. McCrae says this couldn't have been any better. Amanda says that she told Jeremy that this game isn't all about winning challenges. That's what you get for only watching one season. They talk about how they have 100% trust in each other. Andy says that Candice yelling and screaming at all of them, let her do it. Andy says that with Helen being HOH it is better that she has blood on her hands because she has a reason to go after them.
-Post has been updated--Post has been updated--Post has been updated-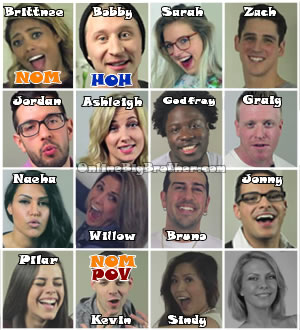 Big Brother Links
Bitchy Big Brother Blog
Big Brother attwx
Hamster Watch
Quirkydudes Archives
Big Brother Archive
Big Brother Gossip
OnlineBigBrother Forum
I Love Reality TV
Big Brother Junkies
The Reality Junkies
Big Brother Fans Blog
IHateBigBrother!
Big Brother 2009
Big Brother Network
Big Brother Insider
The Big Brother Forum
Because You're Addicted
yakkityyaks