1:30pm - 1:50pm Up in the HOH room - Derrick talks to Cody about how Brittany is going around saying that me, you and Caleb have a lot of pull in the house. Derrick says that Nicole said that you and I are trusted in the house and Caleb is feared. Derrick says that Caleb hasn't said who his target is. Amber has. Why do you think Caleb wants to keep Brittany. Cody says because Amber wants it. Derrick says if theres a double eviction Caleb is going home. If its a regular eviction we need to be careful. Derrick says someone else needs to win HOH. I am tried of it and want someone like Hayden or Zach to pull one out. Derrick says that Frankie is on board with us.
-Post has been updated--Post has been updated--Post has been updated--Post has been updated-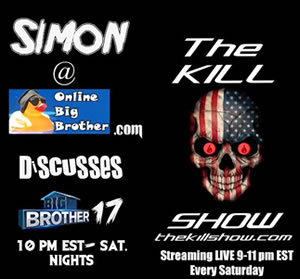 Simon from Onlinebigbrother on THE KILL show Saturdays @ 10pm
http://thekillshow.com
9-11pm
Big Brother Links
Bitchy Big Brother Blog
Big Brother attwx
Hamster Watch
Quirkydudes Archives
Big Brother Archive
Big Brother Gossip
OnlineBigBrother Forum
I Love Reality TV
Big Brother Junkies
IHateBigBrother!
Big Brother 2009
Big Brother Network
Big Brother Insider
The Big Brother Forum
yakkityyaks