10am - 10:40am Big Brother wakes up the house guests. Donny heads outside to eat his cereal. He looks up and waves to the live feeders. Donny tells Cody that he and a lot of other people want Brittany gone and that he only put me up because I am such a likeable person and no one would want me gone. Its a pretty nice thing if its true. Jocasta says she heard the same thing and thinks it could be true. Donny says its risky but I hope its true. Its best just to hide and say nothing till Thursday. Jocasta says that Brittany thinks she has Amber, Caleb and I can't remember the other person. Thats the same thing with Pow and it wasn't true. Donny says when you have nothing else to believe you have to believe if for a little while.
-Post has been updated--Post has been updated--Post has been updated--Post has been updated-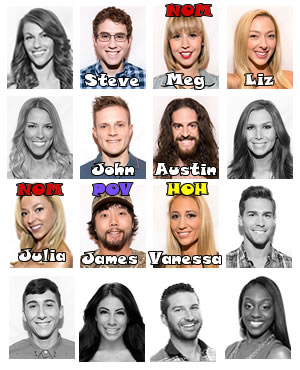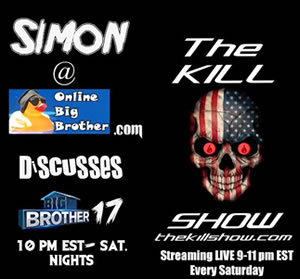 Simon from Onlinebigbrother on THE KILL show Saturdays @ 10pm
http://thekillshow.com
9-11pm
Big Brother Links
Bitchy Big Brother Blog
Big Brother attwx
Hamster Watch
Quirkydudes Archives
Big Brother Archive
Big Brother Gossip
OnlineBigBrother Forum
I Love Reality TV
Big Brother Junkies
IHateBigBrother!
Big Brother 2009
Big Brother Network
Big Brother Insider
The Big Brother Forum
yakkityyaks