1:15pm Big Brother blocks the live feeds for the HOH lockdown. When the live feeds return - Victoria and Nicole shower in the bathroom and start getting ready for the live show tonight. Derrick and Frankie are in the kitchen. Derrick tells Frankie that he loves him. Frankie says I love you too. Frankie realizes the big brother gave him new pink hair die. Caleb is unpacking his HOH basket after moving out of the HOH room. Derricks eating at the kitchen table. Derrick, Caleb and Frankie discuss what the HOH competition might. They all don't think it will be the endurance wall.
-Post has been updated--Post has been updated--Post has been updated--Post has been updated-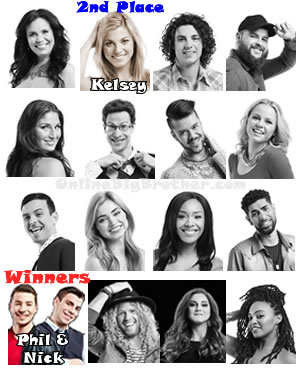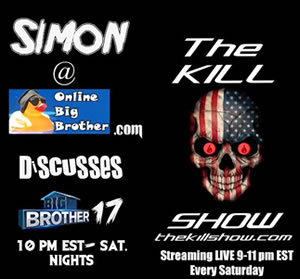 Simon from Onlinebigbrother on THE KILL show Saturdays @ 10pm
http://thekillshow.com
9-11pm
Big Brother Links
Bitchy Big Brother Blog
Big Brother attwx
Hamster Watch
Quirkydudes Archives
Big Brother Archive
Big Brother Gossip
OnlineBigBrother Forum
I Love Reality TV
Big Brother Junkies
IHateBigBrother!
Big Brother 2009
Big Brother Network
Big Brother Insider
The Big Brother Forum
yakkityyaks