First HOH
Dan
Second HOH
Ian
Third HOH
 ?
Final HOH
?
Last Evicted Houseguest
SHANE
1:30am Dan is unable to sleep and leaves the kicks room. He heads out into the backyard and starts practicing his jury speech. He talks about how he had to play a different game this season. He says that he had to play a ruthless game. He starts running through some of the points he will say to the jury but realizes that he is over the time limit and has to cut it down to a minute and thirty seconds. He talks about how he will kiss the jury's a** by complimenting Frank and Shane on their physical game, Joe and Jenn on their social game, Ashley on being a wild card that he was unable to read and wasn't sure what she would do, and how he underestimated Britney as a coach. Dan talks about how he will tell the jury that Ian didn't found the quack pack, it was already formed when he was lead up to the HOH on his leash. He comments on how Ian and Danielle were his loyal soldiers.
Dan does a final run through of his speech and times himself with a stopwatch from the storage room. He says when the game was reset he knew he was in trouble because he looked around on the pirate ship and saw Shane and Frank, the two huge physical competitors. I knew I couldn't beat them. I saw some great social gamers in Jenn and Joe. I saw an absolute wildcard in Ashley; I had no clue what she was doing. I saw an underrated coach in Britney that I knew scared the life out of me because she was just that good. Dan says but of course I had my loyal warrior Danielle through it all..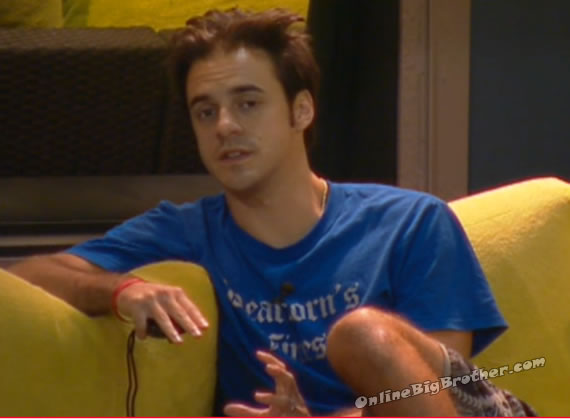 2:10am At the end of his speech Dan realizes that he is still over 2 minutes long and needs to cut the speech down even more. He heads inside and takes the stop watch back to the storage room and then gets back into bed.
8:57am No wake up call yet… All the house guests are still sleeping.. Danielle gets up to go to the bathroom and then goes to change her batteries. She then heads out into the backyard to lay on the couch.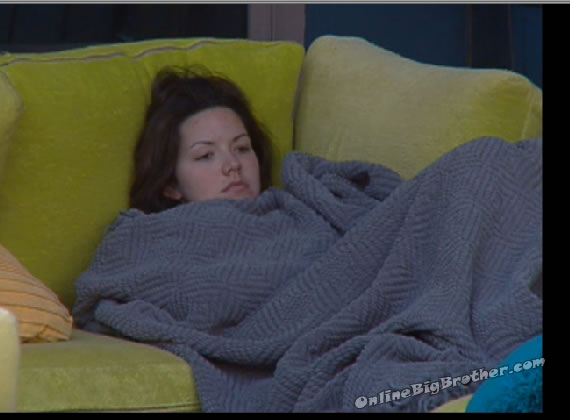 9:33AM CAm 3-4 Danielle is up, Dan and Ian are still sleeping.. Production continues to ask the guys to go change their batteries.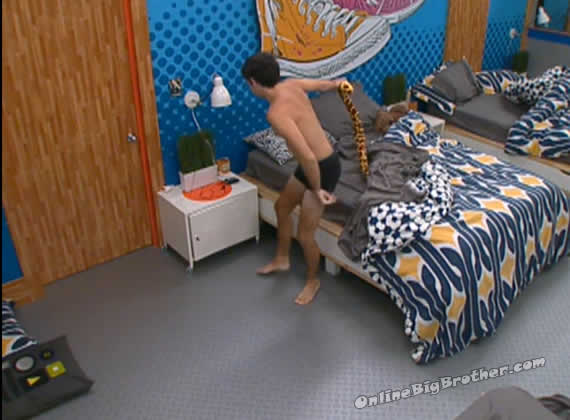 9:43AM Ian gets up replaces his microphone battery and heads up to the Head of Household bedroom..
9:51AM TRIVIA HOH Lockdown.
10:51AM TRIVIA HOH Lockdown.
12:30pm STILL TRIVIA…
1:10pm TRIVIA Continues..
1:40pm TRIVIA… looks like that will be the end of the live feeds until after the finale when you can watch Jeff Schroeder do the backyard interviews and all the other extras!! FREE 3 Day Live Feed Trial!
4:42pm The live feeds have been showing TRIVIA for hours and then all of a sudden "Dan" is sitting in the nomination chair..
Big Brother 14 Finale Promo Commercial:

Here is the Exclusive talk with the Final 3 House guests on CBS The Talk:

Simon and I work 24/7 all season long to bring you all the live feed updates and spoilers, please consider donating. Any amount is greatly appreciated, your donations go directly to paying the server and bandwidth fees needed to run this site. Donation Link
Enjoyed the Spoiler? Share it...