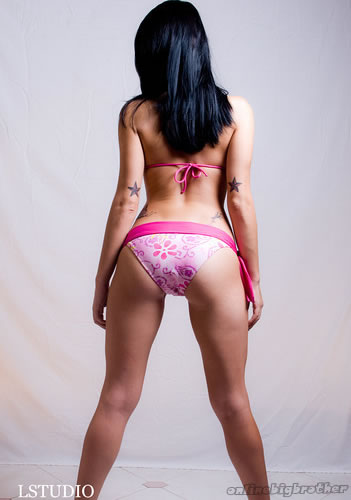 Almost a automatic Big Brother 14 Spoiler favorite Sicilian hottie Josephine aka "JoJo Doll" Spatafora (@JoJoDoll1)has done a bit of modelling (I know it's a shocker a Big Brother female player that is attractive has a modelling background. I guess this is the BIG shocker they were hinting to in the promo commercials). JoJO can now add BB14 Cast to her list of qualifications and I think from the interviews she might do alright.
JoJoDoll1 bio says she is self managed Model, Dancer, Actress, Writer, Fashinista, role model, boxing ring card girl and a business women. She's 100% Sicilian and is fluent in Italian. She doesn't want people to judge her because she's from Staten Island. The CBS cast Bios has her as a promotional model. From reading through her Modelling bios you get a sense that something "traumatic" had happened in her live and forced her to leave modelling in her early 20′s. She says she's giving modelling another try because "entertainment is where her passion is". JoJo is also an aspiring Author who one day hopes to write a best selling book.
As you grow older in life you become wiser and stronger and one day I would love to share my story with young women everywhere and hope to inspire them to love who they are and always follow their dreams no matter how many people tell you that you can't. You can and you will, is more like it! I have a great attitude and perspective on life and try to stay optimistic even when things don't always go as planned. So Rock Show Magazine and all their readers keep a look out for me because I'm planning to be everywhere!
Here credits and the link to her model mayhem site
-L Furs Lingerie
-Playboy energy promotions
-GoGo dancer
-"The next food network star" appearance, NYC, 2012
-Greg Cohen Promotions Ring Card Girl 2012 winner
-Matrix hair model for 3 day hair show event,2010
-"Growing up gold coast" appearance- long island reality tv show,2011
-Caroline Ds Brazilian bikini model,fashion shows, 2011
-Competed to be the "Next Gamma Girl 2011″ for the health/fitness company Gamma Labs. Placed top 12 out of 65.
-Guy Code-appearance-small acting role-MTV2 2011
-The midnight show with Vic Terno, late night talk show-interview-Staten island, NY-CTV 2011
-The midnight show with Vic Terno, late night talk show monthly co-host- staten island, NY-CTV, 2011-2012
-Rock show magazine-girl of the month for October 2011-page spread and article
List of modelling sites
rockshowmagazine.com
hyltonny.com
modelmayhem.com